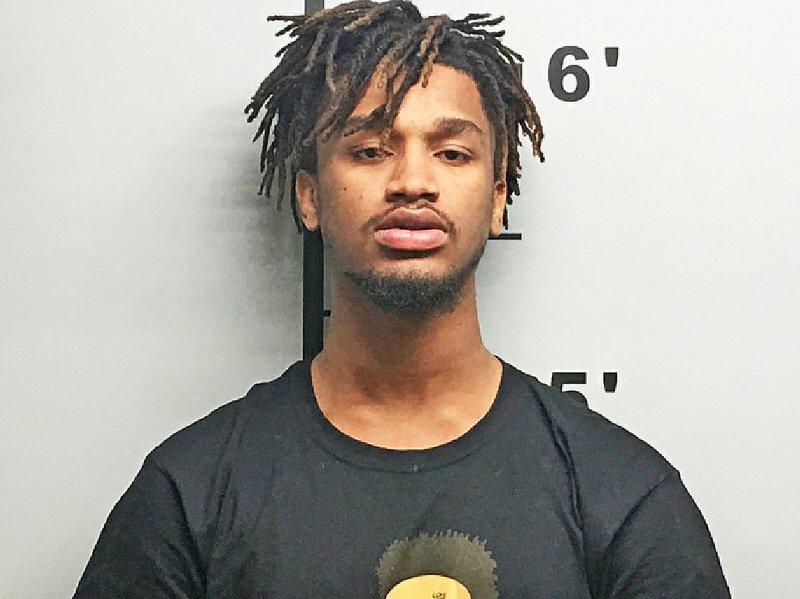 Elijah Jamiur Brown
BENTONVILLE -- An 18-year-old Fayetteville man was being held Friday on $100,000 bond in connection with the armed robbery and pistol whipping of a juvenile.
Elijah Jamiur Brown was arrested Thursday in connection with aggravated robbery, battery and two counts of theft of property.
Bella Vista police received a call Wednesday about two males brandishing a gun and robbing a person, according to the probable cause affidavit.
Police found a 15-year-old boy with blood running down his face and a laceration above his left eye.
The boy said he had been communicating on Snapchat with local rappers from Fayetteville, and he invited them to Bella Vista. The teen said he wanted them all to take photographs with his father's handguns, according to the affidavit.
He told police he got into the men's car with his father's Taurus 9mm with a 32-round magazine. The other gun was Canik 9mm, which also had a 32-round magazine, according to the affidavit.
The teen said the passenger pulled a Glock, chambered a round and pointed the weapon at him and took his father's guns. Then the passenger pistol-whipped him. The teen said Brown punched him and threw him out of the car.
The teen provided police with a photograph of the passenger, according to the affidavit.
Police identified Brown through a Snapchat account and believe he was the driver of the car.
The teen called police to report one of the suspects posted photographs of the stolen guns on Instagram, according to the affidavit.
Capt. Tim Cook with the Bella Vista Police Department said they haven't yet arrested the second suspect.
Brown's arraignment is scheduled for March 23 in Benton County Circuit Judge Brad Karren's courtroom.
NW News on 02/15/2020
Print Headline: Man suspected of pistol-whipping teen
Sponsor Content