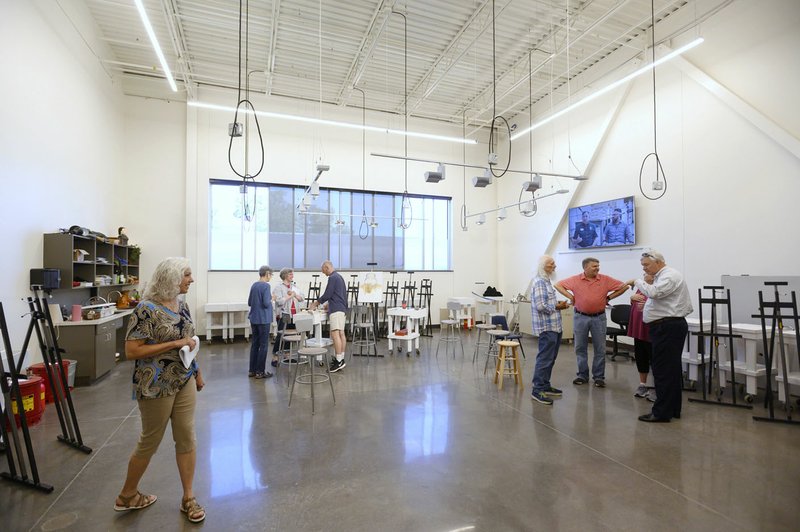 NWA Democrat-Gazette/Spencer Tirey Visitors toured Northwest Arkansas Community College's Integrated Design Lab building on its Bentonville campus. The building hosts courses in construction, fine arts, and computer-aided drafting.
BENTONVILLE -- Northwest Arkansas Community College has earned its first National Science Foundation grant, money that will go to equipment and activities associated with the new Integrated Design Lab building.
College officials announced at Monday's Board of Trustees meeting they learned last week they'd received the $586,900 grant. Christine Davis, dean of the business and computer information division, wrote the grant application.
National Science Foundation
The National Science Foundation funds research and education in most fields of science and engineering. It accounts for about one-fourth of federal support to academic institutions for basic research. In 2018, the foundation received about 48,000 research proposals from scientists and engineers and gave money to about 12,000, according to the foundation's website.
Source: Northwest Arkansas Democrat-Gazette
The Integrated Design Lab opened in August in the center of campus. The 18,000-square-foot building provides additional classroom and lab space for students pursuing an education in programs such as the fine arts, construction technology and computer information systems.
"We wanted to not just pick up what we were doing in other buildings and move it into the Integrated Design Lab," Davis said. "We really had this vision to elevate our curriculum and elevate our teaching methods and what we could offer students."
But with so much money committed to construction -- the building cost about $5.5 million -- administrators had to get creative to find money to support their vision, she said. They decided to try for a National Science Foundation grant. The application process started in 2018.
The grant will provide $188,000 in equipment, including things such as kilns, 3D printers and surveying and concrete equipment, Davis said. Additional grant money will provide faculty members time to write curriculum to accompany the new equipment.
There's also money included to pay for a new position, the grant director, for three years. That person's salary will start at $55,000, Davis said. The board approved the new position Monday.
Evelyn Jorgenson, college president, said Davis did a "tremendous" job writing the grant application. The foundation's grants frequently go to universities and are very competitive, she said.
The foundation is an independent federal agency created by Congress in 1950. It allocates 93% of its approximately $8.3 billion budget for grants and awards to support research projects, facilities and STEM education, according to a foundation fact sheet.
Also at Monday's board meeting, Jorgenson introduced Anas Massri, who started last week as the college's vice president of finance and administration.
Massri replaces Debi Buckley, who left the position nearly a year ago. Gulizar Baggson had been serving on an interim basis since then.
Massri will oversee budgeting, planning, human resources and campus information technology, as well as project management, public safety and risk management, and the physical facilities and construction, according to a college news release.
Massri spent the last five years as assistant vice chancellor for fiscal services at Missouri University of Science and Technology in Rolla, Mo.
Before that he was vice chancellor of finance and administration at Central Louisiana Technical Community College for two years and head of the finance department at Paris Sorbonne University in Abu Dhabi, United Arab Emirates, for three years.
Massri holds a master of business administration from Columbia Southern University, a bachelor's degree in accounting from Damascus University in Syria, and a diploma in bookkeeping from Al Mamoun University in Syria, according to the release.
NW News on 02/18/2020
Print Headline: College receives major grant
Sponsor Content