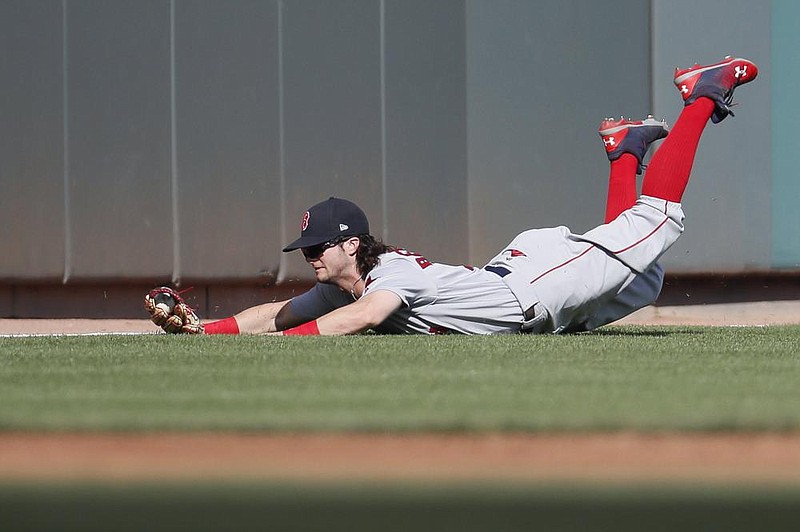 Known chiefly for his hitting skills during his time with Arkansas, Andrew Benintendi has developed into a quality defensive outfielder with the Boston Red Sox. (AP file photo)
FAYETTEVILLE -- The 2015 University of Arkansas baseball season was memorable for the program's eighth College World Series trip, but Andrew Benintendi's emergence as a collegiate star isn't easily forgotten, either.
The center fielder led the nation with 20 home runs while leading the SEC with a .376 batting average.
Benintendi won four national player of the year honors, including the Golden Spikes Award. The draft-eligible sophomore capped the season by being selected No. 7 overall by the Boston Red Sox in the 2015 MLB Draft.
In a short time, Benintendi's impact in professional baseball has been significant, which is why he is No. 9 in the Arkansas Democrat-Gazette's list of best Razorbacks to play in Major League Baseball.
Benintendi quickly rose through the minor leagues. He spent portions of the 2015 and 2016 seasons in the Red Sox system before being called up from Class AA Portland in August 2016.
He was the first Red Sox player to be called up directly from Class AA since Jackie Bradley Jr. in 2013.
Benintendi's bat won him awards at Arkansas, but his fielding has raised eyebrows in his time with the Red Sox.
Since the beginning of the 2017 season, his first full year in the majors, Benintendi leads baseball with 32 outfield assists. He ranks third in total innings played in left field (3,286 1/3), and is sixth with a .983 fielding percentage.
Benintendi also has made key catches in big games, none so bigger than in Game 4 of the 2018 American League Championship Series.
The Houston Astros trailed 8-6 in the bottom of the ninth inning, but they had loaded the bases with two outs when Alex Bregman hit a sinking line drive to left field. Benintendi charged, dove forward, positioned his glove just between the grass and ball, and maintained possession while coming to a rest on his stomach to end the game. If the ball got him by him, the game ends with the Astros on top.
His catch gave the Red Sox a 3-1 series advantage over the defending world champions, and the Red Sox eventually won the World Series in five games over the Los Angeles Dodgers. It also won The Associated Press' play of the year in all sports for 2018.
"I thought I got a good jump on it," Benintendi said after the game. "It wasn't hit that hard. I thought I could catch it. I timed it up well. At that point, it was do or die."
In the World Series, Benintendi made another difficult catch, this time in Boston. Sprinting to his right, he leaped just before reaching the Green Monster in left field and took a hit away from Dodgers second baseman Brian Dozier. The grab earned him the nickname "Air Benny" in Boston.
Although his career highlights have come with the glove, Benintendi has not been a liability at the plate.
He became the third Red Sox player to hit at least 20 home runs and steal at least 20 bases during his rookie season, joining Ellis Burks in 1987 and Nomar Garciaparra in 1997. Benintendi also hit five home runs in Yankee Stadium in 2017, breaking a rookie record that had stood for 112 years.
For his efforts, he was named American League Rookie of the Month in August 2017 and finished second in Rookie of the Year voting behind Yankees outfielder Aaron Judge.
In 2018, Benintendi slashed .290/.366/.465 while hitting 16 home runs and stealing 21 bases.
His production lagged in 2019 when he slashed .266/.343/.431. He hit 13 home runs and stole 10 bases, both career lows. He also saw his Wins Above Replacement (WAR) drop from 4.4 in 2018 to 2.0 in 2019.
With the shortened season approaching, Benintendi is expected to pick up some slack left by the trade of fellow outfielder Mookie Betts, who led the team in walks (97) and on-base percentage.
Benintendi, who turns 26 on Monday, is expected to replace Betts in the leadoff spot, a place Benintendi started last season hitting before Betts took over in May.
"I'll go wherever Rags [Ron Roenicke] puts me," Benintendi said to masslive.com during spring training. "Wherever that is, I'll be fine with it."
He started 48 games in the leadoff position last year, batting .119. He drew five walks and struck out 16 times.
"It's just like any other spot in the lineup," Benintendi said. "You just have to hit first in the first inning. Other than that, it's the same. I don't mind it at all. If I need to do it, I'll do it. And I think last year I was going through a little slump when I was in the leadoff spot.
"So, obviously, there's a lot of things being said about me hitting leadoff. Wherever I need to be, I'll be."
In his three-plus big-league season, Benintendi is slashing .277/.354/.442. He's hit 51 home runs with 275 runs scored, 259 RBI and 52 stolen bases.
Benintendi avoided arbitration and signed a two-year, $10 million deal with the Red Sox this offseason.
Benintendi said in an interview with the Razorbacks athletic department that he felt like his time at Arkansas prepared him for MLB.
"Everything down there is run like a pro team," he said. "From the workouts, to the base running, defense. I think that transition from college to professional baseball, [it] made that a lot smoother."
After hitting .276 with 8 doubles, 27 RBI and 45 runs scored as a freshman, Benintendi opted to work on improving his strength instead of playing summer ball.
Those workouts helped Benintendi become the only Arkansas player to win the Golden Spikes Award.
Benintendi was named the Gatorade Ohio Baseball Player of the Year as a senior at Madeira High School in Cincinnati. He was drafted in the 31st round of the 2013 MLB Draft by the Cincinnati Reds.
"I guess that was kind of cool just to be able to say I got drafted," Benintendi told MLB.com reporter Mark Sheldon. "But at that point, I had no thought of signing."
Top 10 Pro Hogs: No. 9 Andrew Benintendi
Sponsor Content