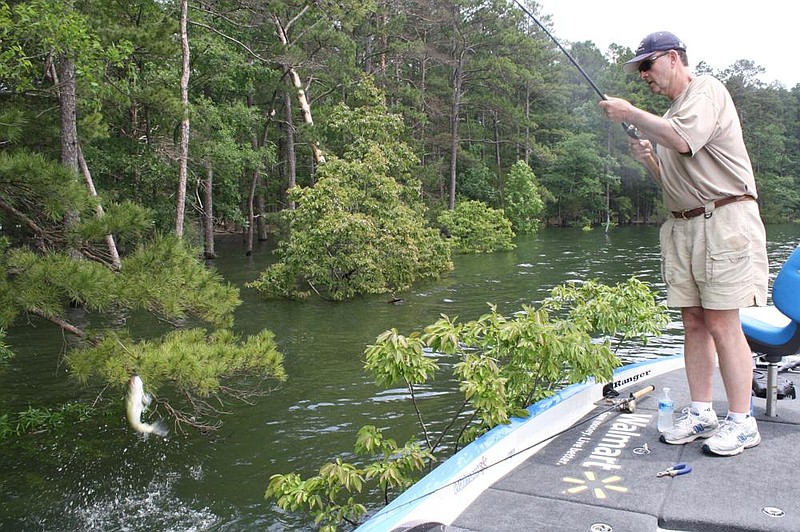 Catching bass from thick bank-side cover requires pinpoint pitching. (Arkansas Democrat-Gazette/Bryan Hendricks)
Summertime is not a pleasant time to fish in Arkansas, but hot, muggy days can be excellent for catching largemouth bass.
Bass still eat in hot and humid weather, but anglers must use a more deliberate approach than in the spring and fall. The main difference is that bass expend their energy efficiently. They relate to deep structure where deep, cool water is available, but in shallow lakes they hold tight to shallow, shady cover. A lot of this type of cover is available in Arkansas Game and Fish Commission lakes such as lakes Atkins, Conway and Kingfisher; in scores of lakes in southwest Arkansas; and in the many lakes in the White River National Wildlife Refuge.
Catching these bass is like hunting for trophy whitetail bucks. You're not perched over a food plot or a feeder waiting for a random buck to appear. That's the equivalent of fan casting the banks with the expectation that a percentage will draw strikes from a few aggressive bass. When hunting for trophy largemouths, you must invade the small lairs where they escape from the sun and from predators. Most likely they won't hit a lure out of hunger, but from aggression.
Chuck Justice, a trophy bass guide at McGee Creek Reservoir in southeast Oklahoma, specializes in 10-plus pound bass. At one time in the 1990s, he had three of Oklahoma's top 10 largemouths. His technique for catching trophy largemouths in warm weather was precise and meticulous.
For tackle, Justice used a stout, heavy-action rod with line at least 20-pound test and a reel with a line-retrieve ration of at least 7.1:1. His lure was a heavy jig and a pork trailer.
In the major arms, he looked for small, shallow points that provided easy access to deep water in channels or troughs. Spindly trees marked the points, but Justice looked for small clusters of three or more trees that formed small horseshoes or triangles. These formations constitute small citadels just big enough to hold a bass. They offer protection from three sides and an open window in front through which to dash to safety if necessary.
The best citadels have at least one small limb that stretches horizontally across the top of the opening. From a distance, Justice pitched his jig over the top of the horizontal branch with a soft touch that allowed it to splash down gently. That is important because a hard splash would spook a bass and send it rocketing to deep water.
"I use that horizontal branch as a fulcrum to lift the jig up and down," Justice said. "It allows me to keep it in front of his face, up and down, up and down. Eventually, I'll aggravate him enough that he'll get mad and eat it."
It worked as well as advertised. In the space of about 30 minutes, Justice caught two 9-pounders for an article that was published in Bassmaster magazine. Daiwa Corp. used the photos in its promotional materials.
Matt Hedrick of Little Rock has often used a similar technique to catch big bass with soft plastic frogs at Lake Atkins. In the heat of the day, big largemouths laze in very shallow water next to the bank behind a protective barrier of cypress trees.
Before casting, you must examine the cypress wall to find a window to the bank. It will probably be only a few inches wide, and it takes a precise cast to deliver the lure to the target without hitting obstructions to the sides and overhead. It's a lot like shooting an arrow at a big buck slinking through heavy brush.
The lure must be moving the instant it hits the water. This will activate the water-slapping motion of the frog's legs and will provoke a strike as the lure moves rapidly away from the bank. If there is any delay in the retrieve, the lure will sit and sink and spook the bass to flee.
This also requires a fast reel in the 8:1 class because you will have a very short time to wrestle a big bass into open water where you can manage it. Any delay on your part will enable the fish to wrap around a cypress knee or burrow into cover where it will pull free or break your line.
Such precise casting requires practice. You can practice in your yard pitching jigs at small targets like an aluminum Bama pie plate, or you can pitch at easy targets in open water. Your margin of error in big bass country is small, and repetitive errors can cause you to become discouraged.
On the day when it all comes together, though, the rewards can be magic and everlasting.
Second installment in the Masters Fishing Series.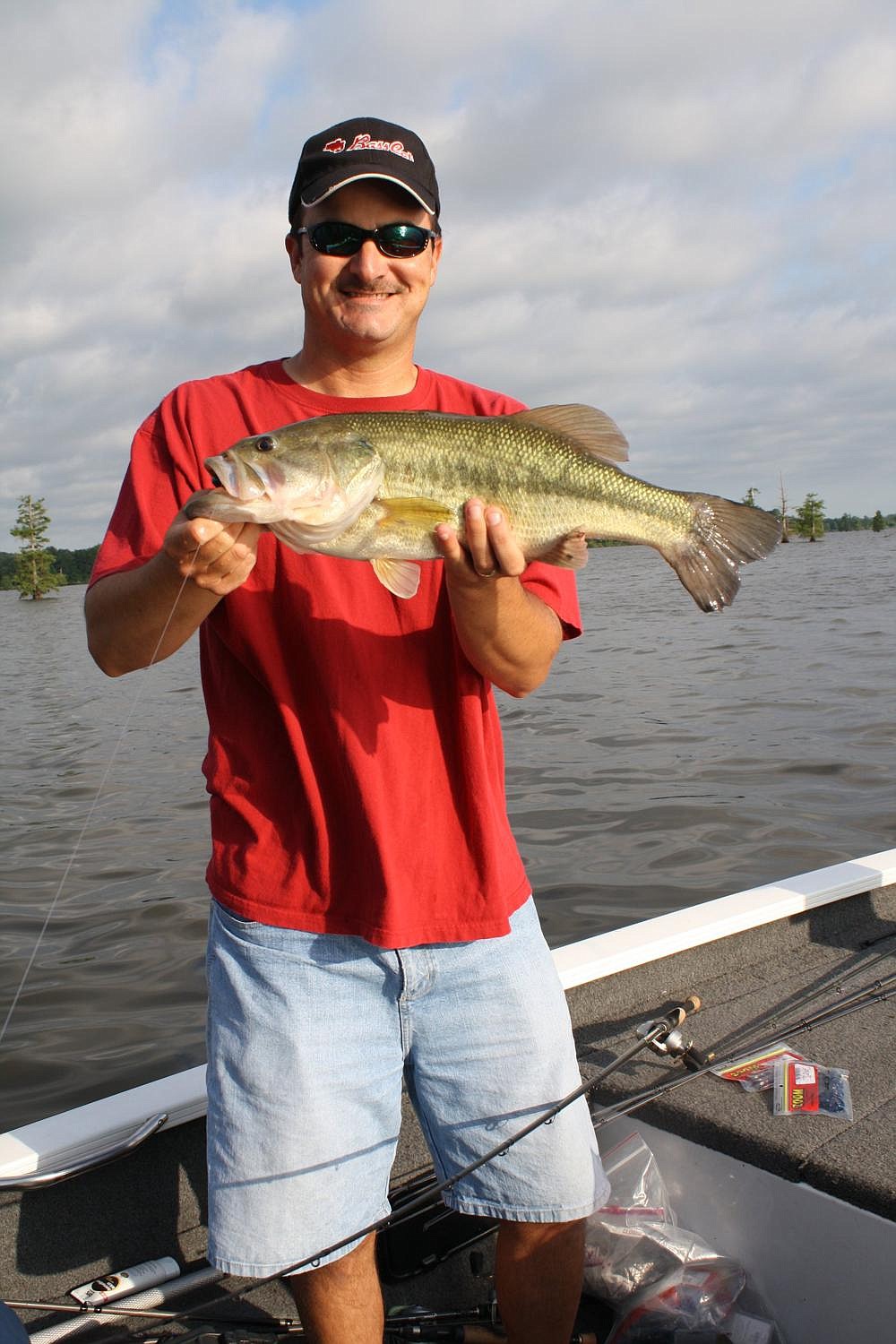 Summertime is a great time to catch chunky largemouths at Lake Conway and other Arkansas Game and Fish Commission lakes. (Arkansas Democrat-Gazette/Bryan Hendricks)
Sponsor Content