• Vanilla Ice has indefinitely postponed a Texas concert that drew fierce criticism due to the coronavirus pandemic. The 1990s rapper with the hit single "Ice Ice Baby" had been scheduled to play a lakeside concert today at a venue just outside Austin but on Thursday he announced it was being postponed. "Due to the increase in COVID-19 numbers in Austin we're gonna move the concert to a better date," Vanilla Ice tweeted. "We were hoping for better coronavirus numbers by July but unfortunately the numbers have increased quite a bit so for the safety and health of everyone we're going to stay home." Barrett Brannam, who owns Emerald Point Bar & Grill, the venue where Vanilla Ice had been scheduled to play, said the star whose real name Robert Van Winkle had expressed concern about the health of his fans and himself. Brannam said he didn't know when the show would be rescheduled. "Hard to say. Could be later this summer or not until next summer. We don't now how long this virus will be around," he said. While Texas Gov. Greg Abbott has shut down bars and clubs in an effort to halt the spread of the coronavirus, the Emerald Point Bar & Grill is still open and hosting music because performances can take place outside. The Vanilla Ice show drew widespread attention -- and criticism -- when the rapper posted about it on social media Wednesday. Only 84 tickets had been sold before the online ticket broker suspended sales.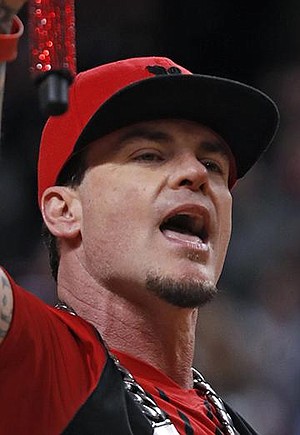 Vanilla Ice performs on stage during halftime of an NCAA college basketball game between Texas Tech and Iowa State, Saturday, Jan. 18, 2020, in Lubbock, Texas. (AP Photo/Brad Tollefson)
[CORONAVIRUS: Click here for our complete coverage » arkansasonline.com/coronavirus]
• A British judge on Thursday rejected an attempt by tabloid newspaper The Sun to quash a libel suit from actor Johnny Depp over an article claiming he abused ex-wife Amber Heard. Judge Andrew Nicol said "in my view it would not be just to strike out the claim." The ruling means the two celebrities will square off next week at the High Court in London. Depp, 57, and Heard, 34, met on the set of the 2011 comedy "The Rum Diary" and married in Los Angeles in February 2015. They divorced in 2017. Depp is suing The Sun's publisher, News Group Newspapers, and Executive Editor Dan Wootton over a 2018 article claiming the actor was violent and abusive to Heard. Depp strongly denies the allegations. The Sun's lawyers applied for the case to be dismissed on the grounds that Depp failed to disclose text messages he exchanged with an assistant showing that he tried to buy "MDMA and other narcotics" while he was in Australia with Heard in 2015. The newspaper's lawyer, Adam Wolanski, said withholding the texts was a breach of an earlier court order requiring Depp to provide all documents from separate libel proceedings against Heard in the United States. The judge ruled that Depp had breached the disclosure order but granted him "relief from sanctions," meaning the case can proceed.