WHEN YOU WALK into a place of worship, how should you feel? Should you feel peaceful and hushed? Energized and enlightened? And as a place-of-worship designer, how does one go about taking a big-box empty shell of a space and creating a welcoming environment that encourages reverence, peace and warmth?
And how in the world do you do that on a church budget?
It's easy, says Jamie Moon of Two Moon Design + Craft. All it takes is "vision"—that's a word she uses a lot—and a team who can carry it out. She knows, because for seven years, she was the lead designer and project manager for Conway-headquartered New Life Church, which grew from four to 16 worship spaces statewide during her tenure. She knows, because she was the one designing floor plans and choosing finishes and ordering hundreds of chairs for hundreds of congregants.
She knows, because she learned everything about how to be a general contractor—how to dream up dream homes for family, for clients, for herself—from designing churches and seeing those designs through.
"I saw a lot of sides of contracting that I didn't like," Jamie says, FaceTiming me from the home she designed and recently built in Wooster for her growing family, the youngest of whom she's holding as she juggles her iPhone. "I thought the general contractors out there knew a lot about construction, but as far as project management and client communication and helping the client achieve their goals—not so much. So that leads to a lot of really boring builds. Like, just boring. Cookie cutter, over and over, the same thing.
"My entire career, from designing for New Life to designing residences, has been, How big can we dream? We're always gonna dream big, and we're never gonna say no to dreams. We're just going to scale them to fit."
At first blush, there might not seem to be much of a connection between designing worship spaces and homes. But in Jamie's mind, they're one and the same. Consider that question again, about how you should feel when walking into a church. When you're in a sacred space, you should know. You should feel the calm and the reverence and the peace and the community. But have you ever thought about what it should really feel like when you walk into your own home? Should it feel cocoonlike and comfortable? Polished and poised? And how can your home be built and designed in a way to evoke these feelings each time you enter it?
Jamie knows that people think, Well, that's great and all, but I don't have the budget for all that "vision." Not so, she says. It's not about the budget—after all, if she can build something powerful on a church budget, she's fairly certain she can do the same for you. It's about creating a place that's you. It's about understanding how a space becomes something sacred.
It's about dreaming Sistine Chapel-big, then scaling that down to size.
---
"We call this the cathedral," Jamie says of her home's main living space, still holding her baby in one arm and her iPhone in the other. I can see what she means: The great room she's showing me is awash in light—sunlight's pouring through a towering wall of glass, casting shadows on the room's pearl-white walls—and the ceiling's apex reaches a height of just over 25 feet. The shape of the room, I think to myself, is not unlike the shape we make with our fingers when playing "here is the church and here is the steeple" with our little ones.
"I'm big on sightlines," Jamie says. "When I walked in, I wanted to have this ceiling vaulted in the center and everything kind of centered around that—the range hood on that end, the fireplace on this end."
As she "shows" me around the rest of the 2,400-square-foot home, which she affectionately refers to as "Two Moon Manor" on social-media posts, I'm quick to learn a lot of other design elements Jamie's big on. There is limewashed brick, for one, and black light fixtures with polished chrome details, for another, as well as arched entryways, built-in dining nooks, dual fireplaces and toned soapstone countertops.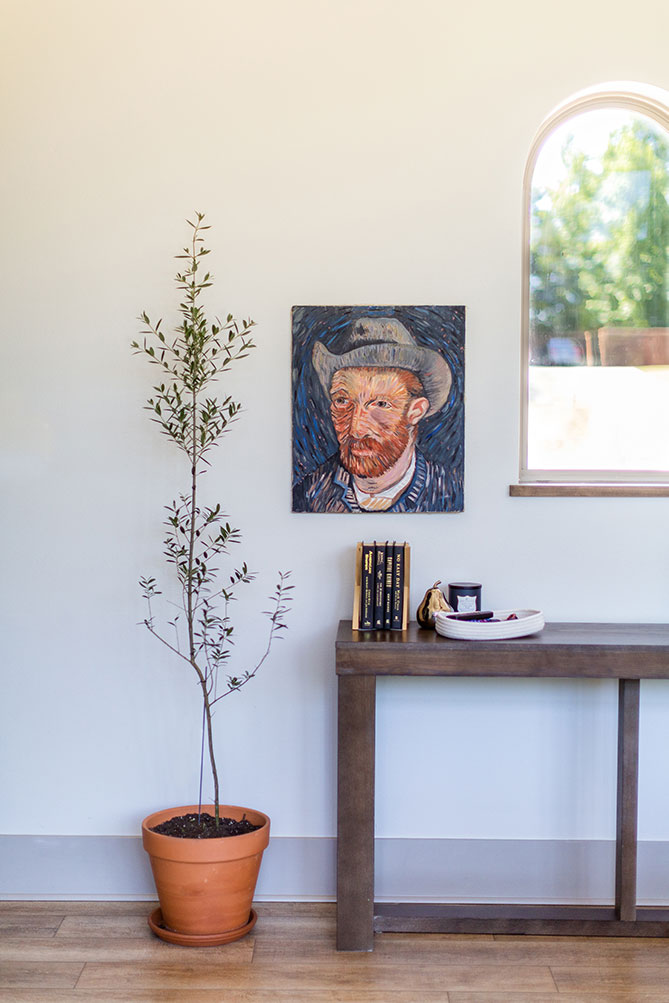 At least from the vantage point of a FaceTime tour, all of these elements combine to create a space that appears grand while still feeling intimate. It's a space that feels like a tight-knit family lives and gathers here. It's a space that feels like it has a point of view. Which it does. Jamie's husband, a real estate inspector, coined her design aesthetic—on full display in their own abode—"Modern Ranch Land." And while it's not essential for a general contractor to have an "aesthetic," for Jamie, it makes sense.
Back in her New Life days, she was responsible for creating the style guide that governed design choices at each new campus. Similarly, the aesthetic she's presenting at Two Moon Manor is meant to be a style guide of sorts for her new endeavor: a place for clients and prospects to see what she's all about. That's not to say that it's not authentic—in essence, this home is a manifestation of everything she's been dreaming up for her own house for years. She had "Pinterest boards of ideas before Pinterest was even a thing," she says, laughing.
What became Two Moon Manor started with a doodle, as they all do. Jamie sketches from the inside—the floor plan—out, which she admits is the "backwards" way of doing it, architecturally speaking. "To me, it's gotta make sense—it's got to flow and function," she explains. "For this one, it's like I took these puzzle pieces I was collecting along the way and started putting it together. And of course our eyes got bigger than our heads, and we priced it, and we were like, Welllll, no. But that's it: I created the dream. And then we scaled it down."
This is exactly how she figures her brand of contracting differs from others': As was the case with her own home, there's nothing "plug and chug" about her design process. She wants to help you dream, but she also knows you've got to be grounded in reality. Maybe, she muses, that's what's different about female contractors—#womenwhobuild, as she likes to say on Instagram.
"I mean, I cook. I clean. I have children," she says, "so when we design houses, when we're laying it out, drawing it out with the architect, I'm thinking about the flow of things. I'm thinking, Where's your silverware drawer going to go? I get that."
Or maybe it's more than that. Maybe it's the soulful, spiritual connection she has to the spaces she creates, a connection that dates back to her entrée into the world of design and build, back to New Life, back to building places of worship, back to that word she loves: vision. It might take the right person to coax it out of you, but Jamie knows you have a vision for what you want your home to be—how you want it to feel, how you want to live in it.
And that, she'll tell you, is how you begin to build a dream house.
For more of Jamie's work and #womenwhobuild,visit her Instagram at @twomoondesignandcraft.
Resources
Design & Contracting:
Two Moon Design + Craft
Architect: H+N Architects
Supplier: Ridout Lumber and ABC Supply
Roofing: Malarkey Roofing Products
Paint & Stains: PPG Paints, Romabio Classico Limewash, Rubio Monocoat Stains
Finish Carpentry: Sturdy Home Designs
Landscaping: Go Big Outdoors and The Plant Outlet
Fixtures and Furnishings: Wayfair Professional and Ashley Furniture