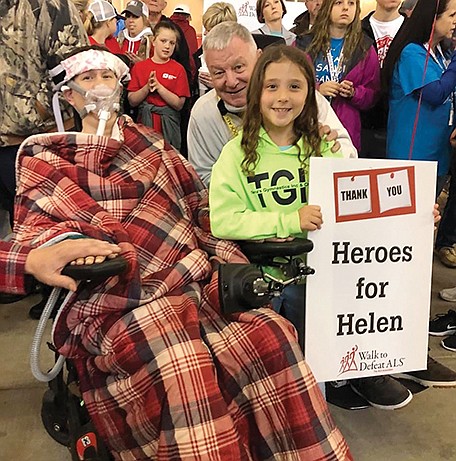 Helen McCombs, left, of Russellville, and her daughter, Emma, pose for a photo with Tommy May, former president of Simmons Bank, during the 2019 ALS Walk for Life. From 10-11 a.m. Saturday, members of the Heroes for Helen Facebook group will lead a drive-by parade in front of McCombs' house to help raise money for support services and awareness of amyotrophic lateral sclerosis.
Members of a community-led group will host a drive-by parade in an effort to raise money, support services, and awareness for amyotrophic lateral sclerosis, also known as Lou Gehrig's disease. From 10 a.m. to 11 p.m. Saturday at the home of Helen McCombs in Russellville, participants are asked to drive by with signs they have made and wave.
Helen's daughter, Emma, 9, will have a lemonade stand outside her family's house at 301 Damascus Road in Russellville and will accept donations for the ALS Association's mission to help find a cure for the disease. T-shirts will also be available in advance of the event and can be reserved or purchased through the Heroes for Helen Facebook page.
The ALS Association Arkansas Chapter relies on the Walk to Defeat ALS to help fund the chapter's programs. The July 25 event is virtual this year because of COVID-19, but some teams are getting creative using the theme Hometown Heroes, encouraging everyone to "Walk Your Way" and creating local acts of awareness and visibility.
Cris Mammarelli, care service coordinator for the ALS Association Arkansas Chapter, said McCombs has been an inspiration since the first time Mammarelli met her five years ago, when she was first diagnosed with ALS.
"Receiving such a difficult diagnosis can be devastating, especially for a young mother and wife, but Helen has met every single challenge with determination and the most positive spirit," Mammarelli said. "She has so many reasons to hope for a cure, but her greatest desire of all is to raise her daughter.
"Although Helen is paralyzed at this point and relies on a mask and a respiratory device to breathe, along with help from 24-hour caregivers, anyone who meets her is astonished at how she is still able to parent and teach Emma the most important lessons, along with simple everyday skills."
Mammarelli said it is beyond heartwarming to see Emma climb up on her mom's wheelchair or recliner and snuggle right by her side.
"They have a unique and very special bond," Mammarelli said.
She said she is so excited to see the photos and videos and is grateful to all those who are driving by and supporting people such as McCombs.
The ALS Association Arkansas Chapter has assisted McCombs with a quarterly financial grant program to help with groceries and more, and has also provided much-needed equipment for her home. She said the chapter recruited help to build the large accessible ramp in front of the house and the new patio in the backyard.
"We also send care packages to Emma through our volunteer program to brighten her day," Mammarelli said.
McCombs said her family participates in the Walk to Defeat ALS, put on by the ALS Association Arkansas Chapter, which allows the opportunity to connect with other ALS patients from various parts of the state. She said that this year, her team chose to have a drive-by parade past her house and give the community a chance to encourage and support her.
McCombs, who was raised in Elizabethtown, Pennsylvania, is the youngest of five siblings. She said her siblings were a lot older and married when she was growing up, and she had nieces and nephews when she was just 10 years old. She said that as a family, they were all very close-knit.
"I started baby-sitting in my teens, and I was active in my church youth group," she said. "I played flute and piccolo in the marching band and concert band. Music was my life. My pastor's wife encouraged me to help out with the newly established preschool at the church, and that is when I knew I wanted to work with children."
She graduated from Elizabethtown Area High School in 1997 and started college at a satellite campus of Penn State University. She moved to Russellville in 2004 and enrolled at Arkansas Tech University in 2005, graduating with a degree in psychology in 2009.
She met her husband, Eric, while in college, and the couple married in October 2010. Their daughter, Emma, was born in May 2011. After McCombs graduated from ATU, she was hired by the Department of Human Services' Children and Family Services.
"I helped many families with challenges stay together and receive the resources necessary to maintain," McCombs said. "I also assisted families with reunification and adoption."
She said that later, an opportunity became available for her to become a mental-health paraprofessional at a behavioral health clinic, working with school-age children with behavioral challenges.
In fall 2014, McCombs said, she began to notice weaknesses in her right arm, and she also had trouble getting up off the floor during sessions with the children. Eventually, she started falling off chairs and tripping over nothing.
"I went to my [primary-care physician] a few times, and she referred me to a physical therapist," McCombs said. "I had physical therapy three times a week for two months with no improvement, so my PCP referred to me a local neurologist.
"After some testing, he referred me to the neurologist at [the University of Arkansas for Medical Sciences in Little Rock], and there were whispers of ALS, but nothing definite."
She was officially diagnosed with ALS in March 2015. She kept her job until November of that year, when she had to quit working because the disease was progressing rapidly, and she was unable to perform tasks needed for the job.
"I like to refer to it as a journey," McCombs said. "I am grateful for so much support that the struggles are few. The hardest part is how [the disease] affects my husband and daughter.
"There are no words to describe how they can watch me get weaker. My daughter has adapted very well. She is eager to learn and help with my care — I am blessed to have her."
Eric works full time for a Tyson Foods freezer facility in Russellville and takes care of the family's house and yard. McCombs said he is a great provider and a loving husband. She said she is fortunate to receive services from private-duty nursing and personal-care aides for almost 24 hours a day.
"The emotional toll of ALS takes suffering to a new level," McCombs said. "For me, it's an internal struggle, trying to stay positive and not getting down about the situation. I pray and listen to music to keep my spirit up.
"I struggle with a sense of purpose because I'm completely disabled and rely on the people around me. When I have been used to being very independent, it is hard to sit and do nothing."
McCombs said she is learning to be patient and not get upset about the small things, such as dirty dishes or laundry. She said she has a Tobii DynaVox Eye Gaze computer, which gives her a little more independence and allows her to connect with family, friends and other people who have ALS.
"Our church and school have been amazing," McCombs said. "Being a part of the community helps me feel like a part of St. John Catholic Church and School.
"The school has wrapped their arms around us by providing meals, child care and accommodations for me to be able to participate with school activities.
"We are forever grateful and blessed."
Staff writer Sam Pierce can be reached at (501) 244-4314 or spierce@arkansasonline.com.
Sponsor Content