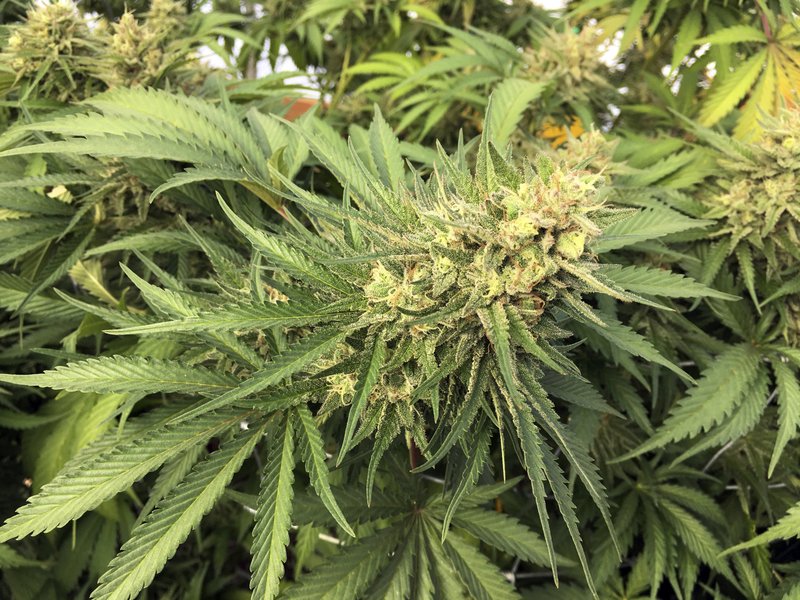 This Sept. 30, 2016, file photo shows a marijuana bud before harvesting at a rural area near Corvallis, Ore. (AP Photo/Andrew Selsky, File)
A lawsuit that claims Arkansas medical marijuana regulators illegally awarded a dispensary license to a Hensley seller has been boosted by a Pulaski County Circuit judge's finding that the plaintiff, Green Thumb Industries Arkansas, is probably right.
Green Thumb claims that it should have gotten the license, one to sell in the Little Rock area, but regulators wrongly gave it to Native Green Wellness Center, which opened a store a little more than a year ago in Saline County.
Green Thumb asked for -- and received on Wednesday -- a temporary restraining order from Judge Mary McGowan that barred authorities from issuing the license to Native Green.
The lawsuit, which ultimately seeks to have the judge give the Little Rock license to Green Thumb, was filed Tuesday, too late to keep Native Green, which is not a party to the suit, from collecting the Little Rock license. It was awarded about two weeks ago.
In her order, the judge found Green Thumb has shown sufficient proof that issuing the license to Native Green was "violating the clear and unambiguous language" of Amendment 98, the 2016 voter-approved initiative that legalized medical marijuana.
Acknowledging that regulators had not seen or responded to the litigation, the judge did not address Green Thumb's argument that it should get the license.
Native Green, which describes itself as "proud to be a woman-owned business with 100-percent Arkansan ownership," got its license last year to sell in Dispensary Zone 6, the seven-county region of Garland, Grant, Hot Spring, Montgomery, Perry, Saline and Scott counties. It was the state's fifth retailer to open.
Amendment 98 allows up to 40 dispensary licenses, and the Arkansas Medical Marijuana Commission divided the state's 75 counties into eight dispensary zones.
At issue now is a dispensary license in Zone 5, which comprises Faulkner, Lonoke, Pulaski and White counties.
Green Thumb's lawsuit says Native Green is ineligible for the Little Rock dispensary license because Native Green already had a license, and one is all the Arkansas Constitution allows.
Before getting the Little Rock license, all of but one of Native Green's owners, the Koon and Hansen families of Little Rock, gave up their interest in the Saline County operation so it could be taken over by a new company, Hensley Wellness Center, formed in March and owned by other members of the families.
Those changes mean that one woman has held a stake in both Native Green and Hensley Wellness, which the Green Thumb lawsuit maintains is also illegal.
Green Thumb, also known as GTI Arkansas, accuses regulators, the Medical Marijuana Commission and the Arkansas Department and Finance Administration's Alcoholic Beverage Control Division of illegally altering the rules to give the license to Native Green.
"Green Thumb Arkansas seeks a declaratory judgment that the [commission] is acting in an unconstitutional manner (which is also illegal, unlawful, in bad faith, ultra vires, arbitrary and capricious, and a wantonly injurious manner) because it is acting in violation of [constitutional] Amendment 98 where it seeks to grant a second medical marijuana dispensary license to Native Green Center," the 31-page lawsuit states.
Amendment 98 states in no-uncertain terms that no one can own more than one dispensary, while the commission's rules bar anyone from having a financial stake in more than one dispensary, according to the lawsuit.
If Native Green had been disqualified as it should have been, Green Thumb had the next highest score to win the license, according to the suit.
Commission records show Native Green beat out Green Thumb in the scoring to qualify for one of the five Zone 5 licenses by about 11/3 points. In contrast, the top scorer was more than 12½ points ahead of Green Thumb.
Native Green's Saline County dispensary was run by 37-year-old Kattie Hansen, who with her father Walter William Koon, 58, owned 85% of the company, with their shares divided between Hansen's 40 percent stake and her father's 45 percent interest, commission records show.
Kattie Hansen, who gained statewide attention as a successful competitor in the Miss Arkansas pageant system, plus work as a television reporter and personality, did not return a phone call requesting comment.
Hansen's mother, Anita Ann Koon, owned 8 percent of Native Green's Saline County dispensary and maintained an 8% stake in Hensley Wellness when it took over the dispensary earlier this year, commission records show.
Anita Koon was to operate the Hensley store, with Hansen's husband, 40-year-old Fredrik Hansen, owning 40 percent, and Diane Koon, Walter Koon's wife, having 45 percent, according to an ownership breakdown submitted to the commission in March.
Green Thumb is run by Stephen Jay Hickey, a Texarkana tobacco wholesaler and gubernatorial appointee to the Arkansas Tobacco Control Board and brother to Republican state Sen. Jimmy Hickey of Texarkana, the president pro-tempore elect of the Senate.
Green Thumb is being represented by Little Rock attorney Jerry Malone, who is also the lawyer for Citizens For A Better Pope County, the anti-casino group.
Sponsor Content