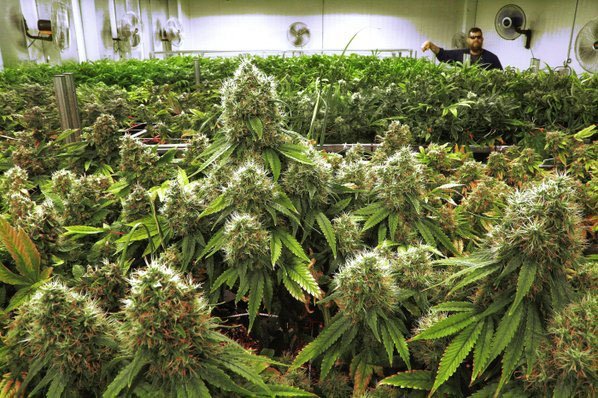 This Sept. 15, 2015 file photo shows marijuana plants a few weeks away from harvest in a medical marijuana cultivation center in Albion, Ill.
A medical marijuana dispensary in Little Rock has been ordered to stop operating under the name "Harvest" by a Faulkner County judge in a lawsuit filed by a similarly named dispensary in Conway.
The operators of the Harvest Cannabis Dispensary in Conway lauded the judge's ruling last Monday against Harvest House of Cannabis, which they accused of "bully" tactics in attempting to secure use of the name.
"We have been open and honest about our intentions and branding since September 2017, when we first came up with the name around the breakfast table and sought a license from the state," Elizabeth Barnett, the CEO of the Conway dispensary, said in a statement.
An attorney for the Little Rock group, which is incorporated under the business names Natural State Wellness Dispensary and Natural State Enterprises, said he would pass along a request for comment from the business on Wednesday. No comment was provided before press time.
The dispensary in Little Rock is managed by Harvest Enterprises Inc., a cannabis company based in Arizona and with locations in several states, according to its website and court filings.
Shortly before it became the first dispensary to open in Little Rock in February, the owners changed the name from Natural State Wellness Dispensary to Harvest House of Cannabis. A similar name change was made at the group's cultivation facility in Newport.
Harvest Cannabis Dispensary in Conway, which opened in October, filed suit seeking to keep the Little Rock group from operating under the similar name.
In court filings, attorneys for the Little Rock group defended their use of the name, arguing that the owners of the Conway dispensary were aware of the connection between the Little Rock group and the national company using the name Harvest before they opened their store. Filings also alleged that the company had built a good reputation with Arkansas customers who traveled to other states before their first store was opened in Little Rock.
Faulkner County Circuit Judge Susan Weaver, however, determined that the Conway dispensary had established an exclusive right to the name in Arkansas, and issued a preliminary injunction ordering the Little Rock dispensary and cultivation center in Newport to immediately stop using the name "Harvest" in its advertising and web presence.
Any more permanent signs using the name must be immediately removed or covered, the judge stated in her order. The Little Rock dispensary was also told to stop selling products branded with the name "Harvest."
The ruling was handed down after a two-day evidentiary hearing held in April over video conference as a result of court restrictions put in place during the covid-19 pandemic.
Sponsor Content