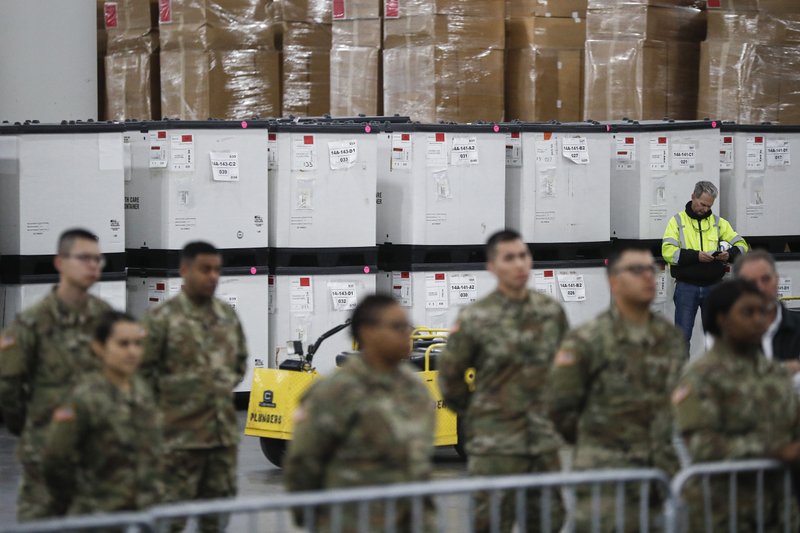 U.S. National Guard members stand beside crates of medical supplies at the Jacob Javits Center, Monday, March 23, 2020, in New York. New York City hospitals are just 10 days from running out of "really basic supplies" Mayor Bill de Blasio said late Sunday. De Blasio has called upon the federal government to boost the city's quickly dwindling supply of protective equipment. The city also faces a potentially deadly dearth of ventilators to treat those infected by the coronavirus. (AP Photo/John Minchillo)
WASHINGTON -- The coronavirus is taking a toll on the U.S. military, and commanders and senior officials are expecting the worse.
From nuclear missile fields at home to war zones abroad, from flightlines to ships at sea, the Pentagon is striving to shield vital missions even as it faces urgent calls for help on the civilian front.
Training exercises big and small, including one of the largest in Europe since the end of the Cold War, have been curtailed. Army recruiting stations have closed. Troops around the globe are hunkering down to confront an enemy unlike anything the world's most lethal armed forces have encountered before.
"It's unprecedented in my lifetime," Defense Secretary Mark Esper said, adding that he believes that "in a period of months" the worst will be over and the force will once again be "fully mission-capable."
[CORONAVIRUS: Click here for our complete coverage » arkansasonline.com/coronavirus]
Until then, the ramifications of covid-19 for the military are likely to expand. There are worries, for example, about the defense industry being weakened and key weapons development slowed.
Gen. Mark Milley, chairman of the Joint Chiefs of Staff, says that in a worse-case scenario, the military will lose some of its preparedness for combat and other missions. But the impact is likely to be "moderate to minor to low in terms of its risk" to national defense, he told reporters Monday.
"I'm just not in a place right now where I can give you an accurate description of what that's going to look like," he said.
The Pentagon budget also is taking a hit, although a coronavirus relief bill working its way through Congress would provide billions for the growing list of new expenses, including loans to industry that would enable accelerated production of medical equipment such as ventilators and respiratory masks for civilian use.
[Video not showing up above? Click here to watch » https://www.youtube.com/watch?v=xPCwQ0GluTo]
Many of America's closest allies are waging their own covid-19 battles, including Britain, Germany, Italy, France and other NATO partners, as well as South Korea, which hosts about 28,500 U.S. troops. At least temporarily, the pandemic has taken the edge off conflict in some of the globe's major flash points, such as Iran, as governments focus on fighting the disease inside their own borders.
Gen. Joseph Lengyel, chief of the National Guard Bureau, which is accustomed to responding to single-event domestic natural disasters like a flood or hurricane, said the coronavirus outbreak is akin to having hurricanes of varying ferocity hit every U.S. state and territory as well as the District of Columbia.
"This is a historic event that will require a historic response," Lengyel said.
The Guard has been mobilized by every state governor and in three territories. In Washington, California and New York, the federal government is footing the bill. As of Wednesday, more than 10,000 Guard members were on duty. The active-duty military also is helping, with three field hospitals deploying to New York and Washington, and Navy hospital ships expected in Los Angeles and New York.
The Guard is chipping in with a range of expertise, including what it calls weapons of mass destruction teams that are helping set up drive-thru testing stations.
No U.S. military member is known to have died from covid-19, although infections are spreading.
As of Thursday, 280 of the 1.4 million-strong active-duty force had been confirmed with the disease, up from 51 a week earlier.
The virus has penetrated the Pentagon, but with modest impact thus far as Esper and Milley remain at work in the military headquarters. As a precaution, Esper and the deputy defense secretary, David Norquist, are being kept separated. On Monday, the building's health risk alert level was raised a notch, and on Wednesday, Esper ordered the higher alert level for all Defense Department sites worldwide.
In a virtual town-hall meeting with Defense Department employees, Esper on Tuesday said his top priority is protecting troops and their families, but he noted that the military cannot function free of risk.
"You can't do social distancing in a submarine or even a tank," he said.
Navy ships have stopped port visits abroad, except when resupply or maintenance requires it. On Thursday the Navy said eight sailors aboard the USS Theodore Roosevelt tested positive after the aircraft carrier made a port call in Vietnam.
A short time later, officials said the number was rising rapidly and was in the "dozens." This was the first reported time the virus has struck a warship at sea. The carrier was being diverted to Guam on Thursday, and all 5,000 aboard are to be tested. In general, the virus has been slower to disable a generally younger and healthier military population.
A Section on 03/27/2020
Print Headline: Virus taking a toll on U.S. military as it aids civilians
Sponsor Content