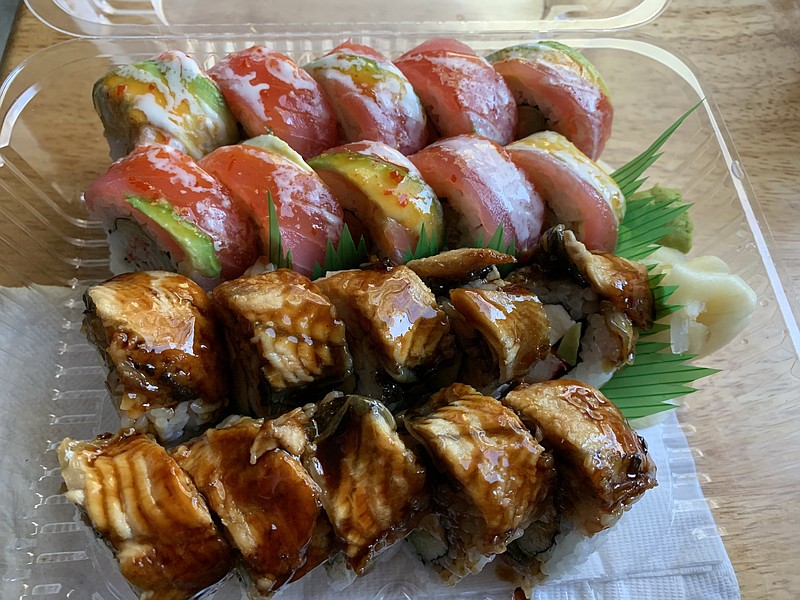 The Arkansas Roll (top) and the Heights Roll were pretty good wing-and-prayer choices from Sushi Cafe West. (Arkansas Democrat-Gazeette/Eric E. Harrison)
Arkansas Gov. Asa Hutchinson has said he is loath to reapply restrictions on retail operations, including restaurants, despite the exponential explosion of coronavirus cases.
Meanwhile, we continue to be loath to run the risk of returning to restaurants regularly. This is why we continue to take our meals to-go. As per our usual practice, we pay for all our meals upfront, we avoid chain places and we stick to a roaming radius that will generally mean we won't have to reheat our repast when we get it home.
◼️ SUSHI CAFE WEST, 11211 Cantrell Road, Little Rock, (501) 954-7866, tinyurl.com/yy79xfow
WHAT WE GOT: Arkansas Roll ($14), Heights Roll ($12)
We paid a visit to the original Sushi Cafe in the Heights a couple of months back — how time flies when you're having a pandemic — but when next we had a hankering for sushi, we decided to go west. The online ordering system doesn't provide descriptions of the specialty rolls, just tiny photos, so we picked a couple on a wing and a prayer.
The Heights Roll answered our prayer — essentially a California roll ("crabstick," aka surimi, plus cream cheese, avocado and cucumber, wrapped in rice), here coated in a crunchy batter and topped with grilled eel and eel sauce, similar to teriyaki. There was plenty of it too.
We were pleased, but not as thrilled, by the Arkansas Roll, rice surrounding shrimp, blue crab, mango and cucumber, with fresh tuna, avocado and a sweet chile sauce on top. The mango gave it fruity character that took a bit of getting used to, but we eventually got used to it.
HOW IT WENT: We ordered and paid online. It took about five minutes longer to come out than we were promised, but that's not bad. Between traffic and construction at the confluence of Interstate 430, Cantrell Road and North Rodney Parham Road, getting in and out of the parking lot is likely to be a bit of a trial.
HOW IT'S GOING: The dining room is open and there were a couple of occupied tables. During our five minutes' wait, we didn't see any other to-go customers.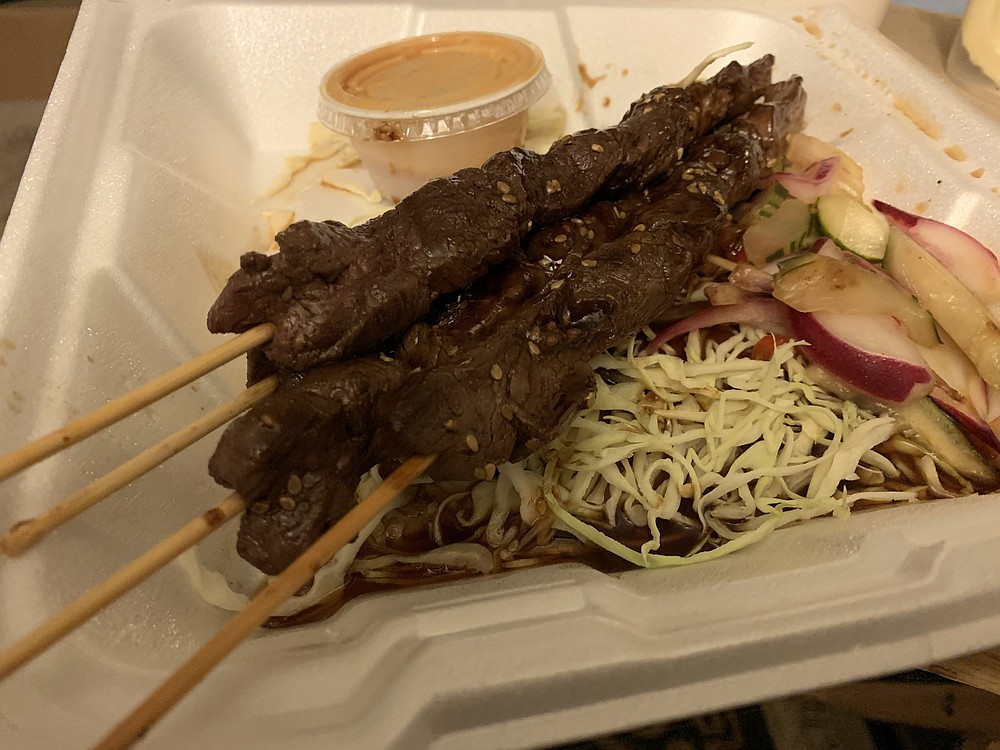 The Beef Satay appetizer from Walter's Green Room at the Heights Corner Market comes with a cup of thin but tasty peanut sauce and a side radish-cucumber salad (Arkansas Democrat-Gazeette/Eric E. Harrison)
◼️ WALTER'S GREEN ROOM AT HEIGHTS CORNER MARKET, 5018 Kavanaugh Blvd., Little Rock, (501) 663-4152, heightscornermarket.com
WHAT WE GOT: Beef Satay ($12), French onion soup ($8); and for Sunday brunch, a three-cheese omelet ($9) with a side of bacon ($2.75)
Many restaurants and versions of restaurants have come, gone and/or moved within the framework of this high-end market. Walter's, which started out in the much bigger space on the north side of the market, has moved into the smaller south-side penthouse that first housed the first restaurant to open here (the space, for those whose memory goes back that far, that used to be Sue's Pie Shop).
Budgetary constraints led us to pass on the higher-end, higher-priced entrees, but the four skewers of tender beef, with a thin but tasty peanut sauce and a pickled radish-cucumber salad on the side, was plenty filling, especially after we added a container of onion soup. The soup certainly had plenty of onions but not much cheese, and what there was, was melted onto the crouton.
We were sufficiently intrigued by the possibility of Sunday brunch that we went back to Walter's for it and got a plump three-egg, pick-your-own-ingredients omelet, which the kitchen stuffed well with cheddar, jack and Swiss cheeses. It was surprisingly un-salty — except for the salt in the cheese — and probably could have used a little hot sauce or some kind of extra zip, but we downed it in haste and happiness. The two big, relatively thick slices of side-order bacon were helpful in providing a flavor balance.
HOW IT WENT: Enter the restaurant through the main door off the mini-parking lot, or through the store. The dining room is open, so on both occasions we placed and paid for our orders in person. And on both occasions, there was only one staff member on the floor, serving as host, waiter and bartender. That slowed the taking of our order, but not otherwise the level of our service.
HOW IT'S GOING: There were two occupied tables at dinner and two at brunch. We didn't run into any other to-go orders.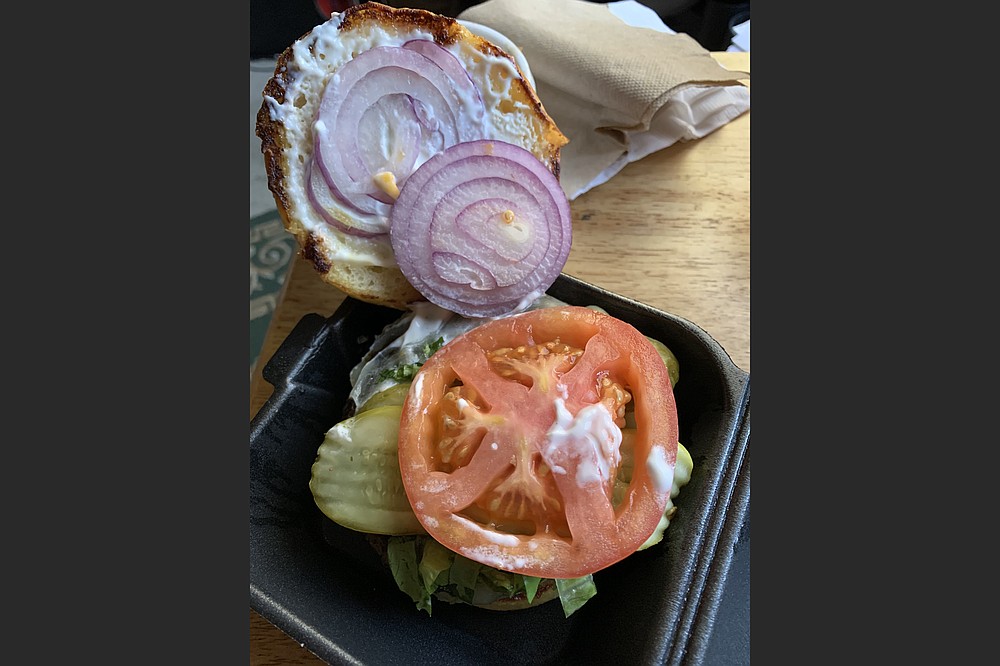 The Old Fashioned Cheeseburger wasn't what we ordered from Cheers in the Heights, especially not the lettuce, tomato, purple onion and mayonnaise. (Arkansas Democrat-Gazeette/Eric E. Harrison)
◼️ CHEERS IN THE HEIGHTS, 2010 N. Van Buren St., Little Rock, (501) 663-5937, cheersith.com
WHAT WE ORDERED: Kobe "Akaushi" hamburger steak ($15); smoked salmon chowder ($6)
WHAT WE ACTUALLY GOT: Old Fashioned Cheeseburger ($10.50); French onion soup ($6)
HOW IT WENT: In all the months we've been assembling this column, we've never had an "adventure" anywhere close to this one.
We placed and paid for our order online, attracted by the menu description that explains that "Akaushi" means "red cow" and is a breed of Japanese wagyu cattle. "The meat contains high concentrations of oleic acid, a heart-healthy fat, and has a high ratio of [monounsaturated] fats to saturated fats," the menu adds. Moreover, it's "cooked-to-order with grilled onions." And it comes with home-cut French fries and a dinner salad.
Less than two minutes after we closed out the order, we got a phone call from the restaurant, telling us that, alas, the smoked salmon chowder on the menu was no longer on the menu. We agreed to substitute the onion soup, same price, no problem.
We got to the restaurant within the 30-minute pickup time. The server checked the table full of pickup orders, found our name and handed us a plastic sack. It didn't feel like there was soup in there, but we, foolishly, didn't open it until we got it home. Whereupon we found, no soup, but two identical orders of something salad-like in clear plastic clamshell containers. (We're not sure what they were; they didn't resemble anything on the online menu.)
We called the restaurant and explained that we'd gotten the wrong order, not really that big a deal — to err is human — and would drive back to exchange it for the right one. The server this time handed us a plastic sack that had a palpable soup container and a small black foam clamshell. And yes, we should have opened the clamshell to check the contents, but we didn't.
What was actually in the clamshell appears to have been the Old Fashioned Cheeseburger, with mustard, lettuce, tomato, pickle and purple onion and a choice of American, Swiss, habanero jack or aged white cheddar cheese. Now, mind you, it was a pretty good hamburger, a thick, well-grilled patty. And if we'd wanted a hamburger, we'd have been fine with it. But also, if we were getting a burger, we'd have asked the kitchen to hold the lettuce, tomato, purple onion and the mayonnaise that coated the bun.
The onion soup was plenty tasty, chock-full of onions, with a beefy-tasting stock and two huge croutons, upon which a minimum amount of cheese had been melted. So the meal wasn't a total loss. But we did take a loss on it. We're still figuring out the math, but we figure we're out $4.50 between the "red cow" and the burger, plus whatever it cost us in gas for the two trips to the restaurant, one of which ought to have been unnecessary. That's a pretty stiff object lesson on checking our order from now on before leaving the premises.
HOW IT'S GOING: The restaurant was busy, the dining room pretty much full (and at higher, by our estimation, than 66% capacity, nor is there much social distance between tables) and the patio nearly full. There were several to-go orders on the table, some of them possibly set out for third-party delivery.
Sponsor Content