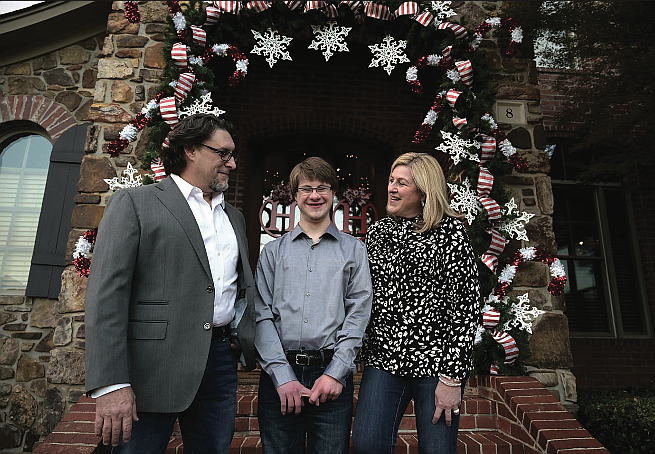 Dr. James Hunt (left), his son, Al, and his wife, DeAnn, seen outside their home earlier this month in Little Rock. (Arkansas Democrat-Gazette/Stephen Swofford)
When their teenager who has Down syndrome turns 18 next year, life will start to change for him, Little Rock parents DeAnn and Dr. James Hunt say.
Their son, Al, is thinking about college programs, and recently practiced filling out job applications at school. Visits to the doctor will look different as he moves on from pediatric care.
That's why DeAnn Hunt is enthusiastic about a first-of-its-kind set of guidelines — crafted in part by University of Arkansas for Medical Sciences researchers, with input from the Hunt family — for health care for adults with Down syndrome.
"I'm relieved, as a mother," she said an interview. "Now there are guidelines for Al as he continues to grow old … The doctors that don't typically take care of people with Down syndrome have a reference."
"It's hard to believe [this] didn't exist at all."
The work group of researchers supported by the Global Down Syndrome Foundation included Dr. Kent McKelvey and Dr. Terry Harville, both of UAMS, who joined doctors from seven other institutions for the four-year project. While not one of the project's authors, James Hunt participated as an "expert volunteer contributor."
The 92-page report published in October offers the first evidence-based recommendations on how doctors should address nine typical health concerns, such as heart disease or diabetes, in adults with Down syndrome. It appeared in the Journal of the American Medical Association and is available online: www.globaldownsyndrome.org/global-adult-guidelines.
Just the need for that document is a "joyous occasion" that underscores huge jumps in life expectancy for people with Down syndrome, McKelvey said. In decades past, heart defects meant they often weren't expected to survive into adulthood.
Big advances in heart surgery over roughly 30 years have changed that, and people with Down syndrome now frequently live into their 60s, according to the federal Centers for Disease Control and Prevention.
"It's a huge milestone that we can even discuss [this]. We've got adults with Down syndrome, and they're doing well. Some of them are doing really well. It's a great thing," McKelvey said.
Down syndrome is a genetic disorder that affects about 1 in 700 babies. It's usually caused by an extra copy of the 21st chromosome and can cause intellectual disabilities, growth delays and other physical effects.
That genetic variance also is connected to specific health issues, Harville said. For example, people with Down syndrome are more likely to develop autoimmune diseases, perhaps because of an "extra dose" of some genes connected to immunity.
They need a distinct approach to their health care, especially since the vast majority of people with Down syndrome don't live near a dedicated treatment center, said Dr. Brian Chicoine, another researcher on the project. Chicoine is medical director for Advocate Medical Group Adult Down Syndrome Center in Park Ridge, Ill.
To create the guidelines, the research group whittled a pool of 11,000 reference articles to just 22. They incorporated "about 200" collective years of clinical practice and gathered input from people with Down syndrome and their families.
Those sources led to their recommendations, which touch on issues such as why a lab result might look different for a person with Down syndrome, or why a change in behavior might actually have a physical cause.
"If you're maybe not sleeping well or not feeling well, you can say 'hey, my foot hurts,' or 'my stomach hurts' … People with Down syndrome have difficulties with communication," McKelvey said.
Chicoine says that in the past, there wasn't much information available to doctors about working with adults with Down syndrome, and what was in the literature was often wrong.
More recent medical practice has helped end once-common approaches like prescribing anti-psychotics for people with Down syndrome who talk to themselves. It often became clear that those patients weren't experiencing psychosis, he said.
Talking to themselves "was just the way people were working through their day, and encouraging themselves, and fighting boredom," he explained.
The research group has discussed a follow-up with guidance on subjects such as cancer screening and other topics not addressed in their first publication.
In addition to offering doctors guidance, members of the research group said they hope the report helps parents, guardians and people with Down syndrome be more active participants in their care.
In Arkansas, James Hunt says the report may benefit doctors practicing in rural parts of the state, or families who can't travel to Central Arkansas for appointments.
The guidelines, he said, are "immediate and intimate" for their family, while other doctors are "waking up to the reality" that Down syndrome isn't a childhood condition.
"Our children will spend two-thirds or more of their lives as adults," he said. "That's why the guidelines become so important."
Sponsor Content