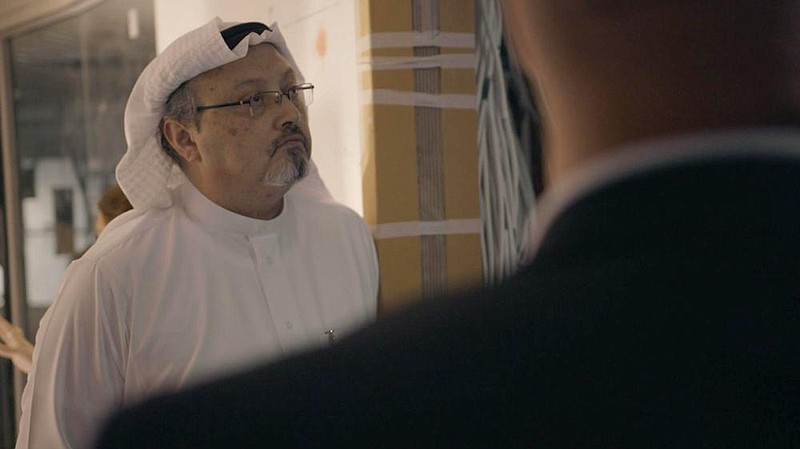 The murder of Washington Post columnist Jamal Khashoggi is probed in Rick Rowley's documentary "Kingdom of Silence."
Oscar-nominated filmmaker Rick Rowley ("Dirty Wars"), says Washington Post columnist Jamal Kashoggi's life is worth remembering two years after his murder because his perspective transformed continuously.
"Time and again, he saw his heroes, heroes he helped create -- that he had embraced and defended, he saw them turn one-after-another into villains before his eyes," Rowley says. "He was constantly changing. It's a real testament to his character that he allowed himself to be wounded by the things that he saw and to realize the evil that he'd participated in, in different ways, and to be changed by that and to become someone else."
Rowley's new documentary "Kingdom of Silence" debuts on Showtime tonight and features testimony by western journalists like Lawrence Wright (who wrote "The Looming Tower: Al-Qaeda and the Road to 9/11" and who served as an executive producer on the new film) and his Arab peers who candidly recall their disagreements with him as well as their admiration.
The type of journalist Kashoggi was depended on when you met him.
For example, his early journalism praised the war the Afghanis fought against the Soviets in the 1980s and their ally, a fellow Saudi named Osama Bin Laden.
When 9/11 happened, however, Kashoggi quickly condemned him and later said the Bin Laden he knew died years before the attack.
Kashoggi also believed that the United States' system with checks and balances on power was desperately needed in his own native land.
In his final column for the Post, Kashoggi wrote: "The Arab world needs a modern version of the old transnational media so citizens can be informed about global events. More important, we need to provide a platform for Arab voices. We suffer from poverty, mismanagement and poor education. Through the creation of an independent international forum, isolated from the influence of nationalist governments spreading hate through propaganda, ordinary people in the Arab world would be able to address the structural problems their societies face."
Kashoggi tried founding an independent news channel that offered stories free of the royal family's interference. After defending the status quo against terrorists like Bin Laden, he earned the Saudi government's wrath by supporting the Arab Spring.
"What made him so interesting is also what makes him such a threat to the Saudi regime," Rowley says. "He wasn't a one-dimensional dissident who spent his entire life speaking about against the regime until they finally tracked him down. He was the ultimate insider at the beginning, and then he slowly transformed into a critic, an exile and then finally a martyr."
Rowley, who has worked as a director and cinematographer for PBS' "Frontline," has spent much of his career recording other journalists.
In "Dirty Wars," he followed Jeremy Scahill, who was then the national security correspondent for The Nation and is a co-founder and contributor to The Intercept, as he documented how the American use of drone warfare in Afghanistan seemed contradictory to the values in the U.S. Constitution.
Some of the people killed in the drone strikes had neither been charged nor tried before they became targets.
Scahill was an active collaborator with Rowley. The director says that recounting Kashoggi's life was not like following a fellow reporter actively covering a story.
"It's definitely a different challenge, and it was a fascinating thing for me," he says. "I've been to Afghanistan many times. To go this time, where I was retracing the steps of a young journalist -- Jamal was 27 when he went to Afghanistan the first time to cover the war that was in many ways the same war that I was covering when I was there in my early 30s."
"We travel from the mountains into Kabul with his longtime friend and comrade-in-arms Abdullah Anas (who was a member of the mujahideen). You can see the real humanity and the hope that people had at that moment in the resistance against the Soviets. Too often, I think, in the West, we flatten out these groups, and we look at this moment as just the rise of the jihadis who would bring down the World Trade Center and do other stuff, but it was a large and complex moment. And there were human beings in it who were motivated by all sorts of noble feelings as well."
If you've not read anything Kashoggi has written, "Kingdom of Silence" samples generously from his work. Egyptian-born American actor Nasser Faris, who played Al Qaeda co-founder Ayman al-Zawahiri, in the TV-miniseries of "The Looming Tower," reads from his reports.
"One of the other things we did was we went through his body of writing back thousands of pages but his private Twitter communications and WhatsApp messages and texts from his friends, relatives and contacts over the years," Rowley says."We pulled excerpts from it and used it as narration. In many ways, Jamal is narrating the story of his own disillusionment. He narrates the path that takes him to his own death."
"Kingdom of Silence" also documents how Western reporters initially covered the rise of Saudi Crown Prince Mohammed Bin Salman (also known as "MBS") as a reformer, only gradually realizing how brutally he repressed opposition withing Saudi Arabia and beyond. In the film, we see Fox Business correspondent Maria Bartiromo tossing him softball questions.
She's not alone. The publishers of The National Enquirer ran a thick, glossy tribute magazine in his honor, and New York Times columnist Thomas Friedman also presented him as a positive influence in the Middle East.
"Lawrence Wright feels that regret," Rowley adds. "He speaks about in the beginning how Jamal was not all on board with MBS. MBS seemed outwardly to be a reformer, but Jamal knew the truth. He was one of the only dissenting voices."
As the film documents, there's little doubt that MBS ordered the murder of Kashoggi in Istanbul, but as veteran diplomat David Rundell notes in the film, the United States and Saudi Arabia are deeply entwined. Before he was held hostage by the Crown Prince, Prince Alaweed Bin Talal was a key investor in Rupert Murdoch's News Corporation. Seeing Bin Talal being interviewed during the captivity is one of the more surreal and disturbing points in the film. Oil is obviously another factor.
"The fact is Saudi Arabia depends on the United States," Rowley says. "The United States has been Saudi Arabia's security guarantor for decades. We have defended it against all kinds of different threats. American public opinion is incredibly important to Saudi Arabia, and they spend heavily to invest in it. They spend billions of dollars in Hollywood studios. They're linchpin investors in social media companies. They also cultivate relationships with journalists. They endow chairs in almost every Middle Eastern studies department in elite universities.
"If you see a pundit talking about Saudi Arabia as an expert -- chances are one way or another, they've gotten money from Saudi Arabia."
If the enmity Kashoggi received from the Saudi royal family is obvious, so is the affection of his peers. Wright, Maggie Mitchell Salem and others who speak about him eloquently throughout the film, lose their composure at the thought of his death.
"He had friends around the world," Rowley says. "The one thing that everyone says about him, whether they agreed with him politically or not, was what a nice guy he was ... Many of these people have never spoken publicly about this before. Because of the dangers some these people face (from the Saudi government), the wound is still fresh because they're talking publicly about it for the first time.
"It's an epic story and personally moving as well. It's a story of transformation and redemption. Jamal is man who lived his life in the center of the whirlwind. He was more than just a journalist and observer. He was an active participant in all these crucial events that continue to structure our world till today."
Sponsor Content