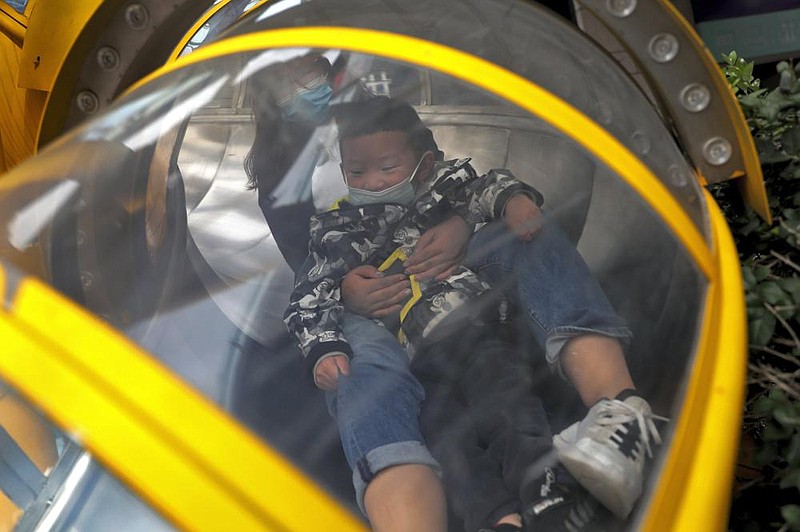 A masked woman and a child enjoy a slide Sunday at a shopping mall in Beijing.
(AP/Andy Wong)
Mob attacks police station near Paris
PARIS -- Dozens of people attacked a police station outside Paris early Sunday with blasts of fireworks and damaged several police cars, officials said. No one was injured.
It was the latest action among numerous attacks against police officers, and sometimes firefighters, that Interior Minister Gerald Darmanin says are a sign that France is growing "savage."
Last week, two police officers in civilian clothes were pulled from their vehicle in a Paris suburb and shot multiple times with their own guns. One officer remains in serious condition.
In the early hours of Sunday, a large gang showered the police station in a housing project in Champigny-sur-Marne, east of Paris, with fireworks and other projectiles, Paris police headquarters, in charge of the region, said in a tweet. Attackers also used metal bars to smash five police cars, the newspaper Le Parisien reported, quoting police officials who estimated that there were 40 attackers. Three windows of the station were broken.
The attack with fireworks lit up the area. Fireworks have been increasingly used by gangs to head off police in neighborhoods known for drug trafficking. Firefighters on rescue missions also come under attack.
"The little bosses impress no one and don't discourage us in our fight against drugs," the interior minister tweeted, saying an investigation was underway. It wasn't immediately clear if there had been arrests.
17 people die in Thai bus-train crash
BANGKOK -- At least 17 people died early Sunday when a train collided with a bus in central Thailand, officials said.
The tour bus was traveling with 65 passengers on board when it crossed the railway track during rain in Chacheongsao, 50 miles east of Bangkok, where a train smashed into the vehicle.
Prathueng Yookassem, the district chief officer, told Thailand's PBS TV that at least 17 people died and 30 were injured.
The bus passengers were traveling from Samut Prakan province to a Buddhist temple in Chachoengsao for a merit-making ceremony.
Pakistan religious scholar, driver slain
KARACHI, Pakistan -- Gunmen riding on a motorcycle shot and killed a religious scholar who belongs to a little-known branch of Islam in Pakistan's bustling city of Karachi, police said Sunday.
The killing of Maulana Adil Khan was immediately condemned and seen as an attempt to trigger sectarian violence between Sunnis and Shiites in the country. Prime Minister Imran Khan termed it "an attempt by India to create sectarian conflict across the country," though no immediate evidence was given that India was behind the attack.
Khan is the son of late prominent scholar Maulana Saleemullah Khan, who founded the grand seminary, Jamia Farooqia, decades ago. The seminary adheres to the Sunni Muslim teachings of the Deobandi sect, whose scholars have been the target of killings in the past.
Police Chief Ghulam Nabi Memon said the cleric and his driver were Saturday evening killed in the attack, which took place in the middle-class neighborhood of Shah Faisal Colony.
Police said that when the cleric's vehicle stopped in front of a busy shopping area, gunmen opened fire targeting the driver before firing three bullets that struck Khan's head, neck and chest. The three attackers then fled on the back of a shared motorcycle.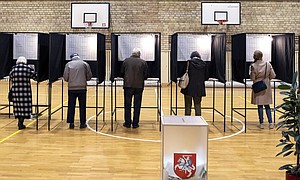 Photo by ap
Voters cast ballots Sunday in Vilnius, Lithuania, where polls opened Sunday for the first round of parliamentary elections in which the ruling four-party coalition is widely expected to face a stiff opposition challenge. (AP/Mindaugas Kulbis)
Mexico asks pope for conquest apology
MEXICO CITY -- Mexico's president published an open letter to Pope Francis on Saturday calling on the Roman Catholic Church to apologize for abuses of indigenous peoples during the conquest of Mexico in the 1500s.
In the letter, President Andres Manuel Lopez Obrador also asks the pope to lend Mexico ancient pre-Hispanic Mexican or colonial-era documents.
"The Catholic Church, the Spanish monarchy and the Mexican government should make a public apology for the offensive atrocities that Indigenous people suffered," the letter states.
Lopez Obrador asked the pope to make a statement in favor of Miguel Hidalgo, Mexico's 19th-century independence leader who was once believed to have been excommunicated by the church for his involvement in the uprising. However, researchers later said it appeared that Hidalgo had confessed his sins before he was executed and thus was not excommunicated.
The letter comes as Mexico struggles with how to mark the 500th anniversary of the 1519-1521 conquest, which resulted in the death of a large part of the country's pre-Hispanic population.
In 2019, Lopez Obrador asked Spain for an apology for the conquest, in which millions of indigenous people died from violence and disease. Spanish Foreign Minister Josep Borrell said at the time that Spain "will not issue these apologies that have been requested."
-- Compiled by Democrat-Gazette staff from wire reports
Print Headline: The World in Brief
Sponsor Content