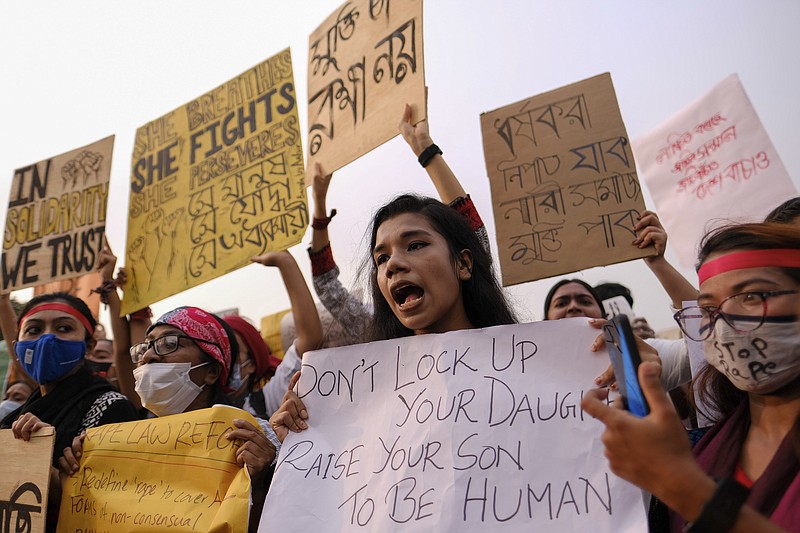 Women's rights activists and others protesting against gender based violence hold placards outside the Parliament in Dhaka, Bangladesh, Friday, Oct.9, 2020. Bangladesh's Cabinet has approved an increase in the maximum punishment in rape cases to death from life imprisonment after a series of recent sexual assaults triggered protests. (AP Photo/ Mahmud Hossain Opu)
Pope meets acquitted Australian cardinal
ROME -- Pope Francis met Monday with Cardinal George Pell, warmly welcoming him for a private audience in the Apostolic Palace after the cardinal's sex-abuse conviction and acquittal in Australia.
The Vatican released a brief video clip of the meeting, a clear sign that both the pope and Pell wanted the reception to be seen widely. Francis is heard saying "Good to see you" and "more than a year" -- an apparent reference to the time Pell spent in prison.
Pell returned to Rome on Sept. 30 for the first time since 2017 to find a swirling financial corruption scandal implicating a half-dozen Holy See employees, including one of his Vatican nemeses, Cardinal Angelo Becciu.
Pell, brought in by Francis in 2014 to bring accountability and transparency to the Vatican's opaque finances, was convicted but ultimately absolved by Australia's High Court of allegations that he molested two choirboys in St. Patrick's Cathedral in Melbourne while he was archbishop in the 1990s.
He has long maintained his innocence and suggested, without evidence, that his prosecution was linked to his efforts to clean up the Vatican's finances. For seven years, Becciu largely controlled the secretariat of state's large asset portfolio and donations from the faithful.
Francis sacked Becciu last month amid allegations that he embezzled Holy See money. He has denied wrongdoing.
Bangladesh death penalty for rape backed
DHAKA, Bangladesh -- Bangladesh's Cabinet on Monday approved an increase in the maximum punishment in rape cases -- from life imprisonment to death -- after a series of recent sexual assaults triggered protests on streets and in social media.
Under current law, capital punishment is allowed only in cases in which the victim dies.
Cabinet spokesman Khandaker Anwarul Islam said President Abdul Hamid is likely to issue an ordinance amending the Women and Children Repression Prevention Act because Parliament is not in session. Law Minister Anisul Huq said the president is expected to issue the ordinance today.
Details of the amendment were not immediately available, but Islam said the Cabinet agreed to a proposal that trials in rape cases be completed in a speedy manner.
Local human-rights groups say rapes have surged in the country. Ain-o-Salish Kendra, a women's rights group, said 889 rapes, including many gang rapes, occurred between January and August. At least 41 victims died, it said.
Rights groups say many more cases go unreported because of fears of harassment by influential people. Bangladesh's judicial system is painstakingly slow and cases often take years to finish.
Australian writer faces China spy trial
China moved to prosecute an Australian writer detained on spying charges for almost two years, the latest strain on an increasingly tense relationship between Beijing and Canberra.
Beijing prosecutors indicted Yang Hengjun last week on allegations of espionage, Chinese Foreign Ministry spokesman Zhao Lijian said at a news briefing Monday. Yang, a Chinese-born Australian national who's also known as Yang Jun, became well-known as a writer and commentator after working as a Chinese foreign affairs official in Beijing, according to the Australian newspaper.
"The relevant Chinese authorities are handling the case strictly and in accordance with the law, and fully protecting Yang Jun's lawful rights," Zhao said in Beijing. Yang was detained in Guangzhou in January 2019 after flying there from the U.S., and was formally arrested on espionage allegations that August.
The Foreign Ministry gave no other details on the allegations against Yang, which is typical of cases being tried in China's notoriously opaque judicial system. Australian Prime Minister Scott Morrison this weekend urged transparency in the case, saying there should be a "fair and just process."
China calls for fair inquiry on fishermen
BEIJING -- China on Monday called on Malaysia to "fairly investigate" the cases of Chinese fishermen held for allegedly operating illegally in Malaysian waters.
China has sent personnel to visit detained crew members from six boats seized Friday and provide them with personal protective equipment and other assistance, Foreign Ministry spokesperson Zhao Lijian told reporters.
"We have requested that the Malaysian side fairly investigate the case in accordance with law, protect the lawful rights and interests of the Chinese citizens involved and report the progress of the investigation in a timely manner," Zhao said at a daily briefing.
Malaysia is among the countries exercising overlapping claims with China to territory and resources in the South China Sea and has sought to clamp down on Chinese illegal fishing.
Malaysian officials said 60 Chinese crew members were arrested for lacking permits and anchoring illegally at two locations Friday after a tipoff. They face fines and potential jail terms.
-- Compiled by Democrat-Gazette staff from wire reports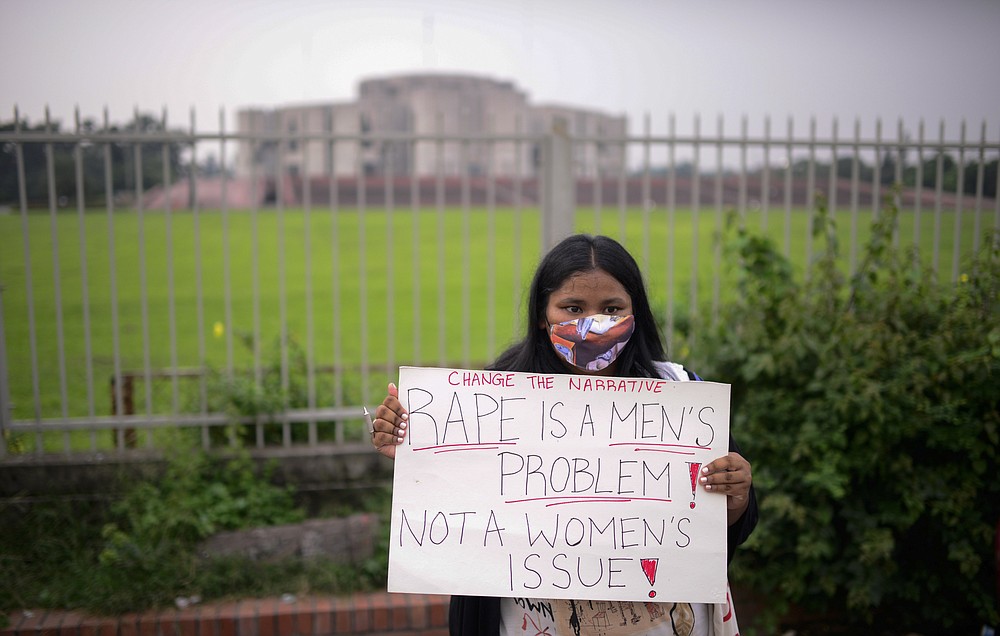 A women's rights activist among those protesting against gender based violence holds a placard outside the Parliament in Dhaka, Bangladesh, Friday, Oct.9, 2020. Bangladesh's Cabinet has approved an increase in the maximum punishment in rape cases to death from life imprisonment after a series of recent sexual assaults triggered protests. (AP Photo/ Mahmud Hossain Opu)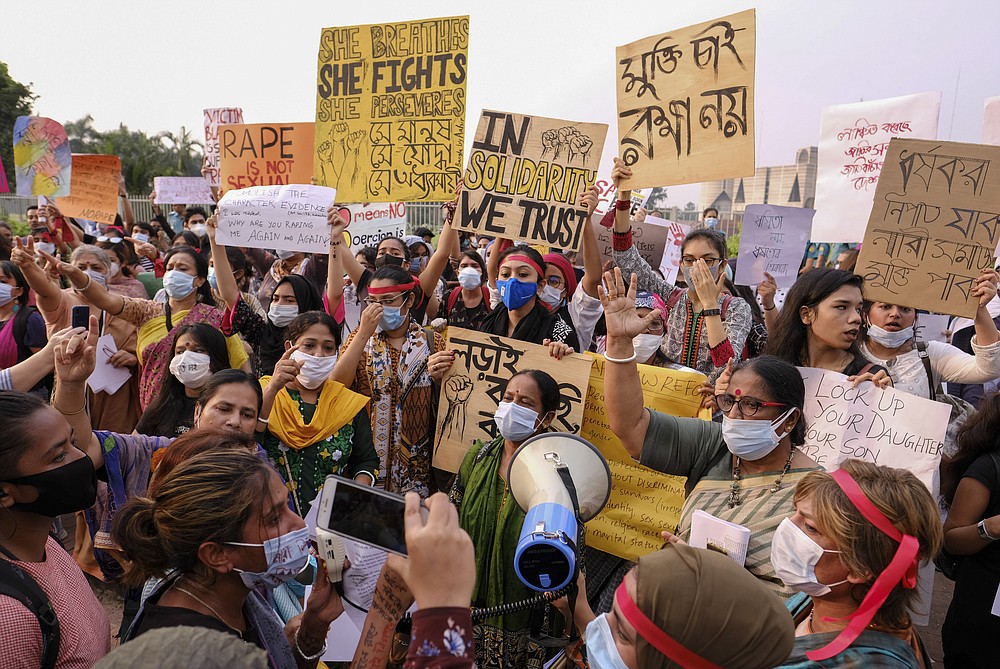 Women's rights activists and others protesting against gender based violence hold placards outside the Parliament in Dhaka, Bangladesh, Friday, Oct.9, 2020. Bangladesh's Cabinet has approved an increase in the maximum punishment in rape cases to death from life imprisonment after a series of recent sexual assaults triggered protests. (AP Photo/ Mahmud Hossain Opu)
Print Headline: The World in Brief
Sponsor Content