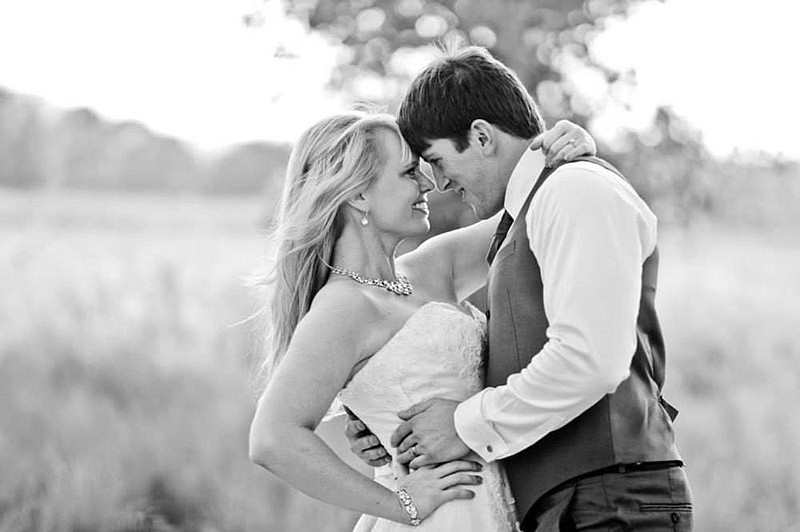 Julie Akins and Caleb Price were married on Sept. 14, 2013, just shy of one year after their first date. "People tease us. They say, 'Y'all act like you're still on your honeymoon," Julie says. "We laugh a lot."
(Special to the Democrat-Gazette/Lori Sparkman Photography)
Janet Akins tried for three months to strike up a romance between a guy she met through her bowling league and her daughter, Julie.
Janet met Caleb Price when she bowled with her friends at Allfam Bowling in Cabot on Thursday mornings in 2012.
"She came up to me one day and just showed me a picture of Julie on Facebook," says Caleb, who was working at Allfam, his family's business, at the time. "She was like, 'Hey, this is my daughter. I think you should meet her.'"
Caleb's reply was honest and forthright.
"I kind of asked her mom, 'What's wrong with her?'" he says. "I mean, she was 26 or so and she was pretty and she wasn't dating anyone."
Julie, a self-professed workaholic, was focused then on her career in cardiac medical sales, but her mom was concerned about her singlehood status.
"I just loved my job," Julie says.
Julie was amused when her mom relayed Caleb's question about her, and she maintained that she didn't need her mother to find dates for her.
"My mom had probably prodded about this for six months, nonstop. She's like, 'Just come up there and meet him. Just come up there one night. Let's go bowling. You need to meet him.' And I'm like, 'Mom, I'm not going to go meet this dude who's working at a bowling alley. He lives in Cabot. I live in Little Rock. Just, no.'"
Julie was finally worn down by her mother's persistence, though, and asked some friends to go with her to Allfam, where she finally met Caleb. They clicked instantly.
Caleb invited her to come to Conway and watch him bowl. She went, again with a friend, and when he was done they joined a group of his friends for dinner.
"We all went to Buffalo Wild Wings and just kind of hung out, chatted, ate food, had a bunch of laughs," Caleb says.
"And then we basically hung out every day after that," Julie says.
Their schedules made that a challenge. Caleb worked until 10 or 11 p.m., and Julie started her day at 5 a.m. -- and they lived 45 minutes apart.
Julie napped in the evenings after work and woke in time to meet Caleb in North Little Rock at the end of his shift so they could hang out or get dinner. Sometimes they met at her parents' house in North Little Rock.
"We would stay up until about 2 in the morning or so with her mom, and we would play games, all three of us. Her mom and her are both kind of night owls," Caleb says.
They played Phase 10, Farkle, Yahtzee, SkipBo and several others.
"Those days were crazy," Julie says. "We just had to make it work. I think that that's pretty much why we were like, 'We just need to get married so we can be in the same place.'"
Just a month after they met, Caleb asked Julie's father for his blessing for them to get engaged.
"He kind of said, 'You're asking the wrong person,'" Julie says.
Julie and Caleb had actually been discussing marriage already, and Caleb had asked about the kind of ring she might like. He still surprised her with a proposal on a Tuesday in December 2012.
"He had told me before that he wanted to drive me out to these bluffs because that's where they used to have Bible studies and things out there and it was a cool place, so I pretty much was like, 'OK, this is kind of random day to do that but I'm up for whatever,'" she says. "We get out there and it's gorgeous. And he just kind of started saying something about how he didn't ever really want to tell anyone that he loved them until he knew they were going to be his wife."
He told Julie he loved her.
"When he said that, I turned around, and then he dropped to one knee," she says.
They exchanged their vows on Sept. 14, 2013, in Somers Avenue Church of Christ in North Little Rock.
Julie and Caleb honeymooned in Colorado, and immediately after that moved to Greenville, S.C., where she had taken a teaching position with a medical equipment sales school.
Caleb got a job in South Carolina working for the U.S. Postal Service.
They moved back to North Little Rock in 2016 to be near family after learning that Julie's father was terminally ill. He died six months later.
Julie had found another job in medical sales but resigned to take ownership of the Copper Peacock Boutique, which operates via social media. Her mom works with her, and Caleb just left his job with the U.S. Postal Service to focus on the business as well.
Caleb and Julie do have separate hobbies, making sure they have dedicated time to themselves. But they enjoy the time they spend together every day.
"One of the things that we both say to each other all the time is that 'You're my person,'" Caleb says. "She says [that to me], and I say that to her."
If you have an interesting how-we-met story or if you know someone who does, please call (501) 425-7228 or email:
kimdishongh@gmail.com
More News
The first time I saw my future spouse:
He says: "I said she was pretty, and then I asked what was wrong with her."
She says: "I thought he was good looking and I wondered if that meant he was a player."
On our wedding day:
He says: "It was fantastic. And it was rushed."
She says: "We ate pizza and watched football in the morning before the wedding. That kind of set the tone, I think, for our marriage."
My advice for a long happy marriage:
He says: "Don't take yourselves too seriously.
She says: "Don't fight and nag over the little stuff."
Sponsor Content