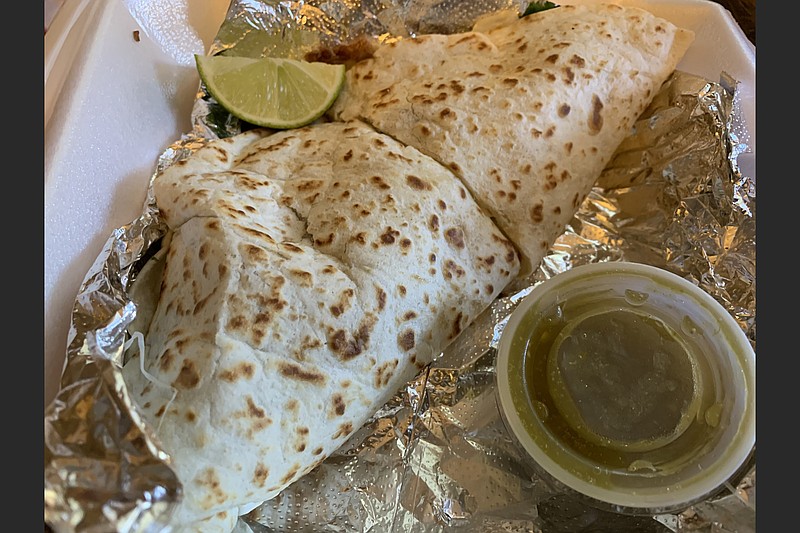 We had the Wicked Taco Factory kitchen hold the veggies and our Carne Asada Quesadilla was still enormous. (Arkansas Democrat-Gazette/Eric E. Harrison)
On the road again. And with apologies to Willie Nelson, we can't wait to get back off the road again and dine decently, as we did in the old days — before March. Who knows when those days will come again?
Meanwhile, we mask up and head out for to-go orders and gnaw on them in our own domain. As is our standard practice, we stay mostly in a reasonable radius so food doesn't get overly chilly on the way home, and we pay for all meals upfront.
◼️ WICKED TACO FACTORY, 221 W. Second St., Little Rock, Little Rock, (501) 914-9813, wickedtacos.com
WHAT WE GOT: Carne Asada Quesadilla ($9.75)
Wicked Taco Factory is the brick-and-mortar culmination of the Grills on Wheels Mexican food truck, which did business parked next to Frances Flower Shop, 1222 W. Capitol Ave., Little Rock, but which has had to shut down, in part because of covid-19, and because there just aren't enough employees to staff two operations. Right after it opened we took advantage of the same Taco Tuesday special the food truck offered: five enormous street tacos (al pastor) for the price of four, normally $2.75 per and a darn good bargain. The setup allows you to order a street taco, medium flour taco, quesadilla and a large or small burrito with your choice of meat — chicken, steak (aka carne asada), al pastor (marinated pork), barbacoa (beef), lengue (tongue), chicken tinga (shredded chicken in a smoky tomato-chipotle-based sauce), ground beef, steak Alhambre or chicken Alhambre.
For a recent lunchtime return visit, we settled on a quesadilla ($9.75), an enormous flour tortilla stuffed with seasoned steak and cheese with cilantro (it would have also come with lettuce, onion and tomato, but we asked for it sans veggies) with a lime wedge for accent and a plastic cup of mild green salsa. It was tasty and more than filling for a late lunch.
Next time, we'll look at some of Wicked Taco's more exotic choices, including the Carne Asada Fries ($11.75) and the Bacon Ranch "Nathan's" Hot Dog ("a deep-fried bacon-wrapped dog drizzled with ranch and topped with onions and pickled jalapenos," $4.75).
HOW IT WENT: We ordered and paid over the counter. The establishment switched up the direction of the line so that the register is the first stop in the ordering process and not the last. It took about 10 minutes for the open kitchen to produce our food.
HOW IT'S GOING: The dining room is open and was busy in the middle of a lunch period. There were also several to-go orders pending.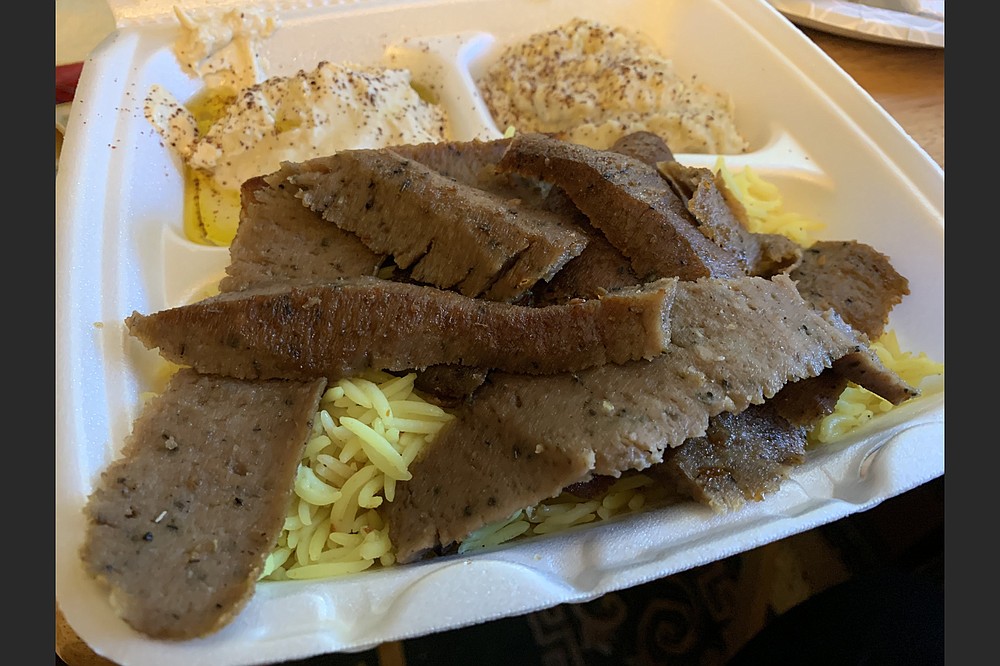 We got plenty of gyros in our plate from Maryam's Grill, with hummus (top left) and baba ghanoush on the side. (Arkansas Democrat-Gazette/Eric E. Harrison)
◼️ MARYAM'S GRILL, Catlett-Prien Tower Building, 323 Center St., Little Rock (GPS location: 250 W. Fourth Street, Little Rock), (501) 374-2633, maryamsgrill.com
WHAT WE GOT: Small gyros meal ($8.99); large falafel meal ($10.99)
The space facing Fourth Street that most recently housed Arbela Middle Eastern Grill (long-time downtowners will remember it was the second location of Your Mama's Good Food) has had a change of ownership and name. There are a few pieces of nice artwork by one of the employees on the wall. The menu, though restructured, is similar to that of Arbela. Now, however, not unlike a poke place, you pick a plate size; a base — one of Maryam's four salads or mild or spicy rice; a protein — gyros, falafel, kababs, chicken, shrimp and sides — hummus, baba ghanoush, tzatziki, fries, side salad. Bite-size baklava is a dessert option.
Maryam's gyros is standard, shaved off a vertical saddle, but even on a small plate, we got plenty. The sides — hummus and baba ghanoush — were excellent, the eggplant-based baba ghanoush in particular, chunky, smoky and fairly rich. We went back for a falafel plate; small, we were told, was three chickpea patties, large was four, but our large plate actually had five, and they were just the right texture and nicely spiced. We ordered the tangy tzatziki as a side item to give us something to dip them into. In both cases, we went with the mild, cardamom-tinged rice as a base.
HOW IT WENT: The dining room is open, so we showed up, ordered and paid in-person. The first time, it went fairly smoothly. The second time, it was busier and we had to wait a few minutes for our falafel to fry. All three of the staff members on duty were gloved, but none of them were properly masked.
HOW IT'S GOING: There were a couple of tables of dine-in customers on our first visit, and twice that many on our second. That and folks not familiar with menu items, which held up our ordering process and having to prepare staple items on order slightly discombobulated the staff. Maryam's has taken the bold step of opening, not just on weekdays when they would draw what workers remain downtown, but for 10 a.m.-3 p.m. Saturday-Sunday brunch, with a separate menu.
The Smoked Duck Caesar from Cache turned out to be plenty of food for a fairly modest price. (Arkansas Democrat-Gazette/Eric E. Harrison)
◼️ CACHE, 425 President Clinton Ave., Little Rock, (501) 850-0265, cachelittlerock.com
WHAT WE GOT: Smoked Duck Caesar salad ($16)
Cache, from its beginnings earlier this decade, has always bragged that it offers "Little Rock's finest dining experience," which has always also translated into competing for the title of "most expensive dining experience." Reopening in mid-pandemic, that's still true. Appetizer prices are at or higher than that of entrees in many fine area restaurants; entrees start at $21 for a pork chop and go up to $72 for a surf-and-turf combo. We're on a fairly tight budget for these visits, so we reached a compromise on the smoked duck Caesar, which turned out to be a not-bad bargain: plenty of smallish pieces of smoked duck (and only one piece was fatty/chewy, which is remarkable), tossed romaine (and was that maybe some baby spinach?), sliced mushrooms, halved cherry tomatoes, shredded Parmesan and slivered almonds in a Caesar dressing that we found at first was unpleasantly tart, but which matched the salad pretty well and grew on us in the eating.
HOW IT WENT: The dining room is open; one places to-go orders at the bar, where we were treated exceptionally well. The order took less than 15 minutes to come out of the kitchen in a big brown paper bag.
HOW IT'S GOING: Cache was quite busy on a recent weekend evening. No other to-go orders, but the socially distanced tables were filling up.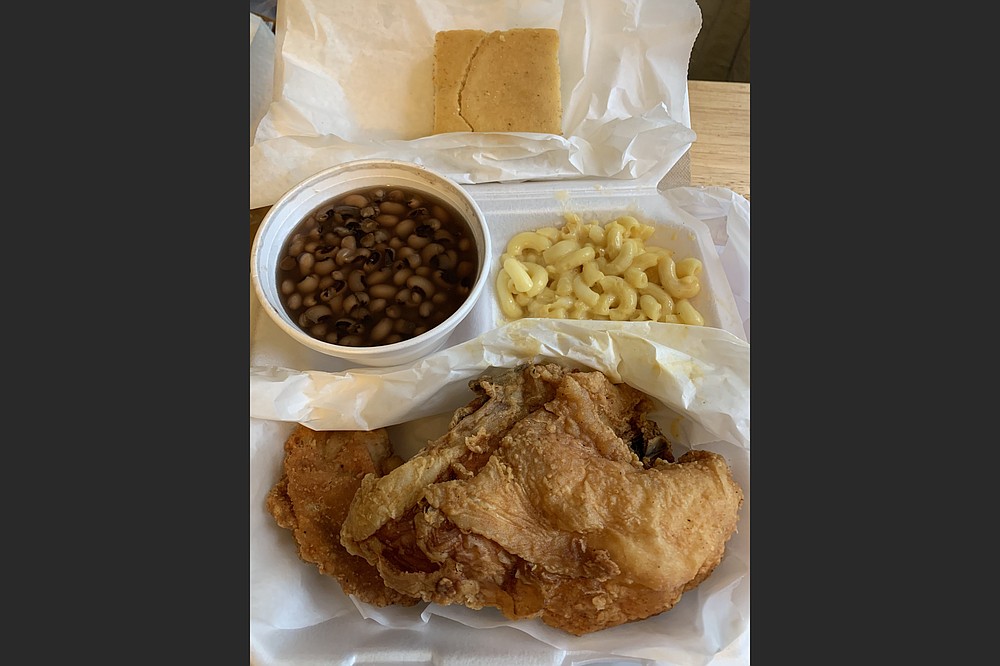 We got black-eyed peas, mac and cheese and cornbread with our fried chicken in a lunch plate from David's Family Kitchen. (Arkansas Democrat-Gazette/Eric E. Harrison)
◼️ DAVID'S FAMILY KITCHEN, 2301 Broadway, Little Rock, (501) 371-0141, davidfamily.dinehere.us
WHAT WE GOT: Fried chicken meat-and-two ($10.99)
It's been decades since we visited this soul-food standard-bearer, which recently reopened for takeout, but it was worth the wait. The woman who took our order asked whether we wanted white meat and dark meat. When we told her we'd take whatever she was having trouble getting rid of, we got one of the biggest near-perfectly-fried chicken breasts we've ever encountered, with a little side piece of something boneless. Our side black-eyed peas, packed in a separate foam cup, were soupy and surprisingly sweet. The mac and cheese, however, was pretty bland. We made the right choice of cornbread over roll. The piece was huge, moist and flavorful.
HOW IT WENT: We placed our order and paid over the counter, and even waiting behind a gentleman placing a large order, walked out with our food in about five minutes.
HOW IT'S GOING: There was a fairly steady stream of customers even very late in the lunch period.
Sponsor Content