Couple survives his off-putting introductory line Ashley Richardson and Will Diggs were married on Aug. 12, 2005. Will got off to a bad start with Ashley, who was a college junior, by asking her what grade she was in the rst time they met. "I think we both look young, but she did look especially youthful," Will says. (Special to the Democrat-Gazette)
Will Diggs' opening line to Ashley Richardson was not his best.
"The very first thing that he said to me was, 'Hi, my name's Will. What grade are you in?'" Ashley says. "I really didn't like him," she says. "I was like, 'Dude, I don't have time for you.'"
Ashley is a year older than Will, and she was a junior at Arkansas Tech University in Russellville in the fall of 2002 when they first met. Will was student at Hendrix College in Conway.
Will says he didn't intend for it to sound demeaning.
"I never was good with girls," he says. "I was probably just trying to make conversation and just not very good at it."
Ashley's irritation was temporary.
She had moved back home that summer and was commuting to classes at Tech.
Her father, pastor at the Missionary Baptist Student Fellowship at the University of Central Arkansas in Conway, was a mentor to Will, and he and Ashley were both helping him set up for a fall kickoff event at the student fellowship.
Will had broken his foot that summer and was on crutches. He had been bumming rides everywhere because he couldn't drive his manual transmission truck.
A few months after that event, Ashley's father said Will would someday be a pastor as well. And would he fill in for him on a Thursday night?
"I went, and as Will was doing his lesson that night, I leaned over to my really good friend and I said, 'I'm going to marry that guy,'" she says. "I'd never done anything like that before. I just don't say stuff like that. She looked at me like, 'Oh my word.' So, by November, I kind of liked him then."
They had gone out in groups before that and had gotten to know each other through those activities -- bowling, movies, getting ice cream after church and the like.
They were in her father's office at the Missionary Baptist Student Fellowship when she suggested that he call her sometime.
"There were four or five of us in there," she says. "It was after a meeting one night."
She doesn't think anyone else was paying attention to their conversation at the time.
It was a natural progression, and Will wasn't necessarily surprised -- but it did make him sit up and take notice.
"It was just such unexplored territory for me," he says.
Will did call, although it took him a little while.
Their first date -- on March 16, 2003 -- was a trip sans the group to Shake's for ice cream after church.
"I think I forgot my wallet and she had to buy my food," he says.
The following fall, Ashley transferred from Tech to UCA. She and Will continued being active at the student center and they also went bowling and hiking and did various other typical date activities.
Will was set to graduate in May 2005.
They were planning to go on a summer mission trip to Romania that year with seven other people from the student union, and they were trying to raise money for their trip. They went to several churches over the course of four or five months, asking for donations, and in January of that year, they went to Will's home church, Mount Moriah Baptist Church in Bonnerdale.
After the service, Will's father and stepmother -- his mother died when he was young -- invited them back to their house for supper. His stepmother, in on Will's plan, announced that the meal wouldn't be ready for 25 minutes or so, which gave them time for a walk. Ashley, though, did not want to go.
"It looked like there was going to be a big storm any minute," she says. "I just didn't want to go out there and go walking. It took him several minutes of convincing to get me to go outside."
Will led her to his family's old homeplace and asked her to marry him, in the same spot where his father had proposed to his mother.
Ashley and Will exchanged their vows on Aug. 12, 2005.
Will is the pastor of Ten Mile Missionary Baptist Church in Lonsdale. Ashley works for the Missionary Baptist Seminary.
They have a daughter, Grace, 13. Their son, Grady, died at birth.
Ashley and Will have recently become foster parents.
Growing up as the daughter of a minister, Ashley didn't think she would marry a preacher.
"I don't know that I for sure said that, but I do know that God has a way of changing your mind. He laughs at our plans often."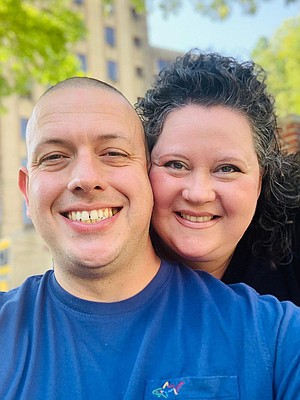 Ashley and Will Diggs just celebrated their 15th anniversary. She didn't like him at first, but they got to know each other through group activities and one night she realized her feelings had changed. "I leaned over to my really good friend and I said, 'I'm going to marry that guy,'" she says. "I'd never done anything like that before. I just don't say stuff like that." (Special to the Democrat-Gazette)
Will says his relationship with Ashley's father (who had known him since he was 15) and other mentors early on had a profound influence on his relationship with Ashley.
"They were kind of walking me into a deeper relationship with the Lord and at the same time I was falling in love with Ashley," he says. "Looking back at that whole time, God was growing me to be ready for the next phase, for my life, our life, and so all of those things go together for me."
If you have an interesting how-we-met story or if you know someone who does, please call (501) 425-7228 or email:
kimdishongh@gmail.com
Sponsor Content