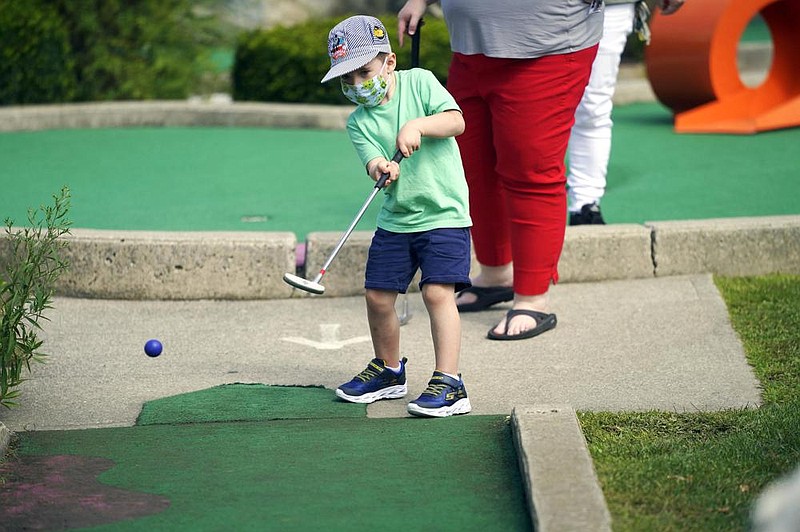 Declan Aubin, 5, shows his form Monday at Bakers Golf Center in Lanesborough, Mass.
(AP/The Berkshire Eagle/Ben Garver)
Bishop-elect resigns amid abuse claim
DULUTH, Minn. -- A priest recently tapped by Pope Francis to become a bishop for a northern Minnesota diocese has resigned after an allegation of sexual abuse of a minor in the 1980s surfaced before he could take up his post.
The Vatican announced Monday that Francis had accepted the resignation of Bishop-elect Michel Mulloy, whom the pope named in June to head the Duluth diocese. Mulloy was supposed to be elevated to bishop's rank in an Oct. 1 ceremony in Duluth. The Vatican did not provide details.
At the time of his appointment, Mulloy was serving as diocesan administrator in Rapid City, S.D. The Diocese of Rapid City said in a statement that it received the allegation last month and that it dates back to the 1980s. It said there have been no additional allegations of abuse involving Mulloy.
The Associated Press left a message seeking comment Monday at Mulloy's office in the Rapid City diocese.
According to the Star Tribune, Mulloy, 67, was ordained in 1979 and served in the Sioux Falls and Rapid City dioceses before joining the Rapid City diocese in 1986.
The Rapid City diocese said Bishop Peter Muhich informed law enforcement of the development and that Mulloy was "directed to refrain from engaging in ministry."
Center keeps eye on 2 Atlantic storms
MIAMI -- Two tropical storms formed Monday in the Atlantic Ocean, including Rene, which took shape off the coast of West Africa.
The U.S. National Hurricane Center issued a tropical storm warning for the Cabo Verde Islands due to the threat of Rene.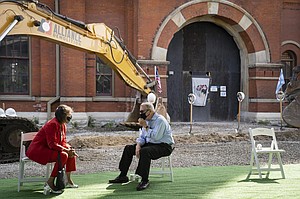 Photo by Chicago Tribune
U.S. Rep. Robin Kelly and U.S. Sen. Dick Durbin, both Democrats from Illinois, chat Monday at a Labor Day groundbreaking at Pullman National Monument in Chicago. The event marked the kickoff of more site work and commemorated the area's signi - cance to the labor movement. (AP/Chicago Tribune/E. Jason Wambsgans)
Rene is the Atlantic's earliest "R" named storm on record, breaking the previous record of Rita, which formed Sept. 18, 2005. On Monday night, Rene was located about 115 miles east of the islands and moving west-northwest at 12 mph. Its maximum sustained winds were 40 mph.
Tropical Storm Paulette formed earlier in the day in the central Atlantic, far from land. Paulette is the Atlantic's earliest "P" namedstorm on record.
Forecasters said Paulette's maximum sustained winds were 40 mph with modest strengthening expected over the next few days.
The storm was centered about 1,220 miles west of the Cabo Verde Islands and moving northwest at 3 mph.
Officials identify supermarket attacker
SAN ANTONIO -- A shoplifting suspect who was fatally shot after authorities said he stabbed a San Antonio police officer in the face and a supermarket loss-prevention officer in the head has been identified.
The Bexar County medical examiner's office identified the suspect who was fatally shot Friday as Major Carvel Baldwin, a 61-year-old Black man. The officer who was stabbed was identified Saturday as Corey Rogers, who has been released from the hospital.
Rogers responded a call Friday afternoon about a shoplifter at an H-E-B supermarket. Police said Saturday that Rogers, off-duty Floresville police officer Roland Casillas and the supermarket's loss-prevention officer, Michael Rios, escorted Baldwin out of the store.
Baldwin said he wouldn't go to jail and lunged at Rogers, stabbing him in the face with a knife, authorities said. Authorities said that as Rios and Casillas intervened, Baldwin stabbed Rios in the head. When Rogers broke free and moved toward the officers, Rios and Casillas then fired at Baldwin, police said.
Rios, 28, was taken to a hospital and expected to make a full recovery.
Gunfire injures 5 people at NYC event
NEW YORK -- Five people, including a 6-year-old boy and his mother, were shot early Monday at an unofficial celebration of J'Ouvert, a daybreak event in Brooklyn that typically marks the start of Carnival in Caribbean cultures but was canceled this year because of the coronavirus.
The gunfire broke out shortly before 3 a.m. at the crowded intersection of Nostrand Avenue and Crown Street in the Crown Heights section of Brooklyn, according to police. The boy was shot in his left leg and taken to Kings County Hospital with injuries that were not considered life-threatening, police said. The mother, 47, and three men -- all adults -- were also shot in either their feet or legs and were hospitalized.
Terence Monahan, chief of detectives of the New York City Police Department, said on Twitter that two men had been arrested in connection with the shootings and that two guns had been recovered. Monahan added that the investigation "is ongoing."
J'Ouvert is traditionally held in the early morning hours before Brooklyn's West Indian American Day Parade, a pageant of colorful Caribbean costumes and food that goes up and down Eastern Parkway.
The shootings came amid a citywide spike in gun violence that has been seized upon by President Donald Trump as part of his law-and-disorder reelection campaign.
In August, according to police statistics, shootings in New York more than doubled over the same period last year and killings rose by nearly 50%.
-- Compiled by Democrat-Gazette staff from wire reports
Print Headline: The Nation in Brief
Sponsor Content