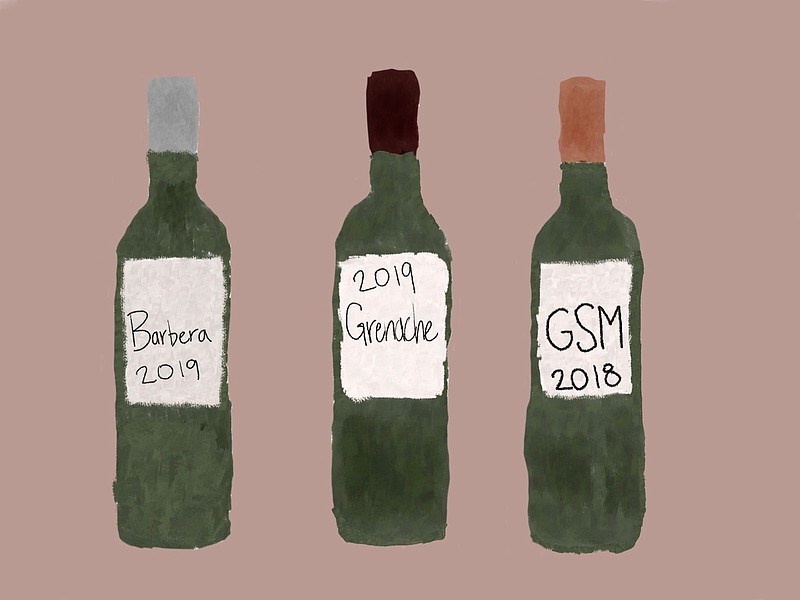 (Illustration by Kelly Brant)
This column is for those wishing to get outside of the box (literally if that is all you are drinking). Many of the world's most loved grapes simply don't make it to the U.S. retail shelf space in bulk. If you're limiting your wines to those that come in boxes, you're missing out.
GSM wines are possibly one of the most overlooked, yet exceptional blends on the retail shelves. GSM is an acronym for grenache, syrah and mourvedre. Traditionally they were grown mostly in the Cotes du Rhone of France but today many producers from Australia, Spain and California are among the best examples of this blend. This combination of grapes is an example of blending at its finest. Grenache brings the spice, rich red fruit and higher alcohol, syrah the dark fruit characters in the taste and mourvedre the tannin structure and intense color in the glass.
THE VALUE
2018 Hahn Winery GSM Red Wine, California (about $14)
THE SPLURGE
2016 D'Arenberg Ironstone Pressing GSM, Australia (about $70)
If GSMs are the most overlooked, then Barbera is the best-kept secret. Known for its Italian roots, this grape is almost a thousand years older than cabernet sauvignon. I've always pondered why so few Americans are drinking this light-bodied fruity red wine. I think the answer is the Italians have been saving its production for themselves. The Italians refer to Barbera as "the people's wine" because of its everyday drinking value but also its tradition of being saved for special occasions. Its flavors of dark cherries, strawberries and raspberries intermingled with its gripping tannin structure also make this wine one of the most food-friendly pairing wines in the world.
THE VALUE
2019 Michele Chiarlo Barbera D' Asti, Italy (about $15)
THE SPLURGE
2019 Terra D' Oro Barbera, California (about $19)
Grenache has earned the reputation of the "great workhorse" of the wine world. The reason most of us are not buying this grape as an everyday drinking wine is because it's most often used in GSM. On its own grenache is a medium-bodied, fruit-packed crowd-pleasing wine. You can find some of the world's best values from this grape and it also can be among the most expensive. Bottles of Chateau Rayas in Chateauneuf-du-Pape can sell for close to $600 and some newer wineries in the Santa Barbara region of California are gaining bottles for up to $500.
THE VALUE
2019 Flying Solo Grenache, France (about $12)
THE SPLURGE
2019 Poor Thing Grenache, Australia (about $26)
Lorri Hambuchen is a member of London's Institute of Wines and Spirits. Email:
uncorked@thewinecenter.com
CORRECTION: An earlier version of this article listed an incorrect year for 2018 Hahn Winery GSM Red Wine.
Sponsor Content