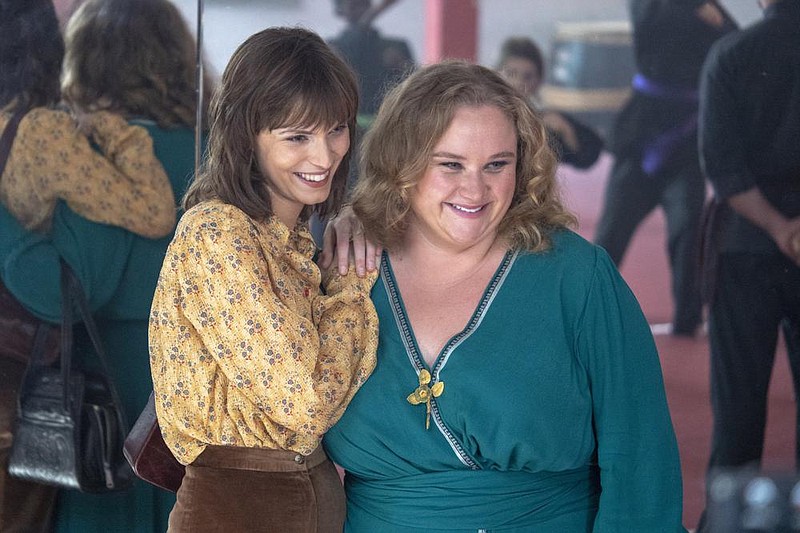 Helen Reddy (Tilda Cobham-Hervey) and Lilian Roxon (Danielle Macdonald) — Aussie expatriates in New York — enjoy a quiet moment before Reddy becomes a '70s feminist icon in "I Am Woman."
"Stand Up and Be Counted" is a rightfully obscure movie, an earnest attempt to make dramedy from "women's lib," which, when the film was released in 1972, seemed as alarming and dark as rumors of antifa operatives seem today. It stars Jacqueline Bissett as a cynical New York-based magazine writer who returns (along with her never-explained English accent) to her Colorado hometown to investigate whether the feminist movement is relevant with regular American women or just "seven women with hairy legs and a genius for getting on the 'Johnny Carson Show.'"
The only feature film directed by former child actor Jackie Cooper (who would go on to become a prolific television director), "Stand Up and Be Counted" might be almost completely forgotten today were it not for its end credits sequence, which features the first recorded version of Helen Reddy's "I Am Woman."
That version is a little different from the hit version that was released in May 1972, the same month as Cooper's film. Reddy had originally recorded it for her first album "I Don't Know How to Love Him." Most of the album consisted of jazzy easy listening covers of familiar songs like the title track, Van Morrison's "Crazy Love" and Leon Russell's "A Song for You." Reddy enlisted her old friend Ray Burton to write a couple of originals to fill out the record; "I Am Woman" was one of them, a two-minute and 15-second track declaring the singer's invincibility.
Reddy had been using it as a concert opener, it had been well-received by audiences, and when the filmmakers decided to use it in "Stand Up and Be Counted," Capitol Records decided it would be a good idea to release the song as a single to capitalize on the potential hit film. But the album version was short and slight, so Reddy wrote an additional verse, which allowed them to repeat the chorus one more time, and -- with some of the best L.A. session musicians backing her -- re-recorded the song in a slightly more forceful, declarative mode. She stripped away some of the nuance of the original's phrasing and belted out what would become one of the signal anthems of the 1970s. It took it seven months to reach No. 1 on the charts.
And, until I watched Unjoo Moon's "I Am Woman" that was about all I knew about Helen Reddy. Well, not exactly everything, but having watched the film, I feel like I have a little better insight into why Reddy seemed drawn to cover songs about women undone by men ("Delta Dawn," "Leave Me Alone," the unhinged "Angie Baby").
While it relies on the conventional rhythms and forms of the pop music bio-pic, "I Am Woman" is elevated by a fine lead performance by Australian Tilda Cobham-Hervey as the young Reddy, who arrives in New York in 1966 with $235 and her 3-year-old daughter. Having won a "Bandstand" TV competition back in Australia, Reddy is under the impression that she's about to sign a record deal, but a patronizing suit allows there's no market for chick singers and sends her own her way.
She finds a gig singing in a nightclub, where she's paid less than the guys, and she soon finds herself in the orbit of Lilian Roxon (Danielle Macdonald), the Australian rock journalist who raises Reddy's feminist consciousness. Ironically, it's at a party Roxon throws for Reddy to help her raise money to stay in New York where she first encounters the Svengali/wildman Jeff Wald (Evan Peters), manager of Crosby, Still & Nash, Deep Purple, Donna Summer, George Carlin and Tiny Tim. Promising to make her a star, Wald sweeps her off to Los Angeles.
Where he ignores her until she forces the issue. And Wald exerts considerable influence as he promotes "I Am Woman" and Reddy, vaulting her, for a little while at least, to the top of the zeitgeist. King of Dad Rock Alice Cooper dubbed her "Queen of Housewife Rock."
But gravity calls, and Wald and his drug habit quickly devolve into the standard cliché of the bad boyfriend/manager (never mind that in this case even Wald admits it true), and Roxon departs the planet before Reddy can reconcile with her. We go down so as to experience the last act uplift.
And it's all good, if you are someone who enjoys these sort of depictions of pop lives. "I Am Woman" is better than the standard because the fashion-model willowy Cobham-Hervey, while not actually looking much like the robust Reddy I remember, does a great job of enlisting our empathy, even if she sometimes seems a passive player in her life. And Chelsea Cullen, the young Australian singer-songwriter who dubs most of the vocals (sometimes it's the actual Reddy's voice we hear), has the precise slightly nasal timbre and the pleasant directness of Reddy's phrasing figured out.
So notes land a little heavy, but in general, Moon captures the essence of the time and does a reasonable job of connecting the tumult of the time to the current moment. While some people still think of Reddy as kind of a one-hit-wonder, the truth is she was one of the most prolific hit-makers of the early to mid-1970s. Her career was brief -- she was essentially done as a recording artist by 1977, but her 1975 "Greatest Hits" album contained no filler.
Moon and screenwriter Emma Jensen drew from Reddy's 2005 memoir "The Woman I Am," and in the press notes Moon says she "felt very strongly" that Reddy, who is now 78 and reportedly suffering from dementia, needed to see it before they locked the movie down. So they held a screening for her, and Wald, whom she divorced in 1983.
"[S]itting in the cinema with Helen Reddy was ... one of the hardest screenings I had to do for the film," Moon writes. "I suddenly realized that this is her life and she was watching it through my eyes. During the screening, Helen sang along to her songs, and when she cried, it wasn't because she was sad that we made the movie, she cried because she found the whole experience so touching, and I think really cathartic in a way."
I believe that. Moon's film is more compelling when it isn't belaboring political points (not that those points shouldn't be belabored) but when it's simply functioning as a nostalgic jukebox musical. I never knew I enjoyed Reddy so much, and if the point of the movies is to force a re-examination of Reddy's career, "I Am Woman" can only be adjudged a success.
More News
'I Am Woman'
85 Cast: Tilda Cobham-Hervey, Danielle Macdonald, Evan Peters, Molly Broadstock, Liam Douglas
Director: Unjoo Moon
Rating: Not rated
Running time: 1 hour, 56 minutes
Playing theatrically.
Sponsor Content