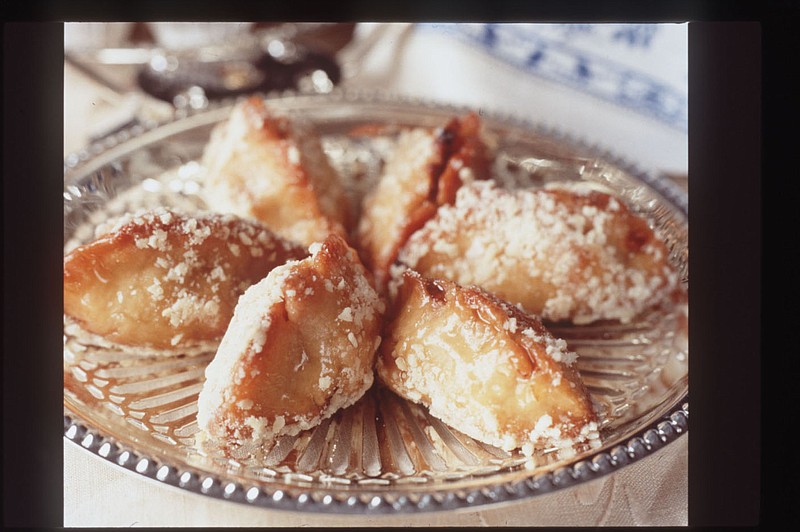 Handout Photo for Food 9/20/00 Travados, honey-nut pastries of Spanish origin, symbolize Rosh Hashana's promise for a sweet new year.
Unlike Passover, with its tradition of at-home Seders that translated well to Zoom in the spring, the Jewish High Holy Days have a strong emphasis on hours spent inside a synagogue. You might be wondering -- whether you belong to a synagogue year-round or scramble each fall to find a temporary one -- how you can observe Rosh Hashana (which starts the night of Sept. 18) and Yom Kippur (the night of Sept. 27) from home.
Good news: Because of the pandemic, Conservative, Reform and nontraditional synagogues are streaming services -- available for free, and to nonmembers -- from their mostly empty sanctuaries. But if formal prayer isn't your thing, there are plenty of other ways, some of them virus-inspired, to celebrate safely.
"Crisis is painful, but I think we're seeing the Jewish community reconfigure," said Rabbi Rick Jacobs, president of the Union for Reform Judaism, the largest Jewish group in North America. "People can really take the resources and shape something that feels personally meaningful."
Here are some options:
Follow a digital service.
First, about those services: If you're not a fan of whatever local synagogue you attended in the past (maybe because its real appeal was free High Holy Day tickets), this year you can go global. Jacobs said that many Jews have been tapping into Shabbat services in Israel during the pandemic or tuning in to a temple in whatever time zone better fits the time of day they want to pray.
Don't think you can sit in front of a screen all day? Take heart: Most rabbis know you can't. Almost all the services in the United States will be shorter for practical reasons. Because the sanctuaries are empty except for the clergy, there is no processing through the synagogue with the Torah, or people coming back and forth to the bimah, or altar. But many services have also been cut deliberately to help with screen oversaturation.
At Temple Sholom in Bridgewater, N.J., services will be cut roughly in half, said the temple's rabbi, Dan Selsberg. (No one is skipping Avinu Malkeinu, the prayer in which Jews ask God to "remove the plague"; this year's service, Selsberg said, "is something of a greatest hits.")
Many synagogues have already taped much of the services, particularly the portions with singing -- a notorious vector for the spread of covid-19 -- to avoid having musicians and the clergy team together in a confined space.
Hear the shofar.
Because of fears the ram's horn might be a superspreader, some conservative synagogues are holding small in-person shofar services, often at local parks. Conservative rabbis question whether hearing the shofar over the internet counts as actually hearing it, said Rabbi Mark Asher Goodman, whose conservative Brith Sholom Jewish Center in Erie, Pa., is offering a drive-up shofar blast in the parking lot. Meanwhile, Central Synagogue in Manhattan -- a reform congregation that has livestreamed its services for free since 2008 -- has prerecorded some shofar blasts.
One recorded blast at the Museum of Jewish Heritage in New York uses the shofar from the Auschwitz concentration camp, which has special resonance this year.
"The shofar from Auschwitz was blown at a time when the holidays were being celebrated and observed under the rarest of circumstances, under the most duress," said Daniel Mutlu, Central Synagogue's cantor. "To use it during this pandemic creates a through-line of that same kind of dedication to observing the holidays no matter where we find ourselves."
Whatever service you choose, watch on a TV screen instead of a computer or phone so that you won't be getting alerts that might take you out of the moment. Selsberg recommends singing along, the same way you might boo or cheer at the screen during a sporting event.
"You want to be emotionally invested," he said. "You have to participate in order to have the whole experience."
Go beyond the synagogue.
You might also consider giving your viewing spot a makeover for the holiday -- maybe clearing your desk, covering it with a white tablecloth, and placing pictures on it of family members you might normally be with this time of year. Haggadot.com, a nonprofit site for crowdsourcing the Passover prayer book, recently debuted the HighHolidays@Home website, whose offerings include a free webinar for creating a simple altar. Rebecca Missel, Haggadot.com's director of partnerships and operations, plans to use the radiator (currently turned off) in her Jersey City, N.J., apartment. She will place a shelf on it, drape it with scarves and then decorate with family mementos, including a beloved cat figurine of her grandmother's and a pair of candlesticks her family smuggled out of Hungary after World War II.
Tashlich, the symbolic casting away of sins on Rosh Hashana, is usually done outside by a body of water. But with many parks limiting group sizes even outdoors, synagogues are including birdseed (the more eco-friendly version of the traditional breadcrumbs) and Tashlich instructions in holiday baskets being sent to members. HighHolidays@Home also offers downloadable prayers and guided meditations, and you can throw pebbles in whatever nearby water is available, including a kiddie swimming pool. Another option: Write down your sins on rice paper, which dissolves in water. (On Amazon, it's often referred to as "spy paper.")
Redefine 'observance.'
Finally, keep in mind that "observe" is relative: Anything goes, if it feels right to you.
"We're really encouraging people to take the core of the holiday and do what Jews have done for 3,000 years and be creative," Jacobs said. He said you can go for a walk and think about the message of the holidays, or have a conversation with a friend or family member about beginning anew. You could also perform acts of kindness toward people who are confined because of the health crisis -- for example, taking "exceedingly good care" of an older neighbor, he said.
Some families are forming pods for services, with the 10 adults required for a minyan, or quorum (with all the associated children). Aviva Pearlman, a sixth grade teacher in Denver, is borrowing a Torah from her synagogue, prayer shawls and books (and a shofar!) from friends, and hosting a few families, all masked up, in her back yard.
Pearlman, who this year switched to teaching online, said doing the High Holy Days virtually felt like one screen too many: "I really wanted to come together and meet with other people in three dimensions."
Sponsor Content