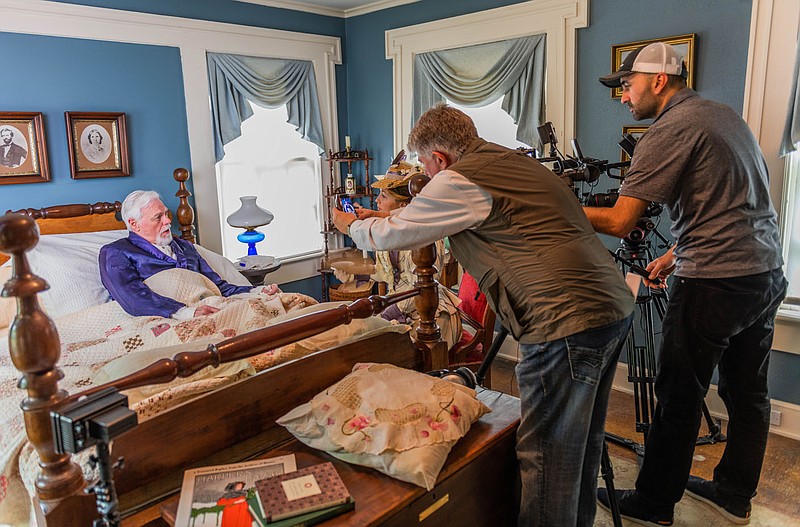 Bill Rogers and Jennica Schwartzman work on a scene from "Indians, Outlaws, Marshals and the Hangin' Judge" as filmmaker Larry Foley (standing left) and Hayot Tuychiev, director of photography, capture the moment. The film debuted last week at an invitation-only premiere in Fort Smith, and DVDs are now available for purchase from uapress.com for $19.95. (Courtesy Photo/James Brewer)
Black lives
to be topic
The Writer's Colony at Dairy Hollow in Eureka Springs invites writers to participate in "Illuminating Black Lives," a writer's fellowship to explore the African-American experience. The work may be in any literary genre: fiction or nonfiction, poetry or prose, or a combination. It may take place now or in the past. It may draw upon the life of the author or probe other lives. There is no expectation of a certain attitude or type of experience. Rather, the successful application will demonstrate insight, honesty, literary merit and the likelihood of publication.
The fellowship winner will receive a two-week, all-expense-paid residency to allow the recipient to focus completely on their work. Each writer's suite has a bedroom, private bathroom, separate writing space and wireless internet. We provide uninterrupted writing time, a European-style gourmet dinner prepared five nights a week and served in our community dining room, the camaraderie of other professional writers when you want it, and a community kitchen stocked with the basics for breakfast and lunch.
Fellowship applications must be accompanied by a writing sample and a non-refundable $35 application fee. Writers proposing more than one project must submit a separate application and fee for each one. Deadline for submission is midnight Oct. 26. The winner will be announced no later than Nov. 23. Residency must be completed by Dec. 31. Exceptions will be made if covid-19 makes a residency inadvisable.
The Writers' Colony at Dairy Hollow would like to thank author and Writers' Colony alumna Linda Leavell and her husband, Brooks Garner, for generously funding this fellowship.
Information: writerscolony.org/fellowships.
OLLI offers
new classes
The Osher Lifelong Institute at the University of Arkansas has announced the following classes for the upcoming week:
• Sept. 14: "Happy Gut, Happy Life: Digestion & Intestinal Health." -- The immune system, emotional health, proper digestion, breakdown of foods and absorption of nutrients, these and many other important functions are controlled in the digestion and intestinal systems. Proper function as well as proper nutrition are vital to your overall long-term health and vitality. Dr. Blair B. Masters will explain what is going on in the gut and how you can control your happiness. This course is being offered in an online format only. The link to join this session via Zoom will be sent after registration and as class nears. $25 members/$40 nonmembers.
• Sept. 15: "Historical Architectural Styles of Arkansas." -- $29 members/$44 nonmembers; "Midaq Alley." (online/in-person) $45 members/ $60 nonmembers.
• Sept. 16: "Beginning Photoshop." -- $69 members/$84 nonmembers. (online/in-person)
• Sept. 17: "Drinking in the Ozarks: New Province Brewing Company" -- $29 members/$44 nonmembers.
• Sept. 18: "Pandemics & Epidemics." $39 members/$54 nonmembers.(online/in-person)
Information: (479) 575-4545 or olli.uark.edu.
MLK Council
registers voters
The Northwest Arkansas Dr. Martin Luther King Jr. Council will host a voter registration drive and free covid-19 testing from 10 a.m. to 2 p.m. Sept. 19 at St. James Missionary Baptist Church, 764 W. North St. in Fayetteville. All necessary health and safety precautions will be taken.
Information: www.nwamlk.org.
Red Cross
needs blood
The American Red Cross needs people of all races and ethnicities to give blood to help ensure a blood supply as diverse as the patients who depend on it.
For a small percentage of the population, finding someone else with the same blood type can be difficult. While the vast majority of people have types A, B, O or AB blood, some blood types are unique to certain racial and ethnic groups, so a diverse blood supply is important to meeting the medical needs of a diverse patient population. Patients who require frequent blood transfusions as part of their treatment, like those with sickle cell disease or other lifelong blood disorders, often need close blood type matches to prevent complications from their transfusion therapy.
All blood types are needed to ensure that the right blood product is available at the right time for all patients.
The Red Cross is testing blood, platelet and plasma donations for covid-19 antibodies. The test may indicate if the donor's immune system has produced antibodies to this coronavirus, regardless of whether they developed symptoms. Donors can expect to receive the results of their antibody test within 7 to 10 days.
The Red Cross is not testing donors to diagnose illness, referred to as a diagnostic test. To protect the health and safety of Red Cross staff and donors, it is important that individuals who do not feel well or believe they may be ill with covid-19 postpone donation.
Each Red Cross blood drive and donation center follows the highest standards of safety and infection control, and additional precautions -- including temperature checks, social distancing and face coverings for donors and staff -- have been implemented to help protect the health of all those in attendance. Donors are asked to schedule an appointment prior to arriving at the drive and are required to wear a face covering or mask while at the drive, in alignment with Centers for Disease Control and Prevention public guidance.
Upcoming blood donation opportunities include:
• Bentonville: 10 a.m.-3 p.m. Sept. 15, 5G Consulting, 1005 Beau Terre Drive; 8 a.m.-1:30 p.m. and 1:30-6 p.m. Sept. 18, Church of Jesus Christ Latter Day Saints, 1101 McCollum Road; 11 a.m.-5 p.m. Sept. 24, The Momentary, 507 S.E. E St.; 10 a.m.-4 p.m. Sept. 28, Grace Point Church Student Center, 1201 McCollum Road; 9 a.m.-2 p.m. Sept. 29, Bentonville Plaza, 609 S.W. Eighth St.
• Rogers: 2-6 p.m. Sept. 16, and 9 a.m.-2 p.m. Sept. 17, Sunnyside Baptist Church, 210 E. Locust St.; 9 a.m.-2 p.m. Sept. 22, Country Club Plaza, 4204 S. Pinnacle Hills Parkway; 11 a.m.-4 p.m. Sept. 25, St. Vincent De Paul Catholic Church, 1416 W. Poplar St.; noon-4 p.m. Sept. 28, Center for Nonprofits, 1200 W. Walnut; noon-5 p.m. Sept. 28, Walmart, 4208 Pleasant Crossing Blvd.
• Fayetteville: 1:30-6:30 p.m. Sept. 21, Fayetteville Athletic Club, 2920 E. Zion Road.
Information: (800) 733-2767 or redcrossblood.org.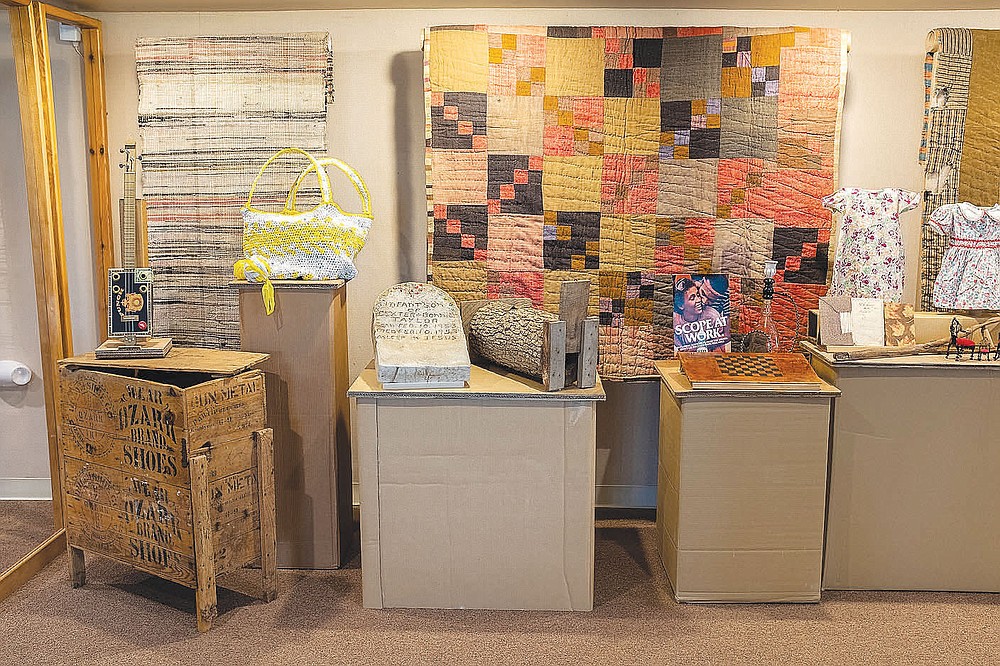 The Shiloh Museum's "Make Do" exhibit was the first to debut online because of covid-19 concerns. But with the Springdale facility reopening Sept. 7, visitors can now see the physical display, which features 25 historic items. The artifacts cover a hundred-year span from 1860, represented by a gourd baby rattle, to 1968, depicted by a bong made from a Scope mouthwash bottle. Hours are 10 a.m.-5 p.m. Monday-Friday; Thursday mornings from 10 a.m. to noon are reserved for high-risk visitors only. Admission is free. Information: (479) 750-8165 or ShilohMuseum.org. (Courtesy Photo/Shiloh Museum)
Send news about local events, charity fundraisers and family or class reunions to ourtown@nwadg.com. Deadline is 4 p.m. Tuesday for Sunday publication. Please include a phone number or email address for publication.
Sponsor Content