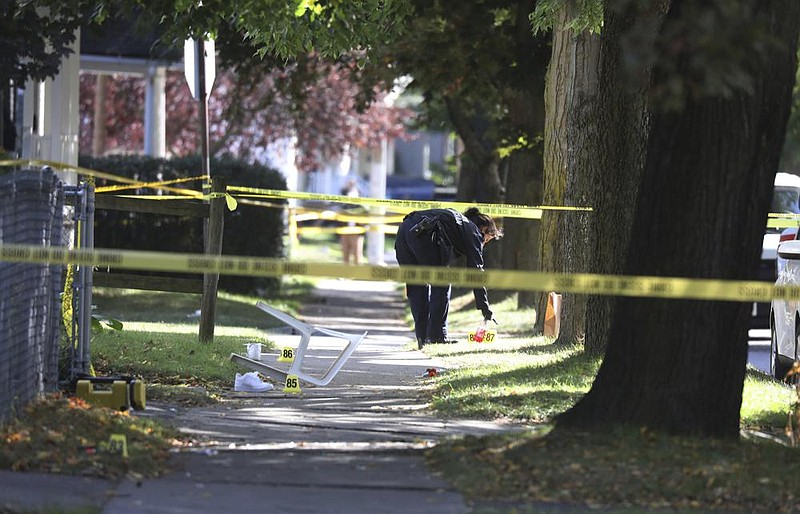 A police technician collects evidence near the home where a house party turned deadly early Saturday in Rochester, N.Y. (AP/Democrat & Chronicle/Tina MacIntyre-Yee)
Backyard shots kill 2 people, hurt 14
ROCHESTER, N.Y. -- Gunfire at a backyard party killed two people and wounded 14 others early Saturday in Rochester, N.Y., a city roiled in recent weeks by anger over the police suffocation death of Daniel Prude.
As many as 100 people were at the gathering when the shooting started just before 12:30 a.m., acting Police Chief Mark Simmons told reporters.
Police were still trying to piece together who opened fire and why. Simmons said it was too early to say whether more than one person was shooting or whom the intended targets may have been.
"It sounded like somebody was trying to go to war," neighborhood resident Asa Adams told Spectrum News.
A man and woman, estimated to be in their late teens or early 20s, were killed, Simmons said. Their names weren't immediately released. The 14 wounded by gunfire were not believed to have life-threatening injuries. They were all between the ages of 17 and 23, police tweeted Saturday morning.
Simmons said no suspects were in custody.
Ricin in envelope sent to White House
WASHINGTON -- Federal officials intercepted an envelope addressed to the White House that contained the poison ricin, a law enforcement official told The Associated Press on Saturday.
The letter was intercepted at a government facility that screens mail addressed to the White House and President Donald Trump, the official said. A preliminary investigation indicated that it tested positive for ricin, a poison found naturally in castor beans, the official said.
The official was not authorized to discuss the ongoing investigation publicly and spoke on condition of anonymity.
Federal investigators were working to determine where the envelope originated and who mailed it. The FBI, the Secret Service and the U.S. Postal Inspection Service were leading the investigation.
In a statement, the FBI said agents were working to investigate "a suspicious letter received at a U.S. government mail facility" and that there is "no known threat to public safety."
Protesters decry charging organizers
DENVER -- People gathered at the Colorado state Capitol in Denver on Saturday to protest the filing of felony charges against several leaders of racial justice demonstrations.
Six protesters, including organizers of demonstrations over the killing of Black 23-year-old Elijah McClain in Aurora, could face years in prison over what critics say are trumped-up charges representing an attack on the Black Lives Matter movement.
McClain died in 2019 when police used a stranglehold to arrest him and paramedics injected him with an excessive dose of a powerful sedative. Prosecutors declined to file charges, saying the coroner could not determine exactly what caused the death and that they could not prove that the level of force used was unjustified.
Among the charges filed against some of the defendants Thursday are theft, for reportedly taking signs from counterprotesters, and attempted first-degree kidnapping related to involvement in a July 3 protest in which a crowd of 600 surrounded an Aurora police precinct with 18 officers inside, blocking doors with ropes, boards, picnic tables and sandbags for seven hours. The protesters demanded that two officers involved in McClain's arrest be fired and charged.
All of the protesters -- Lillian House, Joel Northam, Terrance Roberts, Whitney Lucero, Trey Quinn and John Ruch -- face felonies filed by prosecutors in the 17th and 18th judicial districts, which cover Adams and Arapahoe counties, The Denver Post reported. The charges are connected to demonstrations held in Aurora on June 27, July 3, July 12 and July 25.
Both district attorneys declined requests for interviews, the newspaper reported.
Part of street to be named for Floyd
MINNEAPOLIS -- A stretch of a Minneapolis street that includes the place where George Floyd was killed will soon be named in his honor.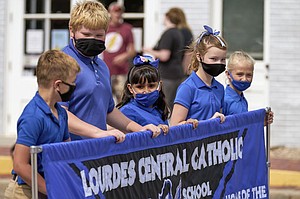 Photo by AP
Students at Lourdes Central Catholic Middle School march Sat- urday in the annual Applejack parade in Nebraska City, Neb. (AP/Nati Harnik)
Although the street will still be called Chicago Avenue, the city will refer to the blocks between 37th and 39th streets as George Perry Floyd Jr. Place, the Star Tribune reported.
The City Council approved the naming Friday, and Mayor Jacob Frey's office said he would likely sign off on it.
Floyd, a Black man, died May 25 while he was being arrested by a white police officer. A video of the arrest shows the police officer with his knee on Floyd's neck, pressing Floyd against the pavement as Floyd repeats that he can't breathe. The video was widely viewed and Floyd's death set off protests around the world.
Months after Floyd's death, the intersection remains barricaded and now holds a memorial. Some demonstrators have occupied the area, saying they will not leave until the city meets their demands, including funding for anti-racism training and a temporary property tax freeze for people within that zone.
The city had announced plans to reopen 38th Street this summer but backed off, avoiding a confrontation.
The city continues to work on a long-term plan for the intersection.
-- Compiled by Democrat-Gazette staff from wire reports
Print Headline: The Nation in Brief
Sponsor Content