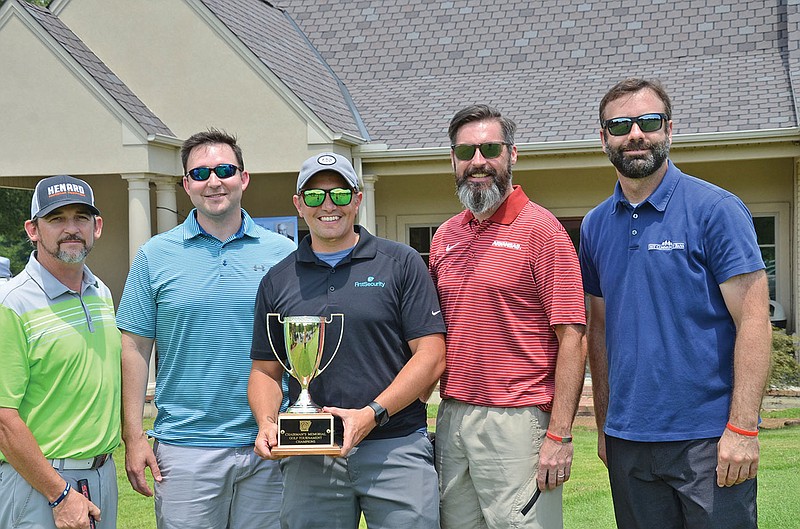 The winners from last year's Chairman's Memorial Golf Tournament in Searcy include, from left, Jeff Bonee, Daniel Brock, Matt Laforce and Richard Stafford. Also pictured is Phillip Hays, far right, the committee chair for the tournament.
SEARCY — Every year, the Chairman's Memorial Golf Tournament in Searcy honors a former chairman of the Searcy Regional Chamber of Commerce. This year, the tournament is honoring J.R. Thomas, who died this summer and was chief of police for the Searcy Police Department for 18 years.
Steve Foster was friends with Thomas for more than 50 years, having gone to high school with Thomas. Foster said it means a lot to him that the chamber is honoring Thomas, who started as a police officer at Searcy in 1977 and was the director of Arkansas Tobacco Control from 2007 to 2015. Thomas died on June 21.
"He was very well-respected within the community and throughout the state," Foster said. "This is a good way of honoring him.
"It is unusual to honor someone this soon after they have passed. Generally, we wait till they have been gone a little longer, but this year, J.R. was fresh on our minds, and [this is] certainly something we wanted to do for him."
Foster said the biggest concern was getting approval to honor Thomas from his wife, Diane. But once she approved it, Foster and Bill Patton made the recommendation to the chamber president.
"We all went to high school together, and we have known each other for quite a while," said Patton, the chief executive officer for RiverWind Bank in Searcy. "I think it is really neat that they have chosen to honor JR this year.
"It is good that the chamber recognizes those people who have served on the board and leadership team."
Patton said Thomas had been undergoing treatment for cancer for about two years.
This year's golf tournament will take place Friday, beginning at 11 a.m., at the River Oaks Golf Club in Searcy. The cost for the tournament is $500 per team of four, but that does not include the cost of golf carts.
Buck Layne, president and CEO of the Searcy Regional Chamber of Commerce, said it is an honor to showcase how much these past chairmen have meant to the chamber and the community.
"We are wanting to do something positive in their memory," Layne said. "We will hold a little ceremony prior to the tournament, and it will be an opportunity for people from the community to speak on behalf of J.R."
At press time, there were about 10 teams that had signed up for the tournament. He said he hopes to have as many as 22 teams play this year and wants to keep it below 100 people playing. He said there is still time to register. Layne said he is so thankful to Jim House and Eric Morrison, the golf pros at the club, for their help and assistance.
"We are really excited about the tournament," Layne said. "We usually make about $4,000 from the tournament, and [the money] goes into the operating budget for the chamber."
For more information on the golf tournament, email scc@searcychamber.com or call (501) 268-2458.
For the past five years, Patton, Thomas, Foster and John Brookshire, who lives in Northwest Arkansas, have taken a yearly fishing trip in October. This will be the first year the group will take the trip without Thomas.
"We rent a house over on the Little Red River, and we stay for about four days, and at least one of those days, we have a guide take us out on the river," Foster said. "We catch our limit, and we have a good time."
Patton said they all made the agreement to continue the trip every year until "there was only one of us left."
"It was a way to get together," he said. "We grew up together, and I think J.R. just wanted to do something, just the four of us, at least once a year.
"We all talked on the phone at least once a week or every two weeks, but we wanted everybody together and for it to be an annual event. Once it got started, we wanted to continue it."
This year's trip is planned for Oct. 12-15.
"We are going to miss J.R.," Foster said. "Obviously, it is going to be a little different. He is the one who got [the trip] started, made the arrangements for the guide and all that.
"So this year is certainly going to be a little different. We are going to miss him."
Sponsor Content