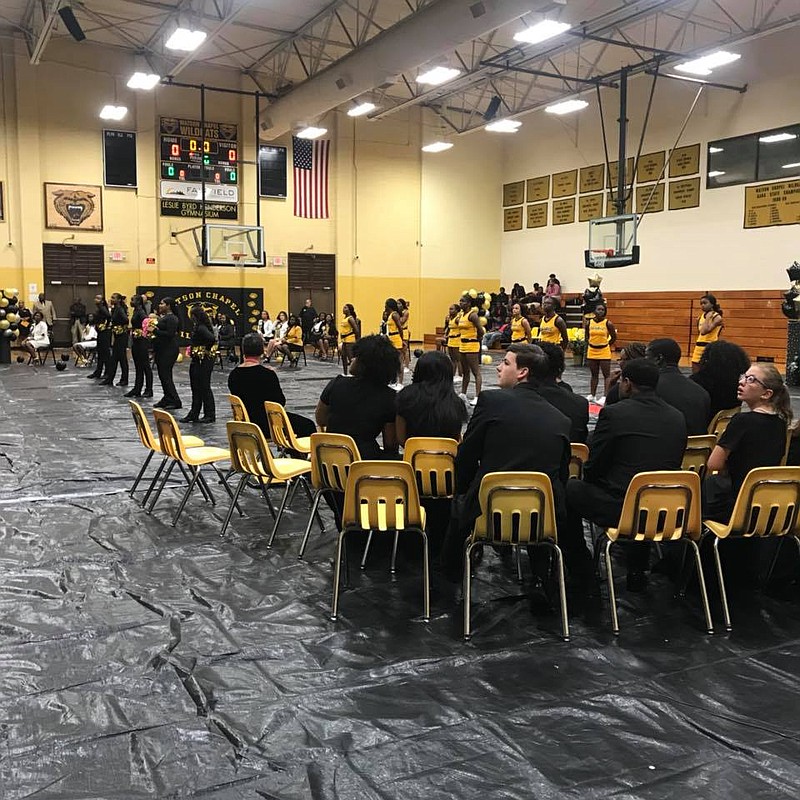 Watson Chapel High School Homecoming will be virtual this year instead of the traditional assembly held in the gym due to homecoming restrictions released by the Arkansas Department of Education.
Many homecoming activities at the four area high schools have been canceled this fall because of the coronavirus, officials said this week.
From junior highs to high schools across the state, football games have been called off after players and coaches contracted covid-19.
Just last week, all Jefferson County high schools had a game canceled because the opposing team had coronavirus problems. And now state officials are asking high school superintendents to cancel or limit homecoming activities, and they are complying.
"The current number of community covid cases throughout the state continues to remain high and threatens the ability of school districts to continue on-site operations long term," said the Arkansas Department of Education's Division of Elementary and Secondary Education in a statement to state superintendents. "We need to continue to work hard on mitigating the risk of increasing numbers of covid-19 cases within the school population to maintain a campus environment that is as safe as possible and to have a successful semester."
Health officials say such activities are a great concern for schools and the communities they are in. Homecomings are just a few days or weeks away for local high schools.
"We are going to follow the state guidelines," said Watson Chapel School District Superintendent Jerry Guess, but "we are going to carefully still have our homecoming."
Watson Chapel has canceled its in-person homecoming assembly that's usually held during school hours and will replace it with a virtual experience. High School Principal Henry Webb said the district with take photos of homecoming court nominees and display them as each is discussed over the intercom.
At White Hall High School, Superintendent Doug Doris said that district's homecoming court coronation will move forward, but attendance will be reduced.
"When we hold the crowning of the queen at school, the students will not be allowed to go," said Webb, who added that the maximum capacity is 220 people. "We are going to give the male escort and the female on the court tickets for their immediate family to get in."
Also canceled for White Hall High School will be the traditional homecoming breakfast and dinner.
Holding the meals "is what they have always done on homecoming weekend in White Hall," said Doris. "We're asking them to not have it this year."
At Pine Bluff High School, the homecoming game was canceled this week at the request of El Dorado, according to Pine Bluff High School interim Principal Claudette White, who said homecoming will be moved to Oct. 23.
"We will not have an assembly as we normally do, and the girls will not have boy escorts," said White. "They will walk with their fathers only and socially distance."
White said details are still being worked out on how they will announce the homecoming queen since there will not be an assembly.
Dollarway High School's homecoming is scheduled for Oct. 9. Dollarway Superintendent Barbara Warren said the district is following the guidance that the Health Department has sent.
"They have been making plans for a long time," Warren said of students. "Certain components will be virtual and streamed."
Warren said she wants to make sure that homecoming participants' families have immediate access, and there is clear guidance when it comes to visitors.
Homecoming enhances campus activities but also promotes community socialization, which increases the likelihood of virus transmission, state officials said.
Typical homecoming activities include tailgating, parades, large gatherings, a big pep rally, homecoming court and the homecoming football game.
Officials are asking school officials to:
• Cancel homecoming dances and other homecoming school or community events that promote social gatherings.
• Cancel traditional homecoming parades; however, the district can host a caravan for homecoming royalty as long as no more than one student (with family) occupies a single-vehicle.
• Follow all social distancing guidelines for any coronation ceremony for homecoming queen/king and to live-stream the ceremony if conducted during the school day for those who cannot attend because of capacity limits.
Officials are also stressing that social distancing guidelines be followed at the football game and at all associated activities. The Arkansas Activities Association even released a script for football public-address announcers to read at every football game as a friendly reminder.
In bold type emphasizing that it be read multiple times, the reminder says:
"We are excited to begin competitive team activities. Please do your part to help us finish the season. Wear your mask, practice social distancing and wash your hands frequently.
Help us complete the season. Please follow all directives pertaining to seating requirements, face coverings and social distancing.
"We want to play. Please do your best to help us continue. Wear your mask, practice social distancing and follow directives pertaining to seating requirements."
"Each superintendent signed the Large Outdoor Venue and Large Indoor Venue Plans for School Sponsored Team Sports attesting to the fact that COVID 19 is a serious illness and the school will abide by the Directives of the Governor of Arkansas and the Secretary of Health," said Arkansas Activities Association officials. "We understand that maintaining compliance is difficult when interacting with the various opinions of the public."
Association officials added that if events are to continue in school facilities, compliance with the directives must be taken seriously and schools must develop methods to ensure that compliance is maintained. This includes refusing entry or removing those who fail to comply with the directives.
"While this can be extremely difficult to confront, the continuation of events at our schools depend on it," said Arkansas Activities Association officials. "Like many of you, we want our students to continue to have an opportunity to participate."
Sponsor Content