Floodwaters washed out an area of the Lake Bella Vista dam in Bentonville on Wednesday while a lawsuit over its fate sits on appeal to the Arkansas Supreme Court.
[Video not showing up above? Click here to watch » https://www.youtube.com/watch?v=ofjY-346Y4I]
A press release from the city said the structure "suffered an additional failure" approximately 50 feet in width, west of the east spillway.
A full evaluation of the damage won't be completed until the flood water has subsided.
Lake Bella Vista Park is closed, according to the city.
11:20 a.m.: Flash flood watch in effect for parts of Arkansas, forecasters say
Flash flooding remains possible for parts of northern and western Arkansas on Thursday as rainfall continues across much of the state, forecasters said.
A flash flood watch remains in effect for much of the northwestern half of the state through Thursday afternoon, according to the National Weather Service.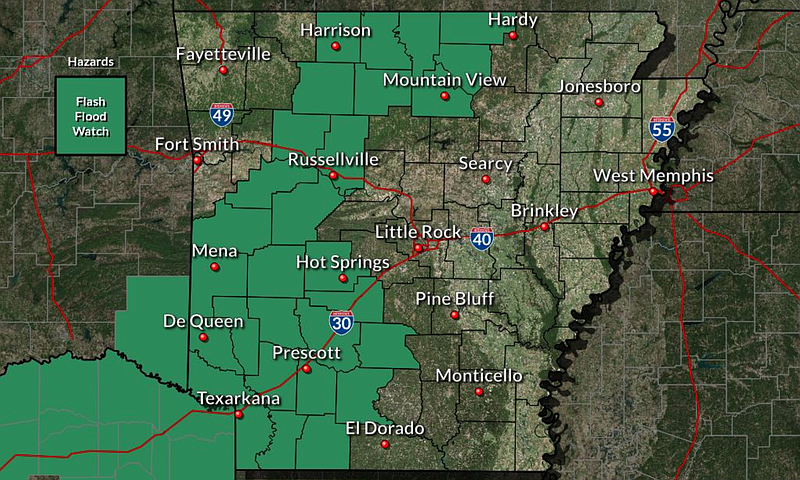 A flash flood watch remains in affect through Thursday afternoon for portions of north and western Arkansas, according to the National Weather Service.
Portions of Northwest Arkansas received upwards of six inches of rain since Wednesday, a weather service briefing states.
[ARKANSAS WEATHER: Hourly forecast + weather radar » arkansasonline.com/radar]
Rain and thunderstorms are expected to move toward the southeast in the afternoon, forecasters said.
A marginal risk exists for severe weather hazards for portions of southeastern Arkansas, including hail up to the size of a quarter and wind speeds of up to 60 mph, according to the weather service.
Forecasters said river flooding will remain a concern "for the next couple of weeks."
[QUIZ: How much do you know about severe weather in Arkansas? Test your knowledge » arkansasonline.com/weatherquiz/]