The future is bright for the Arkansas Cinema Society, the nonprofit organization started in 2017 by two Arkansas-born filmmakers determined to support and promote the art in their home state. This month, its management announced the intention to open a Northwest Arkansas office to help foster the growth and economy of filmmaking, as well as encourage the education of the art statewide.
"We've always wanted to be the Arkansas Cinema Society, not the Little Rock Film Society, because, when I moved home, I found the film community here to be very siloed," says co-founder and executive director Kathryn Tucker. "I was personally inspired to unite the film community in order to have an 'all ships rise' mentality."
The move to open up a new office during a pandemic might seem a strange one, but Tucker says there have been some surprising upsides to virtual ACS programming.
" [In the beginning,] I was extremely eager for us to have our own theater, and now I'm so glad we don't -- we would have gone out of business," she says. "Because we have such small overhead, we're nimble, and we were able to pivot all of our programming to virtual last year. We canceled five [live] events but scheduled 13 virtual events, because they're so much less expensive. So we are growing, and to be growing during a pandemic is really extraordinary. I am really proud."
Arts entrepreneur Kody Ford has been appointed the ACS Northwest Arkansas program director of statewide outreach and education coordinator. Ford, the founder of the arts magazine The Idle Class, has ample experience promoting the arts community in Arkansas, as well as working within the nonprofit world. His background seems tailor made for the position.
"It's a big job, but he's the man for it, and has been doing it with his own magazine for quite some time," says Tucker.
"I've known Kathryn for years, and I've always told her, 'If I can ever work for you, I want to,'" says Ford. "I got lucky and landed my dream job.
"With [The Idle Class], our goal was to connect all of these artistic pockets so that everyone knew what was going on. In a sense, that's what we're doing here -- the goal is to create a more cohesive film community. We're going to do that through screenings, educational programming and through promotional efforts. We're launching a podcast featuring filmmakers, writers and actors. We just launched a monthly newsletter, and we currently have a blog. We're here to provide support for everyone throughout the state."
The film society's beginnings are rooted in the deep affection held for Arkansas by founders Tucker and screenwriter/director Jeff Nichols, who met as students at Little Rock's Central High School. Tucker, who has more than 15 years in the industry and has produced five movies, says the impetus for creating the organization was the closing of the Little Rock Film Fest. That event served as a major networking opportunity for Arkansas filmmakers, and she and Nichols felt the loss keenly. Brainstorming solutions brought them to the creation of ACS.
The organization launched in August 2017 with an ambitious film festival called Premiere. The Homegrown Film Series and Filmland soon followed, as well as educational workshops and film screenings. ACS found creative ways to keep providing content during the pandemic, like its Shelter-in-Place series that gave folks at home access to streaming movies for free. Last week, in collaboration with A24, the Bentonville Film Festival and the Fayetteville Film Fest, ACS presented a screening of filmmaker Lee Isaac Chung's "Minari" at the 112 Drive-In in Fayetteville. Chung's poignant story, loosely based on his own experience of moving to Lincoln, Ark., when he was 7, won both the Grand Jury Prize and the Audience Award at the 2020 Sundance Film Festival. Despite plunging temperatures and an iffy weather forecast, the screening sold out -- demonstrating an audience hunger for access to movies outside of mainstream releases. Promoting "Minari" checks off many of the boxes for ACS' overall mission -- promoting Arkansas filmmakers and films, yes, but also amplifying voices of filmmakers who are female, Black, indigenous and people of color.
"There's a sea change beginning to happen within the film industry -- people are realizing that a lot of voices are left out," says Ford. "They haven't been able to get a foot in the door. There are barriers. There's more of a conversation to get more people of color and women involved in filmmaking. That's part of what we wanted to do when we did our film camp for girls. It's just great to see these other perspectives to the American experience."
ACS also hopes to be a statewide resource to help promote the business of filmmaking in Arkansas, a goal shared with another nonprofit organization that formed in 2017, the Northwest Arkansas Film and Entertainment Commission.
"Our purpose is predominantly to highlight and promote the Northwest Arkansas region as a premiere location for all film and digital production, including music, commercials, feature films, documentaries, and also to advocate for film production, and to create a website with a listing of resources and support services that are available in Northwest Arkansas to support film and digital production," says the Commission's Board President, Sandy Royce Martin. With a background in broadcasting and advertising, Martin says she knows "the potential of film and film locations and the economic impact it has" on the communities that foster that kind of partnership and notes that the Northwest Arkansas area boasts many desirable locales for potential production companies.
"You've got Pea Ridge -- a lot of period, historic locations that you can shoot," she says. "You could do a Western with the mountains, streams, lakes. You've also got urban areas, rural areas, suburban areas, mansions, shacks. We've also been building up all of the support services. We've got four major, wonderful, full-production studios, several really good recording and tracking and post-production studios. We've got large orchestral recording studios through the University of Arkansas. We've got musicians, we've got actors, we've got writers, we've got a lot of 'second line' people that will save them money, as well. So it's extremely attractive."
"I've worked on $100 million films, $200 million films, and the crew that I worked with in Arkansas, every single one of them is an artist," says Tucker. "In Arkansas, every single person is an artist that is passionate about it, and they bring 110% of themselves to it. Everyone from production assistant to camera operator is busting their tail. They're so engaged, so creative. I can't speak highly enough about what you get when you work with a crew from Arkansas."
While some of the goals and missions of both organizations overlap, both are necessary, say Tucker and Martin, in a state where a single film commissioner is tasked with handling the state's film and entertainment business.
"These organizations started up to basically support the state's Film Commission," says Martin, who adds that the hard-working film commissioner Christopher Crane has "effectively pitched" many projects in the state. "And to add a little more emphasis, a little bit more push, to say that, 'Hey, this is a viable industry that is ripe for growth, if you just support it and support us more.'"
"[Our intention is not] to come in and duplicate any of the programs that the existing organizations are already doing -- like the Fayetteville Film Fest, the Bentonville Film Fest, or the Fort Smith Film Festival -- we really want to support those organizations and what they're already doing so well," says Tucker. "Our intention is just to connect the dots within the state and be a resource for whatever they need."
Tucker and Ford say there are quite a few projects in the works for ACS, none far enough along to announce yet. Both hope this move into Northwest Arkansas will continue their primary goal -- helping to knit together the film community of the state.
"We've gotten a really great response from filmmakers and studios and arts organizations up here," says Ford. "They know we're here to work for everybody. We're not pushing a certain product of ours. We're here to promote and educate the next generation."
"I feel like ACS has taught me how much I care about giving back to the community," says Tucker. "Every time we make a connection with a young person or a filmmaker in need of a producer -- I love being that connective tissue and home base and safe space for anyone interested in filmmaking, at whatever level. It's really uplifting to be a part of it, because everyone in the community is really generous and inspiring."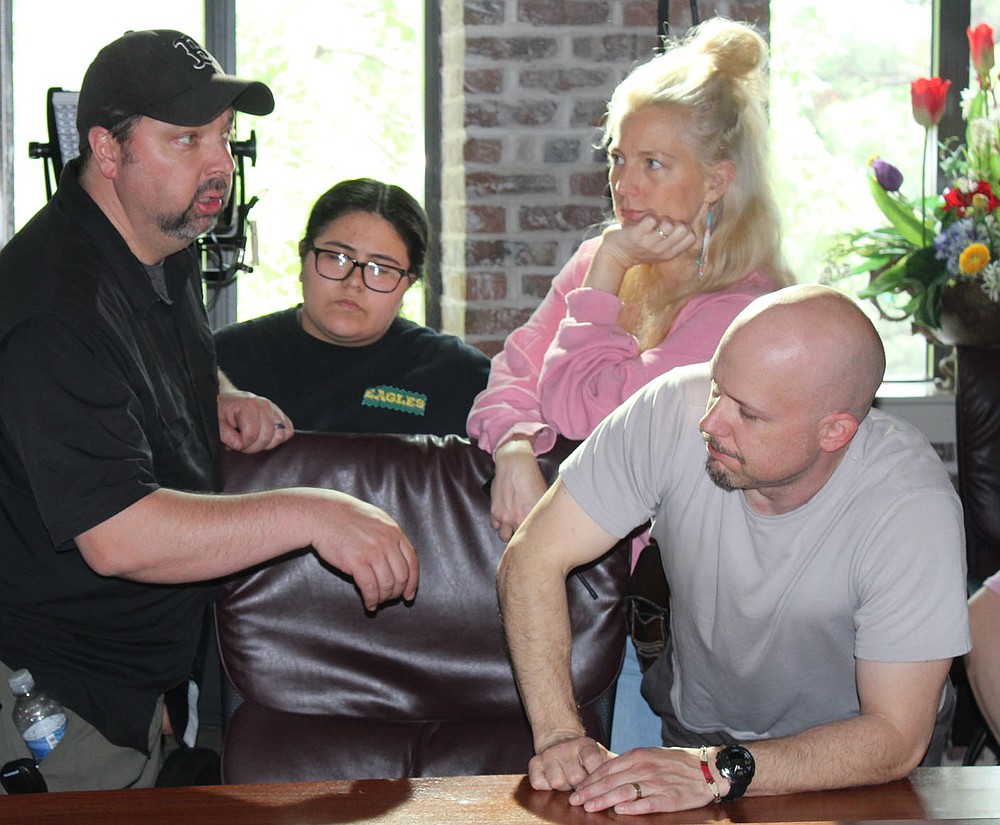 Girls film class at JM Associates. Hall High School student Samantha Barrera (second from left) listens as mentor Brian Johnson (left) speaks with Arkansas Cinema Society executive director Kathryn Tucker and Gabe Mayhan. (Arkansas Democrat-Gazette/SEAN CLANCY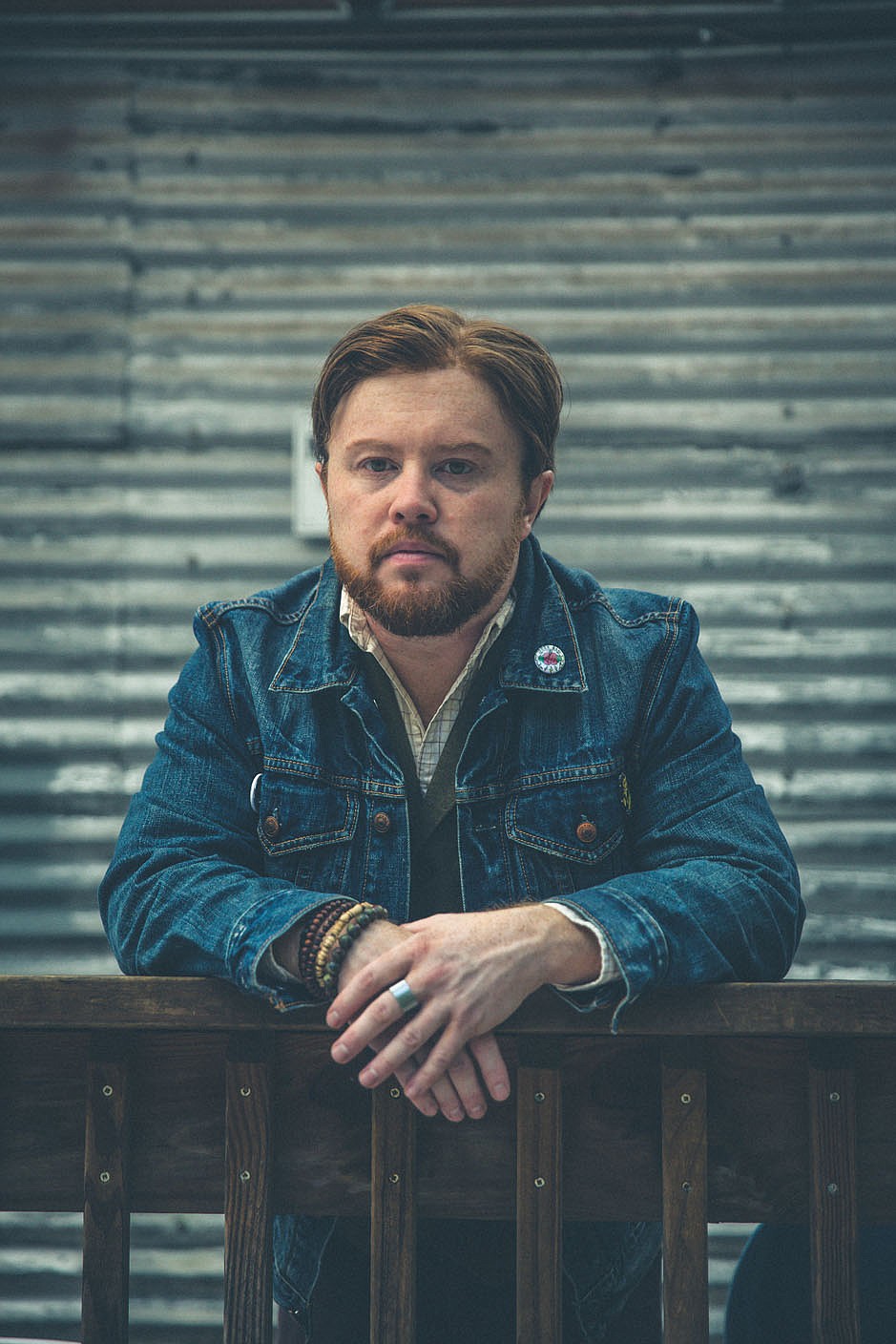 "There are a lot of things, when you think about Arkansas, that are great for film," says Kody Ford, the new ACS Northwest Arkansas program director of statewide outreach and education coordinator. "Visually, you can get a lot of looks — a man surviving in the Ozarks. You can shoot a 'True Detective.' You can shoot a nice, small downtown kind of thing. We have a great film program at JBU, and the UA is working to build theirs up. We have production studios. Over the years we've seen a lot of growth and I think there's a lot of potential." (Courtesy Photo/Kat Wilson)
More News
FYI
Arkansas Cinema Society
arkansascinemasociety.org/
facebook.com/Arkansascinemasociety
Northwest Arkansas Film and Entertainment Commission
filmnwa.org/
facebook.com/FilmNWA