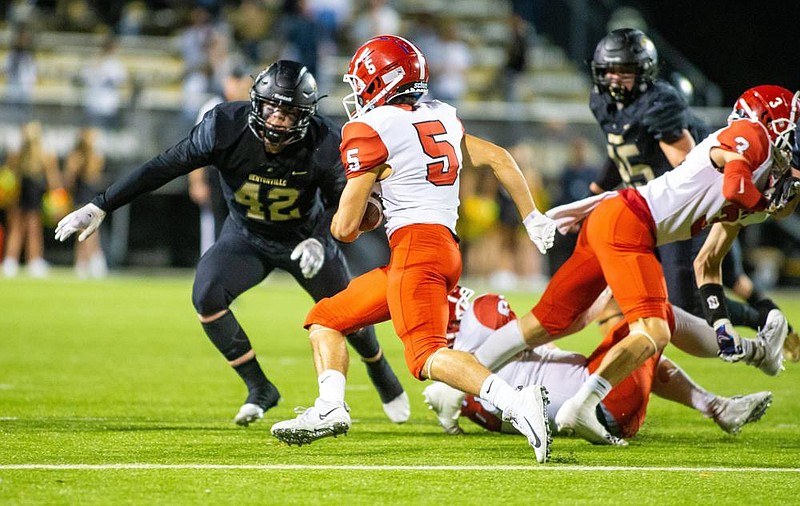 Bentonville senior linebacker Cole Joyce (42) recorded a team-high 102 tackles for the Tigers, who won the 7A-West Conference title. Joyce will continue his football career at Central Florida and is currently enrolled at the American Athletic Conference school. (Special to the NWA Democrat-Gazette/David Beach)
Bentonville Coach Jody Grant coached Cole Joyce for three seasons, but nothing impressed him more than the linebacker's final season.
Joyce recorded a team-high 102 tackles, 2 interceptions, a forced fumble and 2 touchdowns to help Bentonville win the 7A-West Conference championship.
For his efforts, Joyce is the Arkansas Democrat-Gazette's All-Arkansas Preps Defensive Player of the Year for the 2020 season.
"He had a phenomenal senior year," Grant said. "If he played four quarters for 11 weeks straight, he would have been close to 200 tackles."
Grant said Joyce was the Tigers' leader.
"He's not a rah-rah guy," Grant said. "He leads by example. By far, he's been the best I've ever coached."
Bentonville went 7-0 in the 7A-West and Joyce, who has signed with Central Florida, didn't play in the second half in any of the Tigers' conference games.
"I was proud of getting to 100 [tackles]," Joyce said. "We can all wonder about if I would have had 150 tackles if I had played in the second half. But I wanted to see my team win more."
Joyce graduated from Bentonville in December and is enrolled at UCF for the spring semester. He said that enrolling early was important so he can go through spring football and learn the Knights' playbook.
In a telephone interview from Florida with the Democrat-Gazette last week, Joyce reflected on his senior season, which almost didn't happen because of the coronavirus pandemic.
"It was a really special season," Joyce said. "Before we started football, we didn't know if we would have a season. I'm thankful that we got to play this year."
From the first game of his sophomore season in 2018, Joyce started at inside linebacker for Bentonville, which went 28-6 in his career, including an 11-1 season in 2019 and 10-1 campaign in 2020. Grant said Joyce's willingness to listen and pay attention to detail suited him well.
"As a young player, he learned to trust his coaches to put him in the best position to have success," Grant said. "He reaped the benefits of that during film study."
Getting bigger and stronger was important to Joyce as well.
"My body is a machine, so I have to take care of it," he said.
Grant said that by his junior season, Joyce was breaking down film and understood every defensive scheme, which in turn helped the Tigers be a better football team.
Joyce began the season with an 18-tackle performance in Bentonville's victory at Conway. It was a springboard to what was to come.
"He wanted to come out of the gate and be ready to play," Grant said.
Joyce described his mindset going into the 2020 season opener.
"Everybody gets a little jitters," he said. "But I wanted to prove that I'm still like last year."
Joyce said he's looking forward to playing at UCF and credited Bentonville's coaching staff for getting him ready for the collegiate level.
"I want to go in there and work hard and have them respect me," Joyce said. "It's a tight team."
More News
Joyce at a glance
SCHOOL Bentonville
CLASS Senior
POSITION Linebacker
HIGHLIGHTS Recorded 102 tackles, 2 interceptions, a forced fumble and 2 touchdowns in 2020. … Helped lead Bentonville to three consecutive 7A-West Conference championships in his career. … Three-year starter at linebacker for Bentonville. … Signed with Central Florida in December and is currently enrolled.
Sponsor Content