There were no fireworks for Chotsy Robertson and Ed Sheppard when they met on the Fourth of July but sparks flew soon after. Within months they were husband and wife.
Chotsy was a business education high school teacher in 1970, living at the Rosecliff Apartments in Hot Springs, which was also home to many of the couples who had moved to the area for work when Weyerhaeuser Company bought out Dierks Forest in the months before.
Chotsy's new neighbors were going to celebrate Independence Day on Lake Hamilton and they invited her to join them, intending to introduce her to Ed Sheppard. Ed was one of the first executives the company sent from its headquarters in Tacoma, Wash., to work on the transition and to finalize deals with Cooper Communities, the founder of Hot Springs Village.
"I didn't want to go to the big lake on the Fourth," Chotsy says. "I thought it would be too crowded and I just didn't want to go."
She did agree to go to the pool at Rosecliff that day, and Ed met her there before picking up their friends to go to the lake. Their conversation was fairly brief and anticlimactic.
"But he didn't give up," Chotsy says.
A week or so later he called to invite her to dinner at Coy's Steakhouse.
"It's been burned for several years now but at the time it was the best place in town," says Chotsy, who agreed to go.
She had been reluctant to meet him, she says.
"The story I got is that she thought I might be too high-falutin' or something," Ed says. "A Yankee who moved down here, an executive in a big timber company and all that."
Regardless, they hit it off immediately.
"She's a real pretty lady and I could tell she was a lot smarter than me," he says.
They had busy careers, but they got together as often as possible after that. Ed had a cottage on Lake Hamilton and they took his boat out on nice afternoons. They had dinner often and enjoyed Sunday drives.
Ed was impressed that Chotsy led a work-study program for her students, helping them gain employment and business experience at Weyerhaeuser and other companies.
"She was a schoolteacher with a master's and beyond," he says. "I was quite impressed with her."
They were out on his boat, both having just jumped in the water for a swim, when they decided to make their whirlwind romance something more permanent.
"It was just a spontaneous thing," Ed says. "We were just swimming by the boat there on the lake and we were talking and we just kind of decided then and there that we ought to get married."
On a Saturday when they were both off work, they drove to Little Rock to visit a jeweler.
"We picked out a ring that she liked," he says. "It was a solitaire diamond. They had to match it up to a wedding band and I went back and got it about a week or 10 days later."
They exchanged their marriage vows on Friday, Dec. 11, 1970, at Grand Avenue United Methodist Church.
On their wedding day, Ed was harried and out of sorts, wrapping up work obligations and running errands in the rain, and he had a minor wreck with a postal truck.
"I broke his turn signal," he says. "He said, 'Well, how are we gonna fix it? You're gonna have to pay for it.' I paid the post office. It wasn't a big deal but I was kind of shook up and frustrated driving around."
They had reservations for a short honeymoon stay at the Red Apple Inn in Heber Springs, because Chotsy had to be back at school for the last week before Christmas break on the Monday after they were married.
The newlyweds spent Christmas with her family, followed by a week in St. Petersburg, Fla., before the spring semester of teaching started.
Ed hadn't necessarily planned to stay in Arkansas when he was asked to move to Hot Springs in 1969. He had hit the ground running then, staying in a hotel for a while because there wasn't even time to settle into a residence. After he met Chotsy, of course, Arkansas became home.
"I was planning to work with this and see what happened," he says. "Shortly after we got married, the Weyerhaeuser executives wanted me to go to Borneo and take over the operation that they had bought and been operating some time. I had been over there on that assignment and helped them get that thing set up, and they wanted to send me as manager and I told them no, I can't do that. I'm just newly married here and I can't break away."
It's not good to turn down opportunities like that in big corporations, he points out, but his newlywed status probably helped in this case.
"I did have a real good career and a real good life here with my wife, Chotsy," he says. "We're surprised that 50 years went by so fast."
If you have an interesting how-we-met story or if you know someone who does, please call (501) 425-7228 or email:
kimdishongh@gmail.com
More News
The first time I saw my future spouse:
She says: "He was tall and handsome. He was a good-looking man."
He says: "I thought she was a really pretty girl and that she was very intelligent."
On our wedding day:
She says: "I worked until noon and then spent the afternoon getting ready and preparing the apartment for him to move in when we got back from Heber Springs."
He says: "We got married at 7 on the 11th, and I was anxious about getting there on time."
My advice for a long happy marriage:
She says: "Sit down and talk it over and listen to the other person's viewpoint and don't go to bed mad."
He says: "Listen and try to operate on a 50/50 basis. Be kind and loving."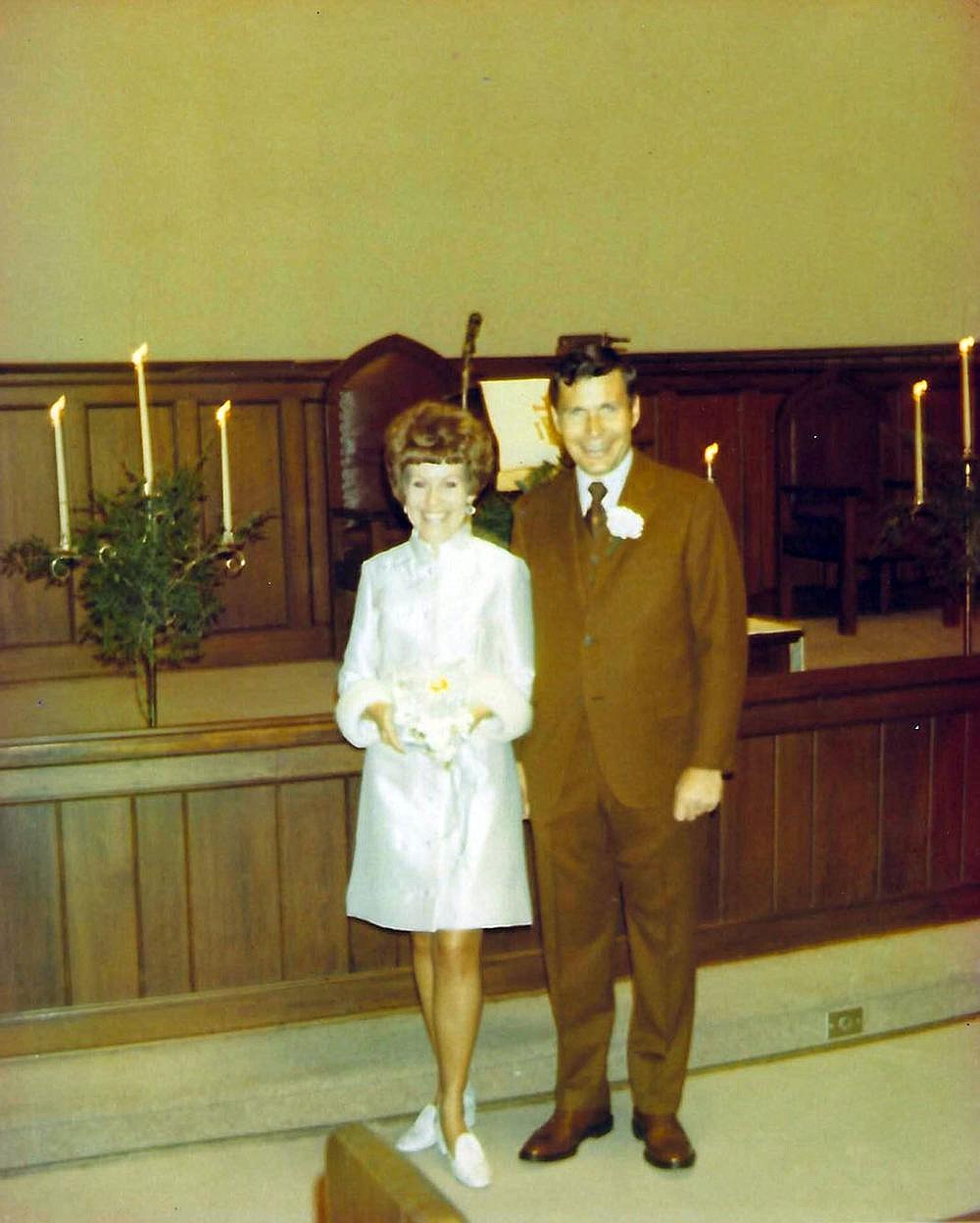 Chotsy Robertson and Ed Sheppard met in 1970, shortly after Ed arrived in Hot Springs from Tacoma, Wash. She turned down an invitation to meet him at Lake Hamilton on the Fourth of July, but within a few months they were married. "We were having fun with each other," she says. "We liked a lot of the same things, and we weren't kids. We were ready to settle down." (Special to the Democrat-Gazette)