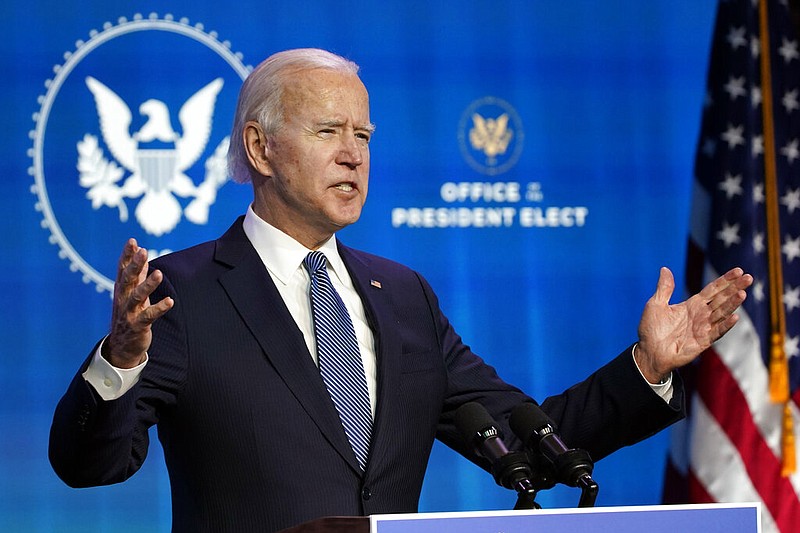 President-elect Joe Biden speaks during an event at The Queen theater in Wilmington, Del., Thursday, Jan. 7, 2021, to announce key nominees for the Justice Department. ( AP/Susan Walsh )
After months of stoking anger about alleged election fraud, one of America's largest talk-radio companies has decided on an abrupt change of direction.
One of America's largest talk-radio companies Cumulus Media, which employs some of the most popular right-leaning talk-radio hosts in the United States, has told its on-air personalities to stop suggesting that the election was stolen from President Donald Trump -- or else face termination.
A Cumulus executive issued the directive Wednesday, just as Congress met to certify Joe Biden's victory and an angry mob of Trump supporters marched on the Capitol, overwhelmed police and briefly occupied the building, terrorizing lawmakers and leading to the deaths of five people.
"We need to help induce national calm NOW," Brian Philips, executive vice president of content for Cumulus, wrote in an internal memo, which was first reported by Inside Music Media.
Cumulus and its program syndication arm, Westwood One, "will not tolerate any suggestion that the election has not ended.
[RELATED: Full coverage of elections in Arkansas » arkansasonline.com/elections/]
The election has been resolved and there are no alternate acceptable 'paths.'"
The memo added: "If you transgress this policy, you can expect to separate from the company immediately."
A Cumulus representative did not respond to repeated requests for comment.
The new policy is a corporate clampdown on the kind of provocative and even inflammatory talk that has long driven the business model for Cumulus and other talk show broadcasters.
Since the election, Cumulus has remained silent while its most popular hosts -- which include Mark Levin, Ben Shapiro and Dan Bongino -- have amplified Trump's statements that the vote was "rigged" or in some way fraudulent.
On his program last Tuesday, the day before the march on the Capitol, for example, Levin discussed Congress's certification of electoral votes for Biden, describing the normally routine vote as an act of "tyranny."
"You think the framers of the Constitution ... sat there and said, 'Congress has no choice [to accept the votes], even if there's fraud, even if there's some court order, even if some legislature has violated the Constitution?'" Levin said, his voice rising to a shout.
Atlanta-based Cumulus owns 416 radio stations in 84 regions across the country. Many of its stations broadcast a talk format, a medium that has been dominated by a conservative point of view for decades. In addition to its national personalities, it employs local talk-radio hosts in many of its markets.
Cumulus' biggest stations include WMAL in Washington, KABC in Los Angeles, WLS in Chicago and KGO in San Francisco, all of which air a news-talk format.
Rush Limbaugh, perhaps the biggest star of conservative talk, is syndicated by another company, Premiere Networks, though his program is heard on many Cumulus-owned stations. Limbaugh isn't subject to Cumulus' memo.
Sponsor Content