Isaiah, 9, walks through the playground with 4-year-old Qammell dragging at his hand. The boy gently guides the toddler down a flight of cement steps to the swings, where Qammell's sister — 2-year old Mauria — is already floating in the breeze.
Isaiah isn't related to the pair, but he talks and acts like a doting older brother. There are some things that every ward of the state understands ... and the urgent pull of a family-like encounter, even for a scant half-hour at the park, is one of them.
So Isaiah relishes getting to play with a sibling while imagining what the real thing would feel like.
"I practice being around younger kids and helping them," he said softly. "I'm getting pretty good at it."
In Arkansas, thousands of children like these — equivalent to the population of Lonoke — are in the same straits. These are kids who are victims of families dragged down and blown apart by incarceration, drugs or other specters of despair and dysfunction, some crossing generations. Log onto the Arkansas Heart Gallery, a register of children awaiting permanent families, and the scroll of faces is endless. So many are the children biding their time to be adopted, accepted and loved.
On the whole, Arkansas manages children in the system efficiently; much progress has been made in streamlining the laborious and often painful process of moving them out of harmful situations and into whatever comes next. But that progress was derailed by the covid-19 pandemic, leaving state agencies and nonprofits dedicated to the cause of fostering and adoption scrambling to find new ways to help waiting kids find loving homes.
Among the many systemic improvements Mischa Martin has made since taking over as director of Arkansas Department of Human Services' Division of Children and Family Services, the most visible is a wall-size grid. Each entry on the wall is a case that started with suspected child abuse or neglect articulated by a designated reporter such as a teacher or coach, or from a call into the agency's hotline.
Each call is investigated, homes are visited, facts are checked. Contrary to popular belief, Martin said, children are not automatically removed from the home; in fact, many more children are served in-home than placed into foster care. Among children who do enter the state's custody, more are reunified with family members or fictive kin — a non-blood relative with an emotional attachment to the child, such as a teacher — than are put up for adoption.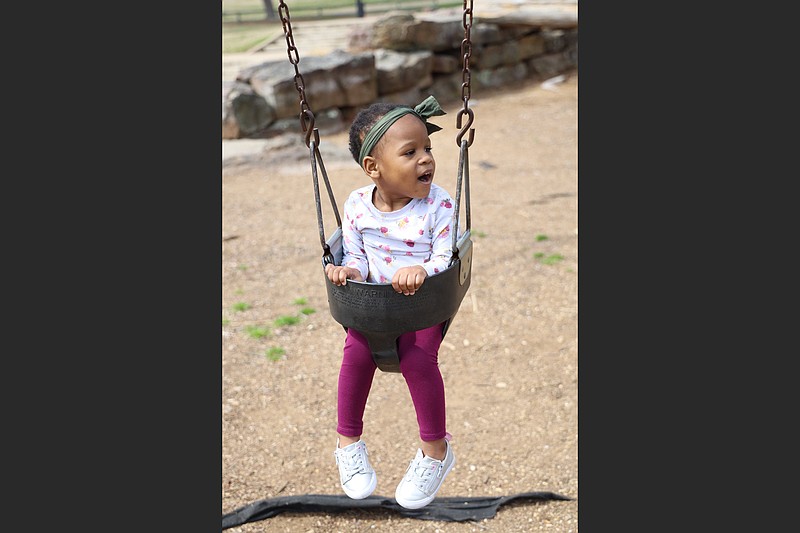 Mauria, 2, a child awaiting adoption, plays on the swing at Little Rock's War Memorial Park. The covid-19 pandemic presented a challenge to agencies that help Mauria and other wards of the state find forever families. (Special to the Democrat-Gazette/Dwain Hebda)
LIFE-ALTERING PROCESS
Regardless, it's a life-altering process often with no clear winners ... just those less lost, measured out one grain of humanity at a time. Hence Martin's grid, which tracks each case and provides, at a glance, information that shows whether the department is moving forward or falling behind.
"I started in the spring of 2016 and our peak hit that fall at 5,200 children in foster care," she said. "We had this war room and we started 'Moving Beyond the Crisis,' which is our first report of things that we were moving toward."
In December 2019, the department was at 4,200 children in care, Martin adds.
"I mean, we were on a roll, as far as moving children ... to reunification. And every year, we broke records around the number of formalized adoptions, averaging about 1,000, whereas pre-2016, we were averaging about 700-750."
There was every reason to believe 2020 would hold more positive results. But in March 2020, Martin woke up to a state that felt entirely different due to covid-19. The tote board began filling up.
"We were headed in such a great direction — and then the pandemic hit," she says. "We didn't shut down; we were still doing investigations and caring for kids in foster care, but services were tougher to get to parents. We were doing visitations over Zoom, which isn't quality. That went on for three months. It's just amazing what kind of impact that three-month period had on the system."
Division statistics show that the number of children in foster care at the end of 2020 grew to 4,663, with average discharges to permanency lowered by more than 40 kids per month and discharges to reunification down 14 children per month, compared to 2019. Adoptions were also down year over year, by an average of 23 children per month.
CALLS WERE DOWN
Martin doesn't take comfort in the fact that the number of calls to the division hotline were down over the previous year. Pandemic conditions likely masked the full scope of abuse and neglect, she says.
"The first three months, we saw a significant decline in the number of reports coming to the hotline, frankly, because all of the mandated reporters went home," she explains. "We know isolation is a factor for child abuse. I do worry there could be more child abuse happening; it's just not getting reported."
Moving forward, Martin is also concerned about the continued strain on her staff and a spike in burnout and turnover that could prolong or worsen the situation in 2021.
"Our family-service workers have one of the most stressful jobs across the state," Martin said. "They have to investigate child abuse and neglect, which means that they walk up to people's homes, people they don't know. And sometimes, they're in rough neighborhoods. They knock on the door, unarmed, and say to these families, 'Hey, we have an allegation that you possibly abused or neglected your child.'
"And then, within this super-stressful job, we add on, 'Have I sanitized my hands? Have I put on my mask? Have I made sure that my own family and my own kids are safe?' It's a big job, without adding the pandemic on. It's an enormous job, adding pandemic challenges on."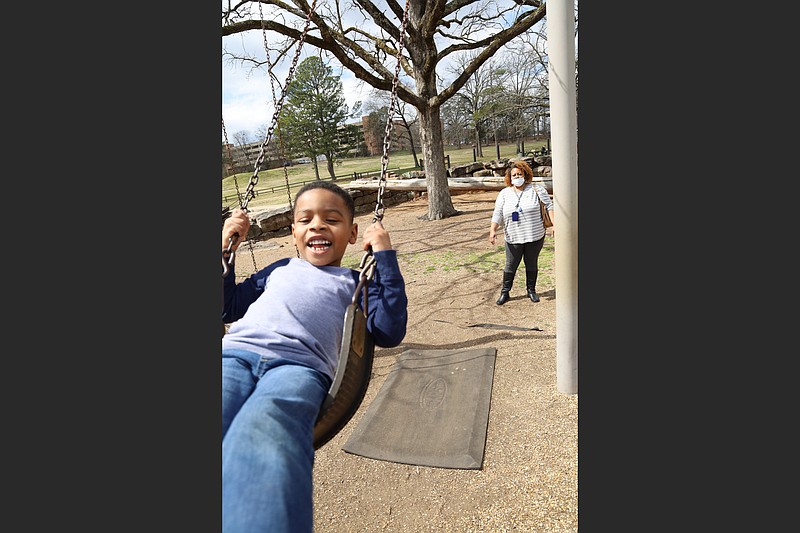 Qammell, 4, a child awaiting adoption, swings at War Memorial Park while an adult supervisor looks on. (Special to the Democrat-Gazette/Dwain Hebda)
A DAY TO REMEMBER
Lauri Currier, executive director of The CALL (Children of Arkansas Loved for a Lifetime) in Little Rock, remembers the shutdown happening on Friday, the 13th of March last year.
"That is a day that I will remember probably for the rest of my life," she says. "Our board was scheduled to do a site visit that day and we, of course, called it off. I think it was the day before that the first case had been reported in Pulaski County, and we did not want to be the people from Pulaski County that brought covid to wherever we were headed."
The CALL's mission — to recruit and educate families willing to become foster and adoptive families — was facing a potentially catastrophic blow to its efforts. The group's model includes one-on-one "come and see" events at local churches and continues with live classroom instruction that covers the training the state requires of all foster/adoptive families.
The focus on changing the group's methodology was swift and decisive, Currier says.
"First of all, we had all these families signed up for informational meetings that were happening four days after the shutdown. We immediately pivoted those meetings to online instead of in-person.
"The next week after the shutdown, we started collecting our training leaders. We had several Zoom meetings to look at the most efficient and effective way to conduct that 30 hours of [family] training online. We launched that [in] April and trained 73 families in that very first online training."
EFFICIENT, EFFECTIVE
With each new session, the group learned how to be more efficient and effective, Currier adds. In so doing, The CALL averted what could have been a disaster in terms of reaching new families and moving them through the training process. The 92 virtual information meetings reached 508 people and 248 families through training last year.
And while outcomes were down across the board compared to 2019, including approximately 60 fewer total families opened and as many fewer adoptions, Currier says it could have been a lot worse. And the group entered the new year better prepared to deal with any lingering restrictions due to the pandemic.
"I don't think we'll ever go back to 100% in-person events," she says. "I think we'll continue to use technology. That's proved very effective for us in a lot of ways. It has lessened the miles between the state office and our local affiliate leadership. We have really engaged, at a very high level, with our people in the field through electronic forms of communication.
"It's always better to be in-person, but when you can't do that, the use of technology is really great."
Isaiah, 9, a child awaiting adoption, walks a log at War Memorial Park. Statistics from the Arkansas Department of Human Services' Division of Children and Family Services show that the number of children in foster care at the end of 2020 grew to 4,663, with average discharges to permanency lowered by more than 40 kids per month and discharges to reunification down 14 children per month, compared to 2019. Adoptions were also down year over year. (Special to the Democrat-Gazette/Dwain Hebda)
WANTED: A FAMILY
Eleasah looks steadily into the camera, the muscles of her jaws and throat working in time with her thoughts. The blonde teenager talks softly and evenly about where life has taken her thus far ... and where she hopes she finds herself next.
It could be an audition tape for a TV pilot, this video, or an interview for a college admissions staff. But the 15-year-old, self-described big reader who loves to draw is actually auditioning for something much bigger. She's talking about her life on camera in hopes her future family will see it and love her for it — love her for who she is as well as for who she can one day be.
"If I help somebody, it makes me feel a lot better," she says, describing her world view. "I mean, I feel like I've been hurt so much that it's easier to help people than to actually do the hurting. There's too much hurt in the world."
Christie Erwin, founder of Project Zero, a Little Rock-based nonprofit committed to finding permanent homes for Arkansas' waiting children, says the group's videos have been paramount to keeping waiting children top of mind with the public. Especially in the era of covid-19.
"We shoot these short films of waiting kids to give them a voice and give them the opportunity to share their own stories," Erwin says. "We are fighting 24/7 to keep them in front of people, to make sure that people in our state and the nation know about them."
The videos, which are viewable on Project Zero's website and YouTube channel, are just one effort to continue making connections between waiting children and adoptive families ... efforts that took a major hit last year as the virus forced cancellation of one face-to-face event after another. In 2019, Project Zero, which also has an outreach coordinator in Northwest Arkansas, enjoyed the highest number of connections in its history — 196 — and was looking forward to pushing that even higher in 2020. But the lack of in-person meet-and-greet events, of which Project Zero averaged two per month, took its toll.
"We ended the year, as best we could tell, with 107 kids connecting with their forever families through Project Zero's efforts," Erwin said. "That was not disheartening, because that was 107 kids. But it obviously didn't live up to our dreams at the beginning of the year."
HOLDING PATTERN
Erwin enters 2021 in a holding pattern, hoping desperately to be able to get back to a normal event schedule. Thus far that hasn't happened, but she's in it to do whatever she can, including continuing the expanded video and digital offerings Project Zero rolled out in 2020. By whatever means, the mission remains the same: increasing adoptions until none are left waiting.
"Honestly, I think my greatest fear, the longer this lingers, is that our waiting kids will lose hope and ... feel like it's over. I fear they'll feel like they're never going to find a family and no one's paying attention. We know that the longer a child waits, the more hope they lose," she says.
"Are we OK that there are kids that don't have families? I'm not. I'm not OK. Knowing these waiting kids and what is at stake for them, I want them to know that we are in this fight, regardless of what's going on around us."