ROGERS -- The area just south of the Walmart Arkansas Music Pavilion has several developments either recently completed or well on their way.
Tom Allen, a representative of Pinnacle Heights, said the mixed-use project is done. Construction of the development spanning 13 acres off South Champions Drive began in late 2018.
The housing part of Pinnacle Heights has nearly 300 apartment units, which include 11 spaces where residents can live and operate businesses, said Sabrina Roper, regional property manager, and Shaun Steele, property manager. Residents are moving in, and about 240 apartments and nine live and work spaces are available, they said. The property includes a pool, gym, business center, dog park and space for up to five food trucks.
The apartments rent for $1,000 to $1,800 monthly, according to Steele and Roper.
Five businesses, including a hair salon and a financial services business, have signed leases, Allen said. The property has room for 30 commercial spaces, Steele said.
Pinnacle Heights also sold some of the land to Hilton, which plans to build one of its boutique hotels, Tapestry by Hilton, Allen said.
Hunt Ventures, a real estate development firm, has almost finished Founders Plaza and a parking deck off West J.B. Hunt Drive, Allen said. Allen works with Hunt Ventures.
Founders Plaza, like nearby Hunt Tower and Northgate Plaza, is a multistory office building, which will lease space to tenants. General Mills will take the top floor.
Construction of Founders Plaza was delayed because of the covid-19 pandemic, but businesses are expected to start moving in May 1, Allen said. The first floor has 10,000 square feet of co-working space that will be rented, he said.
Construction of One Uptown, which is across the street from Pinnacle Heights, is wrapping up and will be finished within a few weeks, said Robert Ehardt, co-owner of the company. The three-story, 64,000-square-foot building is already home to Heroes Coffee, and insurance company Apex Title will soon move in, he said. A parking garage next to the building is also near completion.
Some businesses that planned to move into One Uptown backed out because of the pandemic, including a restaurant that was to take the top floor, Ehardt said. The owners would still like to lease space to a restaurant.
Pinnacle Village, a project that will include housing, offices, retail space, a hotel and amenities such as a dog park, is underway. Site work has started on the 27-acre development east of Pinnacle Hills Parkway and south of Pauline Whitaker Parkway, directly south of the Walmart Neighborhood Market.
Alex Blass, a developer on the project, said it took longer than expected to get all the necessary approval for site work such as sewer and electrical infrastructure, but that part should be finished by the end of the year. Construction of the first of two apartment buildings is to start in early 2022, he said. Each of the buildings will have 250-275 units.
Construction of the first office building should start next year, too, he said.
Developers are also negotiating with a "high-end hotel group" to buy some of the property and build a hotel, Blass said. Blass would not name the hotel group.
The second piece of another one of Blass' projects, Bellview Urban Center, is on the horizon. The first of the two buildings on Bellview Road behind the Pinnacle Hills Promenade Mall is complete and is home to Blue Ribbon Industries, a landscape business. A brewery, Rendezvous Junction Brewing Co., plans to move in this summer, Blass said.
Blass is looking to break ground on the second Bellview building as early as next month. He is negotiating with a restaurant and a karaoke bar that may move into the 30,000-square-foot building when it's complete, he said.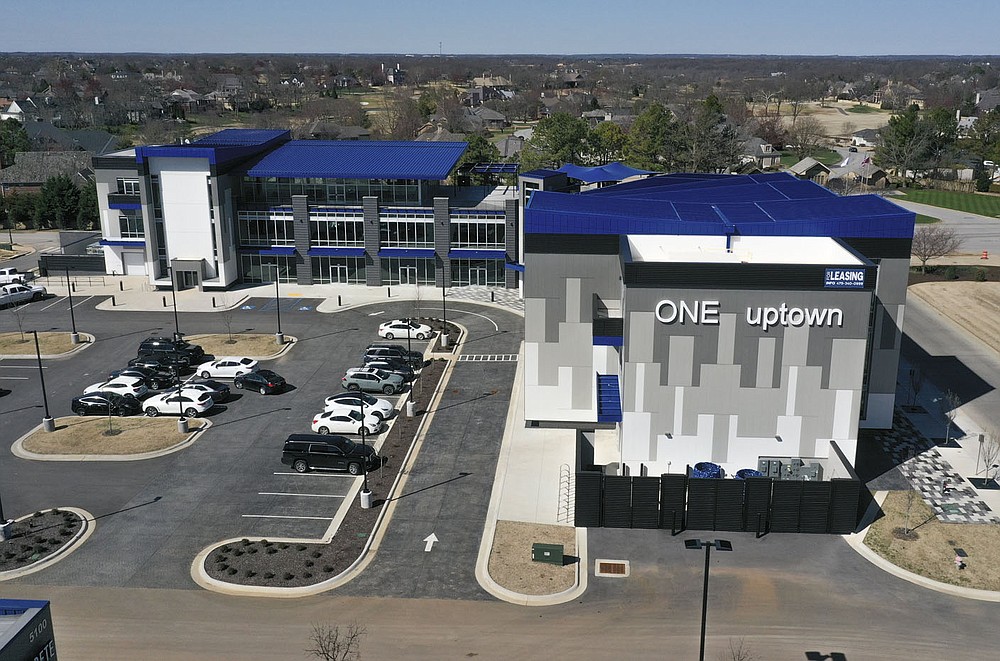 The One Uptown development is shown, Friday, March 19, 2021 in Rogers. Check out nwaonline.com/210320Daily/ for today's photo gallery. (NWA Democrat-Gazette/Charlie Kaijo)