Michelle Bailey joined an animal shelter fundraising committee because she loves dogs. Bram Keahey's motives were different.
"I wanted to meet women," he quips.
In 2000, Bram, an architect, was participating in "Barkitecture," a part of the Humane Society of Pulaski County's Reigning Cats and Dogs fundraiser that involved creating unique doghouses for auction.
"We were on this committee and we did a couple of interviews, like on Channel 4. We did all this stuff together," she says. "At some point, he said to me, 'My friends are having a Halloween party. Would you like to go?' I said, 'Yeah, that would be fun.'"
Immediately after that, Bram offered to give her directions to the party.
"So I didn't go," she says.
It didn't occur to Bram just then that it might work out better for him if he offered to pick Michelle up for the party, maybe because he was nervous about how this intriguing woman might fit in with his group of longtime friends who were hosting the party.
"I guess I didn't think of that," he says. "I gave her the directions to it because we had made these cards that were so cool, and not even thinking that, I mean, you should go pick her up for crying out loud. That's how just completely oblivious to the dating thing I was."
They went to lunch a few weeks later to discuss committee business. The Halloween party invitation didn't come up, but Bram gave the possibility of dating some more thought.
In February 2001, he called to ask if he could pick her up to for a date to an ice hockey game at Alltel Arena in North Little Rock.
"The arena was new and the hockey team was new and we had friends that were hockey players, so I came up with the brilliant idea of going to the hockey game for our first date," Bram says.
Michelle made a couple of derisive remarks about "the idiot" who designed the arena without a parking deck as they drove around looking for a place to park for the game, only to learn that Bram's architecture firm was responsible.
"So our first date started with me insulting him," she says.
Things looked up from there, though.
"It was a lot of fun," Bram says. "It was enjoyable. It was just easy."
After a couple of dates, Michelle paused to consider their future.
"Bram is the kind of person that you settle down with. He's not the kind of guy you go, 'Oh, we'll date for a while and break up,'" she says. "It just took me a month to wrap my mind around it."
They were discussing marriage and looking at rings within six months.
"We traveled -- we went to Vegas, we went to Santa Fe to visit one of his aunts and go to the opera," Michelle says. "We used to rollerblade around my neighborhood with our dogs. We went out with friends."
They were content being still, too.
"He's very entertaining, just to hang out with and listen to him talk," she says. "He just cracks me up."
Michelle, not the outdoorsy type, initially balked at Bram's suggestion that they climb Pinnacle Mountain in November 2001.
"That's just not something we do," she says. "I thought, 'OK, sure. That sounds ridiculous, but why not?'"
They took Michelle's golden retriever, Tillman the Dog, on their hike. When they reached the top, Bram led Tillman off to the side under the guise of looking for another trail down the mountain. When the dog returned to Michelle for a scratch behind the ears, she found an engagement ring attached to his collar.
"Bram proposed then, and it was really sweet," she says.
They were married on May 25, 2002, at St. James United Methodist Church in Little Rock in a ceremony that was beautiful, though much more populated and elaborate than Michelle might have chosen.
She had hoped for an elopement to Las Vegas, but compromised for honeymooning in Las Vegas instead, with a brief stop along the way at the Grand Canyon for river rafting and more hiking.
"We call it our 'survivor honeymoon,'" she says. "We walked about 8,000 miles while we were there. We made it back alive."
Michelle and Bram are such opposites that when they first started dating many of their friends expressed doubts that their relationship would last.
"They were like, 'Yeah, we don't see this working at all,'" she says.
Bram and Michelle agree -- now -- about loving dogs and about not loving the outdoors, but they have otherwise maintained their individualism throughout their marriage. "I'm a jeans and T-shirt kind of person," Michelle says. "He does not own a pair of jeans and does not own a T-shirt. He would not be caught dead without a collared shirt on in public."
Michelle and Bram have a daughter, Abigail, 14, which is just one of the reasons he's glad his plan for joining the Humane Society's committee to meet women was successful.
"I think the program went on for a number of years," Bram says. "I kind of bowed out because I found the girl."
If you have an interesting how-we-met story or if you know someone who does, please call (501) 425-7228 or email:
kdishongh@adgnewsroom.com
More News
The first time I saw my future spouse:
She says: "I wondered if he was actually going to be able to help with this committee work that we were doing."
He says: "She was wearing a plaid flannel shirt. I was intrigued."
On our wedding day:
She says: "I remember getting into the car to leave and just being so glad that part was over and being ready for the fun part."
He says: "I loved that the whole family was together. We had the boys there in the sanctuary — our dogs were part of our wedding and I really appreciated that."
My advice for a long happy marriage:
She says: "Compromise. We use the 'whoever cares most' system. If there are two equally strong opinions it's harder but we just have to find a way to compromise on it then move on."
He says: "Go to marriage counseling and get the tools you'll need to solve problems before you need them, before you have problems. It might not fix something now but it will help you not break it later."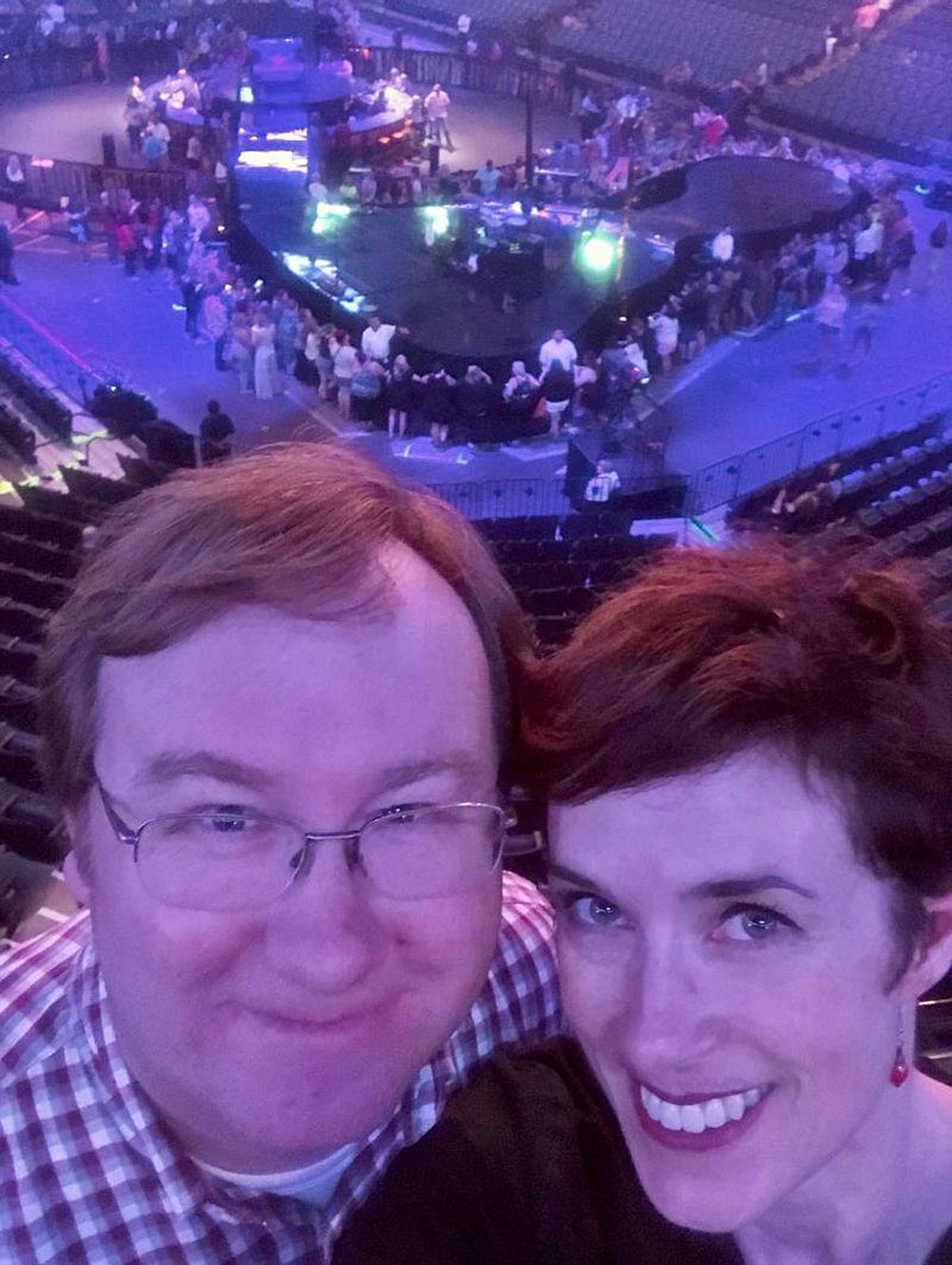 Bram and Michelle Keahey met through their volunteer work with the Humane Society of Pulaski County. Bram confesses he wasn't a lover of dogs back then, but all that has changed since he met Michelle. She bought the doghouse he designed for an auction to benefit the Humane Society. "It was beautiful," she says. "Of course, our dogs never got in it. They sleep on the bed." (Special to the Democrat-Gazette)