Arkansas at Arkansas State women
WHEN 7 p.m. today
RECORDS Arkansas State 2-1 Arkansas 2-1
SERIES Arkansas leads 5-3
TV None
RADIO Razorback Sports Network
INTERNET ESPN-Plus
PROBABLE STARTING LINEUPS
ARKANSAS
POS. NAME, HT, YR;PPG;RPG
G Marquesha Davis;6-0;Jr.;5.7;2.7
G Sasha Goforth;6-1;So.;12.0;4.7
G Amber Ramirez;5-9;Sr.;10.3;3.3
G Makayla Daniels;5-9;Jr.;8.3;5.7
F Erynn Barnum;6-2;Jr.;14.3;6.7
COACH Mike Neighbors (80-51 in fifth season at Arkansas, 178-92 in ninth season overall)
ARKANSAS STATE
POS. NAME;HT.;YR.;PPG;RPG
G Lauren Pendleton;5-9;Fr.;15.7;3.7
G Morgan Wallace;5-10;Sr.;14.7;5.3
G Keya Patton;5-7;Jr.;11.7;4.3
G Mailyn Wilkerson;5-6;Fr.;9.0;1.0
F Trinitee Jackson;6-3;Jr.;9.7;6.7
COACH Matt Daniel (22-32 in third season at ASU; 165-167 in 11th seasaon overall)
TEAM COMPARISON
Arkansas State;;Arkansas
89.3;Points for;87.0
75.0;Points against;60.3
-9.3;Rebound margin;3.3
9.3;Turnover margin;9.3
42.4;FG pct.;42.0
31.0;3-pt FG pct.;.29.2
73.1;FT pct.;67.9
CHALK TALK There's 10 Arkansans combined on the two rosters. … The first meeting between the two teams came on Dec. 10, 1977, and was won by Arkansas State 67-59 in Jonesboro. ASU won two of the first three.
JONESBORO -- Neither University of Arkansas women's basketball Coach Mike Neighbors nor his Arkansas State University counterpart Matt Daniel need a history lesson.
ASU knocked off Arkansas 98-84 the last time the two teams squared off in the second round of the WNIT in 2005 in front of a sold-out crowd of more than 10,000 in Jonesboro.
But almost everything is different for both teams today. Long-time Razorbacks staffer and former standout Amber Shirey is probably the only common thread left among either team. The Lady Indians are now the Red Wolves and the Convocation Center is now First National Bank Arena.
But foremost, there's no longer a policy against the Razorbacks playing in-state competition. So both coaches are focused on the here and now as they get set to square off tonight at 7 in Jonesboro.
"It's going to be entertaining," Neighbors said. "I hope people are coming out for the entertainment factor of these two particular programs and these two particular teams and this particular set of players."
Daniel admitted he doesn't expect there would be close to 10,000 people in the stands tonight, but seats in the lower bowl are sold out, which seats around 2,500. That number includes 900 ASU season ticket-holders.
"If we have half that, it would be a great environment," said Daniel, who is in his third season at the helm in Jonesboro. "Whatever gets you in the door, I just want to have a great environment for the 30 kids on both teams."
Both teams have identical 2-1 records and still searching for their identities. Arkansas is coming off a 95-80 loss at No. 2 Connecticut on Sunday, while ASU rolled over McNeese State 96-72 on Monday. The Red Wolves' lone loss was a 101-89 defeat at Oklahoma a week ago.
The Razorbacks have started a slightly different starting lineup in each of their first three games and Neighbors said expect a little change tonight, too. But the quartet of Amber Ramirez, the lone senior on the roster, Sasha Goforth, Makayla Daniels and Erynn Barnum have all started every game thus far, including the exhibition against Arkansas-Fort Smith.
On the other hand, Daniel has started the same lineup in all three games, which includes two freshmen and a transfer. But junior guard Jireh Washington, a preseason second-team All-Sun Belt Conference selection, hasn't played a minute yet because of an injury.
However, it's possible she could play tonight, Daniel said.
"She's close," Daniel said.
Both teams are led in scoring by two Little Rock Central graduate. Lauren Pendleton, a 5-9 freshman, paces the Red Wolves, averaging 15.7 points per game, while 6-2 redshirt junior Erynn Barnum averages 14.3 points and 6.7. rebounds per game for Arkansas -- both team highs.
Youth is a common theme for both teams as there's a combined 10 true freshmen on the two rosters. It's hard to tell how younger players will react under certain circumstances, Neighbors said.
"It could be a lot of emotions just because of the excitement that'll be around it," Neighbors said. "You don't ever know what to expect. I've learned from our freshmen, sometimes the bigger the stage, the better they play, too. ... Sam Spencer sure doesn't seem to be intimidated by any atmosphere."
Spencer is one of four Razorbacks averaging in double figures at 11.3 points per game with just one start. Freshman guard Jade Upshaw has also provided a spark off the bench for the Red Wolves, averaging 13.7 points per game.
Daniel and Neighbors said the most important thing about this game is to help grow the game in the state.
This will be the ninth game all-time between the two teams, but prior to the 2005 game they hadn't played since 1983 when Daniel was 7 years old.
"Keep in mind, that game in 2005 wasn't scheduled," Daniel said. "We're intentional about this. We have a four-year deal, but we don't anticipate it stopping at least not as long as Mike and I are coaching."
Neighbors said it should help both teams.
"I hope it's good for the state," Neighbors said. "I hope it's good for his team. I hope it's good for our team. ... win, lose or draw both of us need to learn from it and help us do well in our league when the time comes."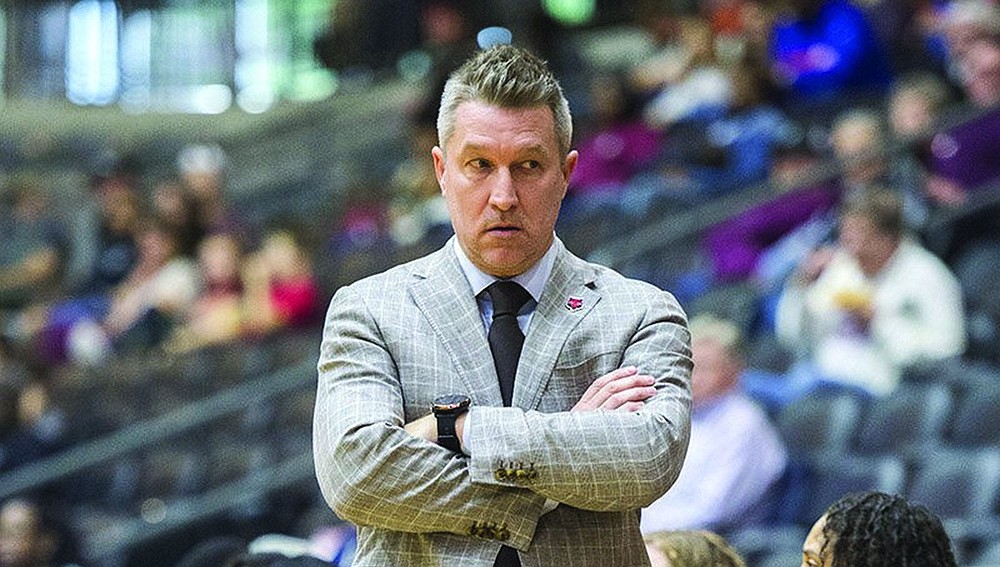 ASU head coach Matt Daniel is shown in this file photo.