Nurses
The Retired Nurses of Northwest Arkansas will meet at noon Nov. 30 at Northwest Medical Center in Bentonville in Classroom A. An optional lunch can be purchased at the Allspice Cafe beginning at 11:15 a.m. The noon presentation will be about Medicare changes and how they impact Part D medication plans and also about covid and covid vaccines. Pharmacist Joy Turner will be the featured speaker.
Information: (479) 715-6352.
Rotary
The Rotary Club of Fayetteville will meet at 11:45 Dec. 2 at Mermaids restaurant in Fayetteville. The program will be hosted by Allen Wood, who will discuss local wrestling. Lunch is $15. There will be a live Zoom option. Email the club for a link.
Information: Email fvillerotary@gmail.com.
Civil War
The Bella Vista Civil War Roundtable will meet at 7 p.m. Dec. 2 at the Bella Vista Historical Museum, 1885 Bella Vista Way. The program will be presented by Roundtable President Dale Phillips, who will speak about the history of the Confederate submarine the C.S.S. Hunley. The program is open to anyone with an interest in Civil War History.
Information: dkp55@ymail.com
Andante
Andante Music Club of Bella Vista will hold a concert at 1 p.m. Dec. 7 at Highland Christian Church, 1500 Forest Hills Blvd. in Bella Vista. The program will be "Christmas Harmonies."
Member Garth W. Smith is a pianist who specializes in arrangements of sacred music. The program will feature Garth and a vocalist, violinist and guitarist.
The concert is free and open to the public. The club is an affiliate of the National Federation of Music Clubs and the Arkansas Federation of Music Clubs.
Information: andantemusicclub.org or email bettylpierce@outlook.com.
Christian Woman
The Bella Vista Christian Women's Connection will meet at 9 a.m. Dec. 8 at New Life Church, 103 Riordan Road in Bella Vista. The speaker will be Penelope Arnold, whose topic will be "Finding Your Peace While Living in Chaos." The feature will be "Creative Gift Wrapping by Dorothy Nigro and Cheryl Braswell.
Breakfast is $10 and reservations and/or cancellations are essential by 5 p.m. Dec. 3.
This program is sponsored by Stonecroft Ministries.
Information: (479) 366-7562, (479) 381-6516 or email djlong45@cox.net.
OLLI
The Osher Lifelong Learning Institute at the University of Arkansas has announced the following classes:
Nov. 29: Written in the Rings, $29 members, $44 nonmembers. Learn how the dating of tree rings is done and explore the many applications of the results.
Nov. 30: What on Earth is the Orthodox Church? $25 members, $40 nonmembers. This class will give an inquirer a basic understanding of the Eastern Orthodox Church.
Dec. 1: The Geology of Arkansas, $25 members, $40 nonmembers; Remote Sensing and Historical Research at African American Cemeteries in Northwest Arkansas, $19 members, $34 nonmembers. Learn about the partnerships and methods being used to fill gaps in our knowledge of African American history in Northwest Arkansas
Dec. 1, 8, 15: Fayetteville Housing Challenges, $25 members, $40 nonmembers. Explore the key events which have come to impact the availability and affordability of Fayetteville's housing.
Dec. 2: Visualizing Long Lost times in the Natural State, $25 members, $40 nonmembers; The Dead have Tales to Tell, $25 members, $40 nonmembers.
Dec. 3: Writing a "Legacy Letter," $25 members, $40 nonmembers, via Zoom. A Legacy Letter (also called an ethical will) allows people to share life lessons; The Pryor Center – Mission, History, Future, $19 members, $34 nonmembers.
Information: (479) 575-4545.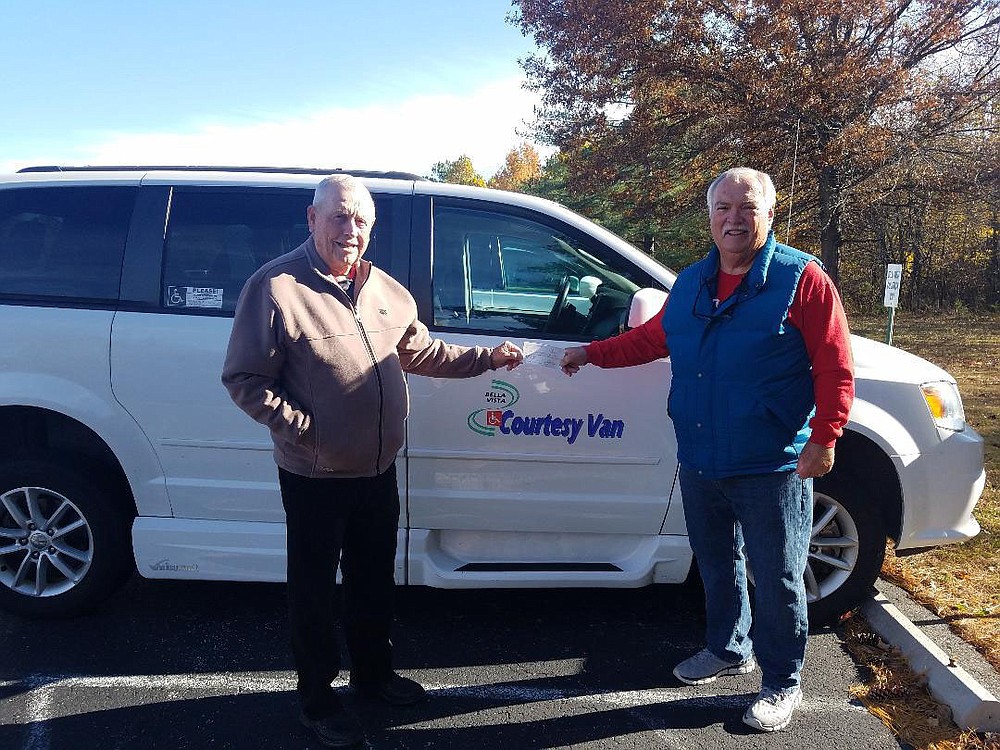 Jim Angstead (left) of Bella Vista Community Church Foundation presents a check to Bill Puskas of the Bella Vista Courtesy Van. The BVCC Foundation receives and invests Living Memorials and donations to support faith-based groups & community organizations. The all-volunteer organization transports Bella Vista residents who can no longer drive, by reason of age or health, free of charge. To request a ride, visit bellavistacourtesyvan.com or call (479) 855-7663. To donate to either cause; contact Angstead at (479) 855-0831 or Puskas at (479) 855-7663.