COLUMBIA, S.C. -- It certainly was a big day for Dawn Staley. South Carolina's national championship coach thought it was just as important for women's basketball and gender equity.
Staley and the school announced a new, seven-year contract that will pay her $2.9 million this season and grow to $3.5 million in the final season. She also believes the $22.4 million deal should make an impact on her sport and in the equality of what men and women's coaches and athletes receive from their schools.
"Who knew? Who knew this would take place during my tenure at South Carolina," she said.
The school's Board of Trustees approved the deal worth $22.4 million Friday to keep the national championship coach with the Gamecocks through the 2027-28 season.
The school said in a statement the new deal makes Staley, 51, the highest-paid Black coach in women's basketball and one of the highest-paid coaches in the sport.
Staley's salary is the highest in the SEC, surpassing newly hired LSU Coach Kim Mulkey, who will make $2.5 million in her first year with the Tigers.
Staley was set to make $2.1 million this season under her old contract.
Staley arrived at South Carolina in the 2008-09 season after coaching at Temple and built a program that won the national title in 2017.
The Gamecocks have won five SEC regular-season titles and six league tournament crowns. They reached the Final Four at the NCAA Tournament this past spring before falling to Stanford in the national semifinals.
In the offseason, Staley led the United States' women's basketball team to a gold medal at the Tokyo Olympics.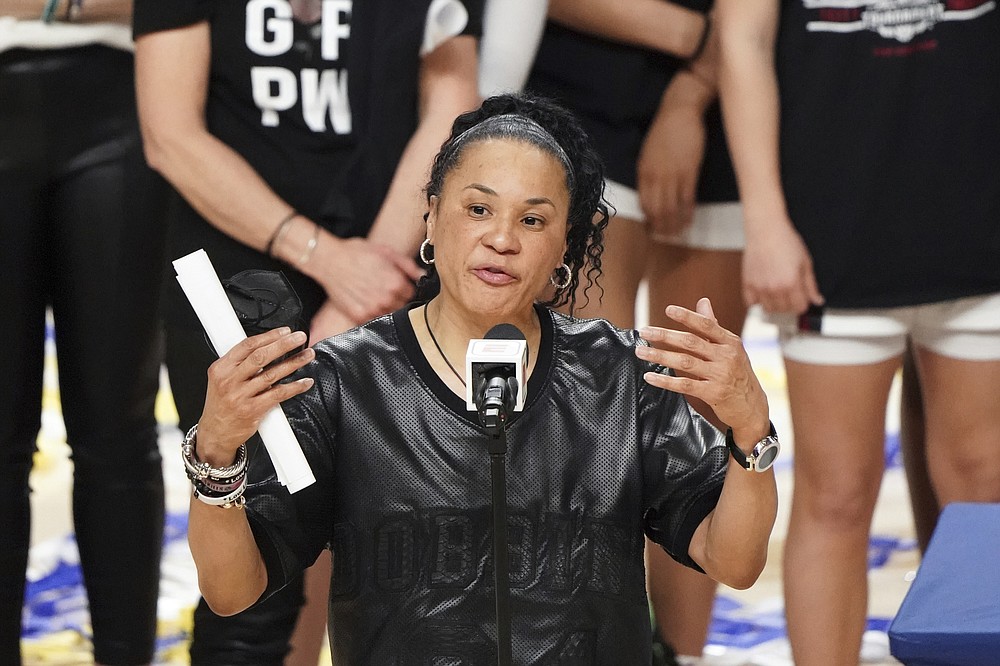 FILE - South Carolina head coach Dawn Staley speaks during a trophy presentation after an NCAA college basketball game against Georgia during the Southeastern Conference tournament final in Greenville, S.C., in this March 7, 2021, file photo. Dawn Staley and South Carolina have agreed to a new, seven-year contract that will pay her $2.9 million this season and grow to $3.5 million in the final season. The school's Board of Trustees approved the deal worth $22.4 million on Friday, Oct. 15, 2021, to keep the national championship coach with the Gamecocks through the 2027-28 season.(AP Photo/Sean Rayford, File)