China rips U.S. lawmakers' Taiwan visit
TAIPEI, Taiwan -- A delegation of six U.S. lawmakers led by Republican Lindsey Graham from South Carolina arrived in Taiwan on Thursday for a two-day visit that has already been denounced by China.
The U.S. lawmakers are to meet with Taiwanese President Tsai Ing-wen and the island's defense minister. The visit is "again a demonstration of the U.S.'s 'rock solid' support and commitment to Taiwan" amid a "severe" situation in Ukraine, the island's Ministry of Foreign Affairs said in a statement.
Graham is joined by Sen. Robert Menendez of New Jersey, Sen. Richard Burr of North Carolina, Sen. Robert Portman of Ohio, Sen. Benjamin Sasse of Nebraska, and Rep. Ronny Jackson of Texas.
The visit follows an announcement last week that U.S. House of Representatives Speaker Nancy Pelosi would visit Taiwan. However, Pelosi's trip was postponed after she tested positive for covid-19.
In Beijing, Chinese Foreign Ministry spokesperson Zhao Lijian denounced the visit on Thursday, saying "China is firmly opposed to any form of official exchanges between the U.S. and Taiwan."
Taiwan is a self-ruled island claimed by China as part of its territory. China's People's Liberation Army sends fighter jets flying toward the island on a near-daily basis.
"Relevant U.S. lawmakers should abide by the one-China policy upheld by the U.S. government. The U.S. should ... stop official contacts with Taiwan, and avoid going further down the dangerous path," Zhao said. "We will continue to take strong measures to resolutely safeguard national sovereignty and territorial integrity."
U.N. installs cameras at Iran nuke site
DUBAI, United Arab Emirates -- The United Nations atomic watchdog said Thursday it installed surveillance cameras to monitor a new centrifuge workshop at Iran's underground Natanz site after a request from Tehran, even as diplomatic efforts to restore Iran's tattered nuclear deal appear stalled.
The start of work at the new workshop comes after Iran's centrifuge facility in Karaj found itself targeted in what Iran described as a sabotage attack in June.
Natanz itself has twice been targeted in sabotage attacks amid uncertainty over the nuclear deal, assaults that Tehran has blamed on Israel. Iran has previously said it would be moving the plant at Karaj to Natanz.
The Vienna-based International Atomic Energy Agency said it installed cameras and removed seals from machines at the workshop on Tuesday. Those machines will be used to make centrifuge rotor tubes and bellows, crucial parts for the devices that spin at very high speeds to enrich uranium gas.
Iranian media later Thursday acknowledged the installation of the cameras and said that all footage from them would be held by Iran, and not given to the agency, amid the standoff over the nuclear deal.
Israel: 'Iron Beam' defense a success
TEL AVIV, Israel -- Israel's new laser missile-defense system has successfully intercepted mortars, rockets and anti-tank missiles in recent tests, Israeli leaders said Thursday.
The Israeli-made laser system, known as the "Iron Beam," is designed to complement a series of aerial defense systems, including the more costly rocket-intercepting Iron Dome.
"This may sound like science-fiction, but it's real," said Prime Minister Naftali Bennett. "The Iron Beam's interceptions are silent, they're invisible and they only cost around $3.50" apiece, he added.
Israel said its Iron Dome defense system has been a great success, with a 90% interception rate against incoming rocket fire. But officials say the system is expensive to deploy. Bennett has said that someone in Gaza can fire a rocket toward Israel for a few hundred dollars, but it costs tens of thousands of dollars for the Iron Dome to intercept it.
U.N. told of hope for Yemen war's end
UNITED NATIONS -- The U.N. special envoy for Yemen told the Security Council on Thursday that he believes there is "a light at the end of the tunnel" in the more than seven-year war in the Arab world's poorest country.
But Hans Grundberg also warned that the two-month cease-fire underway in Yemen is fragile and that reports of military operations around the oil-rich central province of Marib should be addressed urgently.
Grundberg also said that during his first visitto Yemen's capital of Sanaa -- held by Iranian-backed Houthi rebels -- he received "reaffirmed commitment to all aspects of implementing the truce" and held "constructive conversations" on next steps to strengthen and expand it.
The two-month truce is the first nationwide cease-fire in six years in Yemen's civil war, which erupted in 2014. That year, the Houthis seized Sanaa and forced the internationally recognized government into exile. The Saudi-led coalition entered the war in early 2015 to try to restore the government to power.
The conflict has in recent years become a regional proxy war that has killed more than 150,000 people, including over 14,500 civilians. It has also created one of the worst humanitarian crises in the world.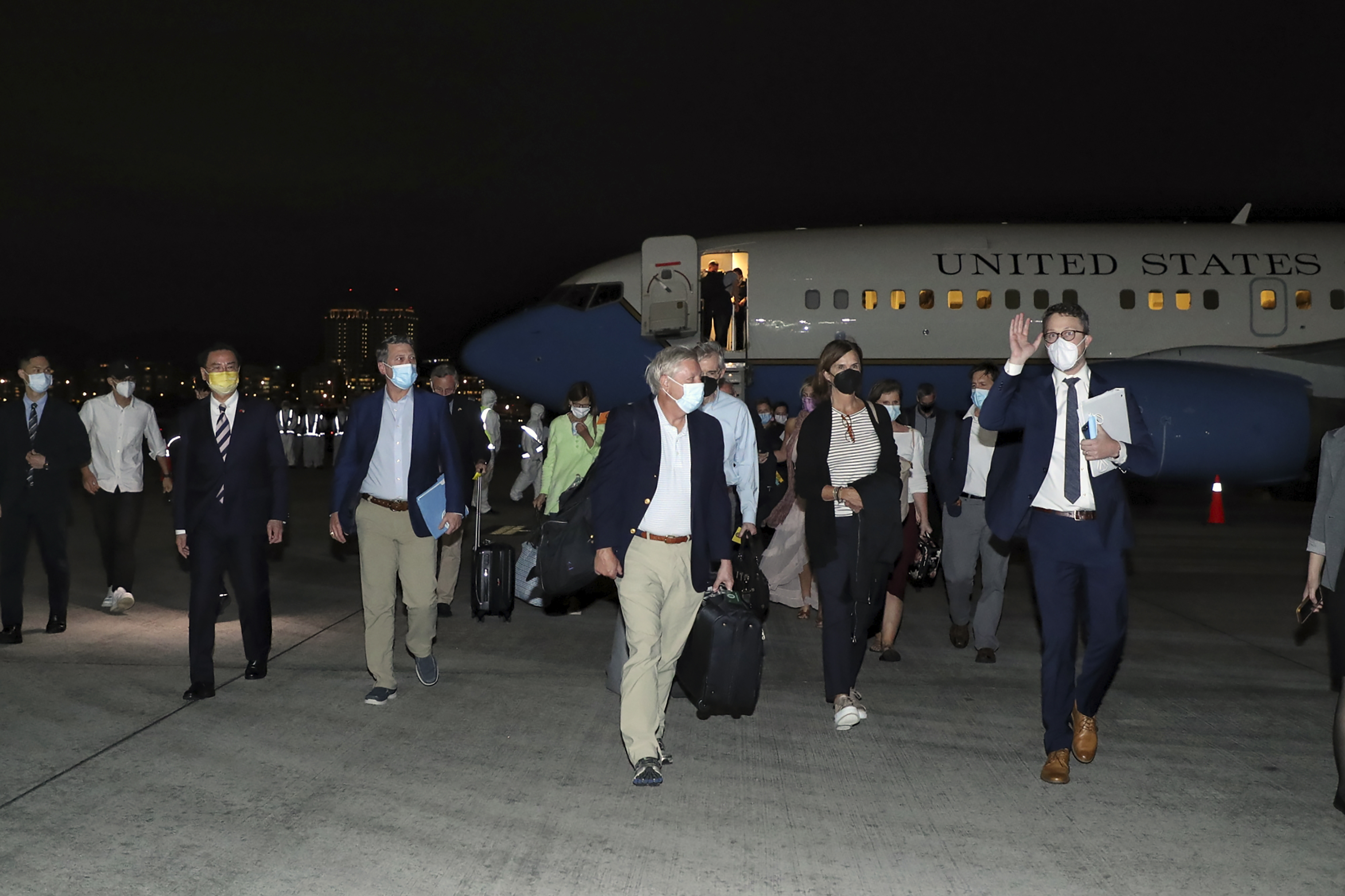 In this photo released by Taiwan's Ministry of Foreign Affairs, members of American Congressional delegation arrive in Taipei, Taiwan, Thursday, April 14, 2022. A delegation of six U.S. lawmakers led by Republican Lindsey Graham from South Carolina arrived in Taiwan on Thursday for a two-day visit that has already been denounced by China. (Taiwan Ministry of Foreign Affairs via AP)