Three days of Italian food, culture, wine, as well as arts and crafts, demonstrations, a kids' zone and musical acts, are the focus of the third Arkansas Italian Food and Wine Festival, 4-8 p.m. Friday, 10 a.m. to 8 p.m. Saturday and 11 a.m. to 4 p.m. Sunday at the Penick Boys & Girls Club, 1201 Leisure Place, Little Rock. Local restaurants and vendors, including The Rock Brick Oven Pizza, Raduno Brick Oven & Barroom, Vino's, Grafitti's, Boulevard Bread, Le Pops and Repicci's Italian Ice, are supplying food.
Waiters and bartenders hustling with trays stacked with glasses and bottles in the hopes of taking home the top prize of $1,000 cash in the Sunday afternoon waiter's race. Noon Friday is the deadline to sign up, as well for bocce ($2,000 first prize) and sauce cooking ($500 first prize) competitions, via aritalianfestival.com/info/activities. There will also be a grape stomping contest. Presenting sponsor is Relyance Bank. Festival proceeds benefit the Boys and Girls Club of Central Arkansas.
The festival also includes exclusive wine tastings, 5-7 p.m. Friday and Saturday, featuring more than 50 wines from Italian- and Italian-American-owned producers. Tickets, $35, include festival entry, which would otherwise cost $10 per day, $15 for a weekend pass, free for children 10 and younger. A complete schedule is available at aritalianfestival.com/schedule-of-events.
■ ■ ■
Homer's West co-owner David Connell says that while construction delays continue to be a problem, getting his kitchen equipment built, delivered and put into place is the primary reason for the hold-up in opening what is to become Homer's Kitchen Table. Connell et al. are moving from the Galleria Shopping Center, 9700 N. Rodney Parham, Little Rock, to part of the defunct Franke's Cafeteria in the Market Place Shopping Center, 11121 N. Rodney Parham Road, and a highly frustrated Connell continues to move his opening target — now, he says, maybe end of June or early July. "It could be August," he adds.
An example: parts for his walk-in cooler won't be available until at least June 1. He has plumbers awaiting the fabrication of parts for the grease trap and he can't get the metal pieces he needs for the vent-a-hood. Meanwhile, "I've got furniture being built," he adds.
He does finally have a new sign going up this week. He's hoping the construction schedule will allow him to move his existing kitchen equipment up the street by the end of May. At least, he says, staffing, which had caused at least one delay earlier in the process, is no longer a concern.
To recap: Homer's is taking over the portion of the building at the end cap of half a shopping center that faces Rodney Parham Road. (The part facing Market Street will be a fitness center, to be called Breakout Bar.) Working out of a bigger kitchen will allow an "evolution" of the menu, while keeping the staples that make Homer's Homer's, and to add more homemade desserts and pies and more elaborate dinner specials. It will also have a takeout window. We're expecting Connell will keep the restaurant's current phone number: (501) 224-6637. The website is homersrestaurant.com; the Facebook page is facebook.com/HomersWest.
Meanwhile, equipment and contractor problems are also the cause of delays in opening the second location of Three Fold Noodles & Dumpling Co., what the Three Fold folks call "Three Fold West", in the former Panera Bread space in the Pleasant Ridge Shopping Center, 11525 Cantrell Road, Little Rock. Three Fold manager Rebecca Yan says the target has now moved to some time in June. The original will remain up and running at 611 Main St. in downtown Little Rock.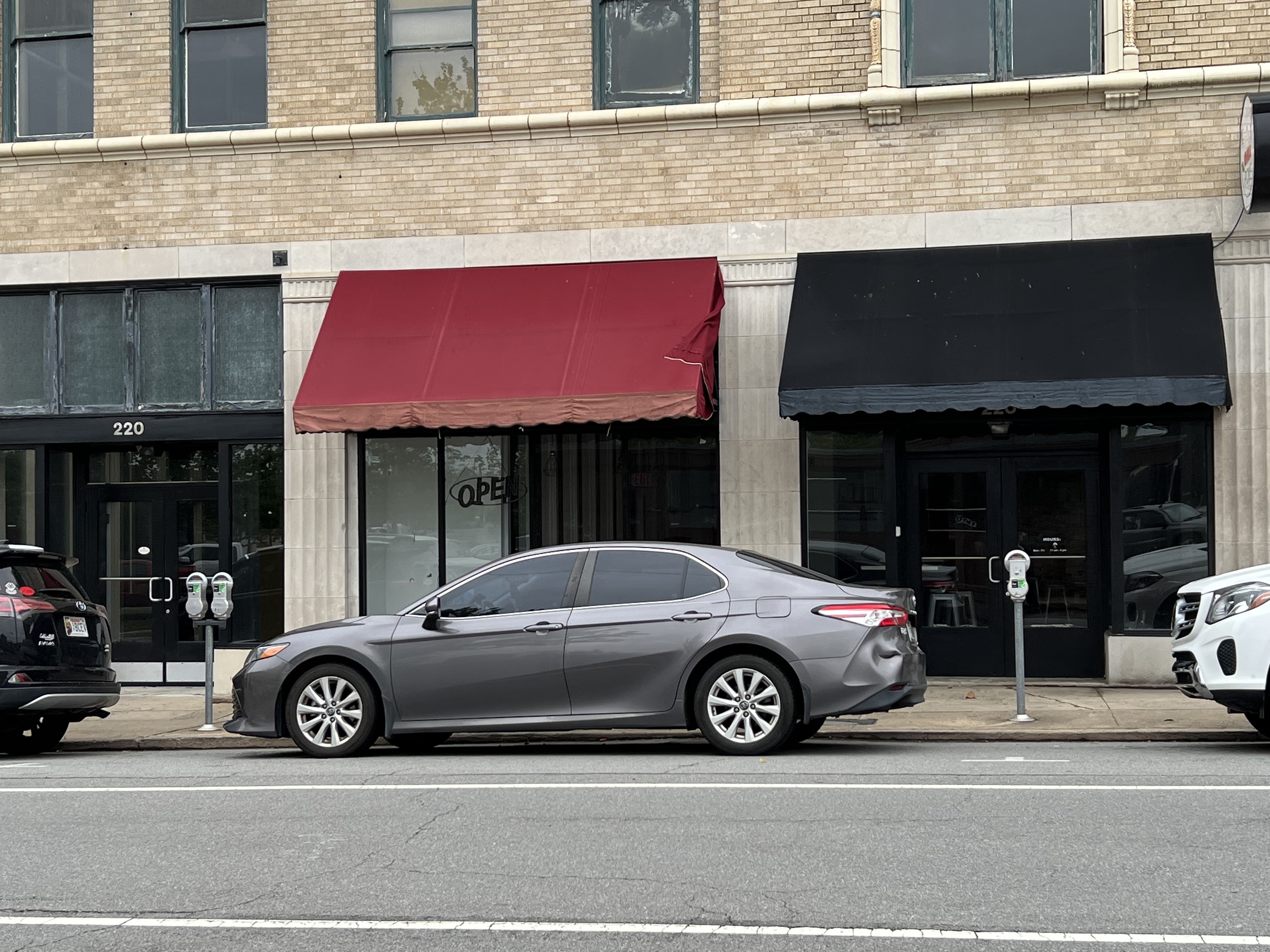 The storefront at 220 W. Sixth St. that houses Fat Jaws Soul Food and Southern Eats was alive at the end of last week, with a "now open" banner and an illuminated open sign in the window; on Monday morning, the banner was gone and the "open" sign was dark, but the restaurant was expected to reopen Wednesday. (Arkansas Democrat-Gazette/Eric E. Harrison)
We thought, based on the "now open" banner on a front awning and the illuminated "open" sign in the window at the end of last week, that Fat Jaws Soul Food and Southern Eats had actually opened at 220 W. Sixth St., Little Rock, offering what owner-chef William Watkins has described as "soul food for the sophisticated palate." A post on the Facebook page (facebook.com/FatJawsSoulFood) indicated it was open and serving as recently as Saturday, but by Monday morning the banner was gone, the sign was dark and the doors were locked. A new Tuesday morning Facebook post says it was to reopen Wednesday, serving lunch hereafter from 11 a.m.-2 p.m. Wednesday-Friday. "[A] phone line is installed [but] there are some technical glitches we are working to get fixed," the post explains. A call to Watkins' cellphone produced a message that the mailbox is full and is not accepting messages. The storefront, you will recall, most recently housed an outlet of Ohia Poke, following in the wake of several restaurants and nightclubs, originally the home of Lulav (a version of the Lulav logo still abides on the building's eastern wall; the Ohia Poke sign also still abides). Watkins, you may recall, says he worked as a caterer in Dallas for 18 years; before that, he was a police officer. A Google search for the restaurant turned up one of the same name, now closed, in the Dallas suburb of Cedar Hill.
Mockingbird Bar & Tacos, 1220 Main St., Little Rock, which hasn't served lunch since the start of the pandemic, is reopening for lunch Tuesday-Saturday — extending its hours from 11 a.m.-9 p.m. Tuesday-Thursday, 11 a.m.-10 p.m. Friday-Saturday. The kitchen closes an hour before the front door. (501) 313-5413.
One of our eagle-eyed correspondents reports that the Taco Bueno at 102 Savannah Drive, Maumelle, has closed. Originally, we're told, customers were told they were remodeling; now, says our tipster, the signs have been taken off the building. A call to the listed phone number, (501) 851-4464, produces only a rapid busy signal, sometimes, though not always, an indication it has been disconnected.
The state Health Department has approved a permit, as of April 5, for a Hibachi Grill at Bowman Pointe, an apartment development at 3321 S. Bowman Road, Little Rock. More recently, Business reporter Noel Oman noticed a building permit application for $200,000 worth of work for a "restaurant finish-out in existing structure" in Building J. The complex's website, bowmanpointe.com/coming-in-2022, promises "a whole new set of amenities as well as a restaurant, shops and offices."
Central Arkansas McDonald's restaurants — the ones in the 501 area code — are marking 501 Day by giving away Crispy Chicken Sandwiches on Sunday, no purchase necessary. But only — note — through the McDonald's app. (Small print: "Not valid with any other offer, discount, coupon or combo meal or purchase of an Arch Card. Limit one offer per person per visit. Tax may apply.")
You will recall we reported a few weeks ago on the opening of a Whataburger in Magnolia, and an April Fool's prank announcing fictitious plans to open additional restaurants in Little Rock, Fort Smith, Pine Bluff and Jonesboro. This, however, is no prank: The El Dorado-Union County Chamber of Commerce announced April 21 via its Facebook page (facebook.com/ElDoradoChamberofCommerce) that a Whataburger is indeed on the docket for North West Avenue in El Dorado. The post includes a link to a hiring site. No information, however, on a target opening date.
Omaha, Neb.-based drive-thru coffee franchise Scooter's Coffee has extended a four-unit franchise agreement that will bring locations to Conway, Benton and Bryant. The franchisees are Heather and Shawn LaMontia, originally from Omaha but with family in Arkansas and plans to move here in late May or early June, according to a news release. No word on a timeline or specific locations. Scooter's, which serves artisan espresso drinks, fruit smoothies, organic hot and iced teas and baked-from-scratch pastries, has four existing outlets in north and Northwest Arkansas — one each in Harrison and Rogers and two in Bentonville.
Mexico Chiquito, which bills itself as "Arkansas' original Mexican restaurant and the inventor of cheese dip," is now selling its popular fruit punch in 16.9-ounce bottles, 10:30 a.m. to 10 p.m. daily, through the double drive-thru windows at its restaurant at 11406 W. Markham St., Little Rock. "Our fruit punch is one of the signature items that has kept our faithful fans coming back since Mexico Chiquito was founded in 1935," says Lisa Glidewell, one of the five sisters carrying on the legacy of their father, Jerry Haynie, who bought the restaurant in 1979, in a news release. "We are happy to be able to now offer it for people to take home and enjoy." Unlike the by-the-glass punch at the restaurant, which requires refrigeration, you don't have to keep the bottles in your fridge — they have a four-month shelf life. Cost for a four-pack is $8.99; for an eight-pack, $17.99.
And we reported last week on Rock Town Distillery's five winners at the San Francisco's World Spirit Competition March 30-April 1, but we missed another Arkansas medal winner: the Sweet Blend Vodka from Helena-West Helena's Delta Dirt Distillery, which won a Double Gold award. The vodka is made, not from potatoes or grain, but from "the sweet potatoes grown and distilled by the Williams family of Helena," according to a distillery spokeswoman. (The distiller also produces a Tall Cotton Gin and a Delta Blues Bourbon.) See Sunday's High Profile section for a profile of distillery owner Harvey Williams.
Has a restaurant opened — or closed — near you in the last week or so? Does your favorite eatery have a new menu? Is there a new chef in charge? Drop us a line. Send email to: eharrison@adgnewsroom.com