Red Bowl Noodle & Dim Sum has opened in the former Homer's West space at one end of the Galleria shopping center, 9700 N. Rodney Parham Road, Little Rock. The menu offers 33 dim-sum items — order from the menu, not from carts, at least so far — plus six types of ramen bowls and a couple of chow fun items (that's the noodle part) and a handful of Asian appetizers. Hours are 11 a.m.-9 p.m. Monday and Wednesday-Friday, 10 a.m. Saturday-Sunday. (501) 319-7755.
Hot Springs' legendary McClard's Bar-B-Q is planning to open a Malvern area restaurant — to be specific, in the former Belly's Southern Kitchen (and before that, Chile Peppers Tex-Mex Grill), 2071 Oliver Lancaster Blvd., Rockport. Philip McClard, the last member of the founding family still on the Spa City premises (now an employee after the family sold the restaurant to Lee Beasley in June 2020), tells us there's a May 1 target date to open, but it may happen as late as the middle of the month. The building, we have learned, has been repainted white, to match the original, 505 Albert Pike, Hot Springs. McClard's now also has a branch restaurant in southwest Little Rock; one in Rogers has now closed. mcclards.com.
While its move from the communal kitchen on the back side of the shopping center at 9813 W. Markham St., Little Rock, to a storefront in the front (9807 W. Markham) is pending, Certified Pies has increased the size of its pies from 12 inches to 14 inches. The explanation, via its Facebook page (facebook.com/CertifiedPies): "We are growing rapidly and to increase consistency with our product and employees, this transition is necessary in order for us to give you all the absolute best experience possible ... in our current location. We will still offer calzones, wings, salads & pastas. Thank you for understanding as we continue to adjust and expand as we near closer to opening our brick & mortar." We still lack details on a timeline or how the move will affect service hours, currently 2-8 p.m. Friday-Saturday, 11 a.m.-2 p.m. Sunday. (501) 442-5096; linktr.ee/CertifiedPies.
The Butcher Shop Steakhouse, 10825 Hermitage Road, Little Rock, now offers plate lunches, 11 a.m.-2 p.m. Tuesday-Friday. Recent "home cooked lunch options" (as per the Facebook page, facebook.com/thebutchershoplittlerock) include (three per day) Southern fried chicken, meatloaf, pot roast, chicken-fried steak, chicken & dumplings, fried catfish, fried shrimp, baked chicken thighs and chicken spaghetti with side items, varying per day, including mashed potatoes, carrots, purple-hull peas, collard greens, mac & cheese, fried okra, Italian green beans, hashbrown casserole, fiesta corn, Northern beans, squash casserole, French fries, hush puppies and baked beans. (501) 312-2748; thebutchershoplr.com.
Nando's Mexican Restaurant, 955 Covington Way, Conway, opened April 4. Hours are 10 a.m.-9 p.m. Sunday-Thursday, 10 a.m.-10 p.m. Friday-Saturday. (If in a search for more information, don't mistake it, as Yelp has done, for the Arizona-based, family-run, four-restaurant mini-chain Nando's Mexican Cafe.) (501) 504-6975.
Drive-thru coffee chain 7 Brew opens a location at 3212 E. Race Ave., Searcy, today with a 2:30 p.m. ribbon cutting at which Searcy Mayor Mat Faulkner, 7 Brew Chief Culture Officer Chris Sebald and the Searcy Chamber of Commerce will hand over a $2,000 donation check for the Timothy Hill Ranch Searcy campus to Marissa Longley, director of advancement for the ranch. As happens with new 7 Brew outlets, this one will host a "swag day" April 22— customers who purchase a large drink will receive a free T-shirt. The Searcy location will also donate $1 to Timothy Hill Ranch for every large drink purchased April 24-28. Hours are 5:30 a.m.-10 p.m. Sunday-Thursday, 5:30 a.m.-11 p.m. Friday-Saturday. 7Brew.com.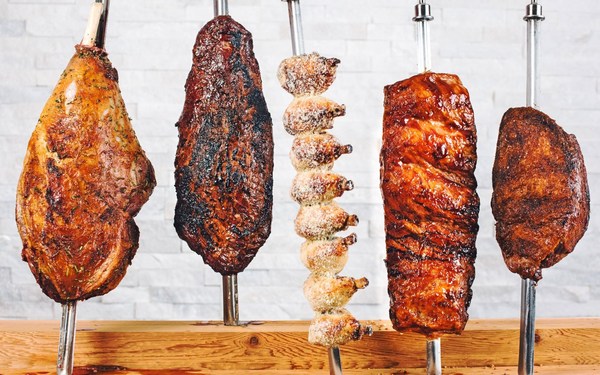 Servers bring meat on skewers to tables at Texas de Brazil Churrascaria, which recently opened a location in Rogers. (Special to the Democrat-Gazette)
The Dallas-based Texas de Brazil Churrascaria chain, which blends "churrasco-style cooking combined with generous Southern hospitality," last week opened a location in the Pinnacle Hills Promenade, 2203 S. Promenade Blvd., Rogers. Folks who remember Little Rock's late Brazilian churrascaria Gaucho's Grill will recognize the concept: various meats (cuts of beef, lamb, pork, chicken and Brazilian sausage) grilled on skewers over an open flame using natural wood charcoal, served continuously (at Gaucho's, servers brought skewers to each table and carved off portions, unless you put up a flag telling them not to).
Chain president Salim Asrawi explains the growing population in the Northwest megalopolis (Fayetteville-Springdale-Rogers-Bentonville et al.) was the reason to locate in Rogers. The restaurant features "soaring ceilings with unique light fixtures and an extravagant salad area made of white marble and adorned with a lavish flower arrangement," according to a news release. Salad selections include hot and cold side specialties — artisan breads, imported cheeses, grilled vegetables, Brazilian hearts of palm, spicy shrimp salad, couscous pasta, sautéed mushrooms, feijoada (black beans), jasmine rice and lobster bisque. Desserts include house-made flan, a triple-layer chocolate mousse cake and cheesecake.
Prix-fixe cost is $49.99 for meat-and-salad service, $31.99 salad area only, with discounts for kids. Hours are 5-9 p.m. Monday-Thursday, 5-10 p.m. Friday, 2-10 p.m. Saturday and 2-8:30 p.m. Sunday. (479) 337-7300; texasdebrazil.com/locations/rogers.
■ ■ ■
And Moe's Southwest Grill will donate 25% of all Taco Kit sales at locations in North Little Rock, Little Rock, Conway, Bryant and Rogers to Arkansas Children's Hospital on Tuesday. The kits, which feed four-six, include 12 soft flour tortillas, choice of two proteins (grilled adobo chicken, seasoned ground beef or tofu), black beans, Southwest rice, shredded lettuce, cheese, pico de gallo, sour cream and a bowl of Moe's queso. ("Of course, the chips and salsa are always free!," saith a news release.) You will need to place orders in advance — by 10 p.m. Sunday — and they cannot be placed on site. Visit form.jotform.com/230676616700051. Pick 'em up at the times and Moe's locations listed on the order form. For more information, email admin@arfreshmex.com.
Has a restaurant opened — or closed — near you in the last week or so? Does your favorite eatery have a new menu? Is there a new chef in charge? Drop us a line. Send email to: eharrison@adgnewsroom.com