The spring festival spotlight in Arkansas shines on toads, elk and armadillos. Likewise dogwoods, iris and magnolias. Ditto Bowie knives, hot-air balloons and bathtubs on wheels.
Now through late June, before summer's sizzling weather takes hold, is prime time for Natural State festivals. Some of the annual events serve as fundraisers for communities across the state. They're also "fun raisers," serving up good times for visitors as well as locals.
Festival admission is generally free. There may be a fee for parking, as well as charges for food, along with some events and activities.
Following is a buffet of spring fests, garnished with links that can supply more information:
Fordyce on the Cotton Belt, today through Sunday, fordyceonthecottonbeltfestival.com. The bygone era of extensive rail passenger service across the state is evoked by displays of model trains and puff-a-belly memorabilia. There'll also be a steak cook-off. Live music will play downtown on Friday and Saturday.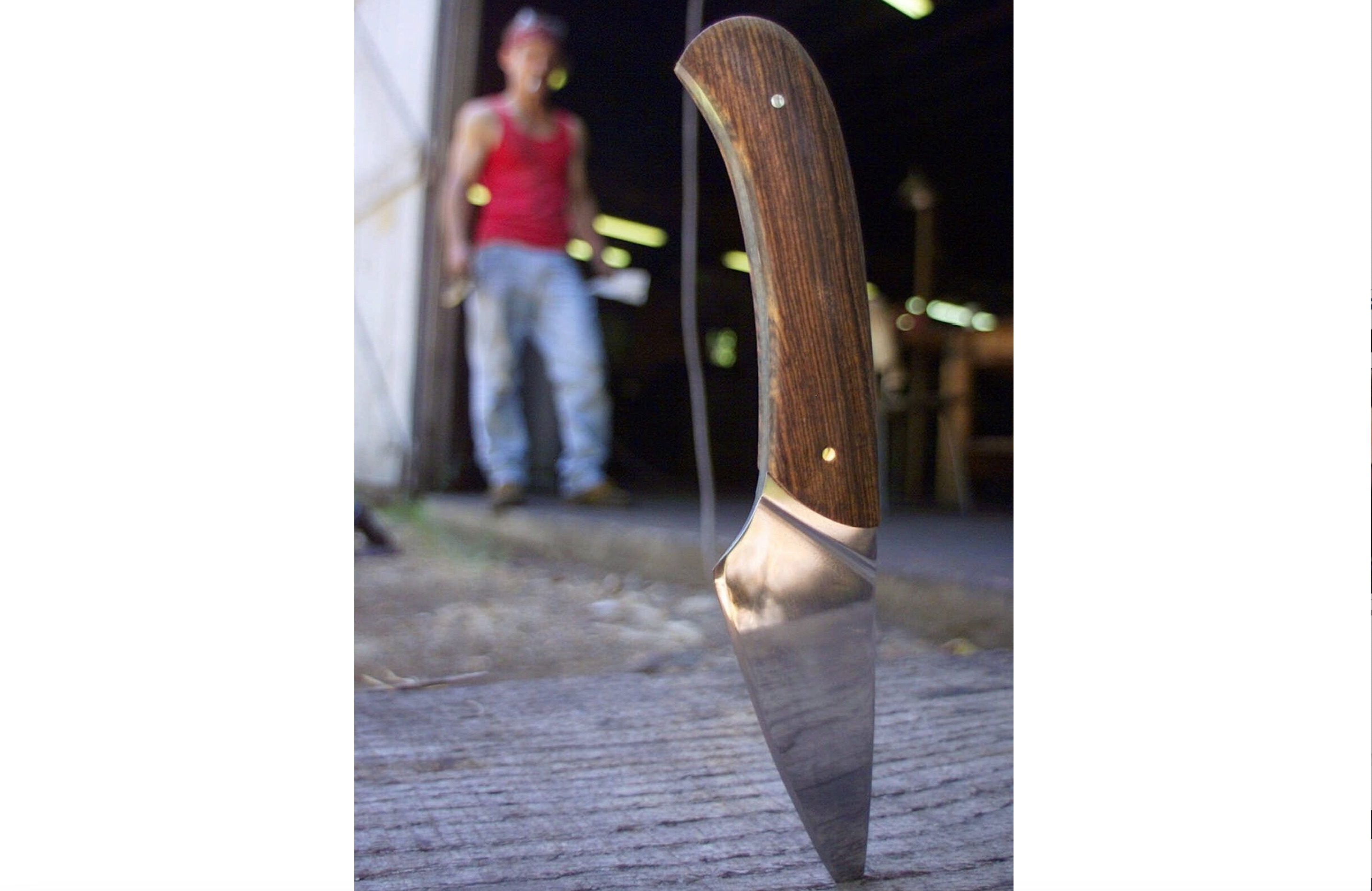 A finished hand-forged knife made by a student bladesmith sits where it was dropped onto a piece of wood outside the forge at Old Washington Historic State Park in Washington in a file photo from 2000. Legendary blacksmith James Black is thought to have made knives for Texas independence fighter James Bowie in the southwest Arkansas town in the 1830s. James Blacks Bowie Heritage Festival this weekend celebrates that history. (AP file photo)
James Black's Bowie Heritage Festival, Washington, Friday-Saturday, uaht.edu/james-blacks-bowie-heritage-festival/. This is the second year for an event focused on James Black, the 19th-century maker of the first Bowie knife. Historic Washington State Park will be the main site of workshops, period music and a knife-cutting competition.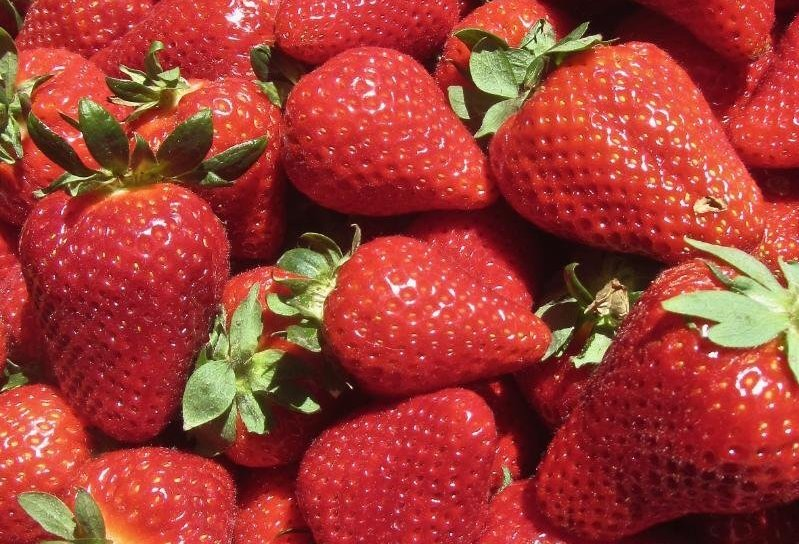 Beautiful and tasty Arkansas strawberries will be plentiful April 27, when the Cabot Strawberry Festival kicks off in the Lonoke County citys downtown. (Special to the Democrat-Gazette/Marcia Schnedler)
Cabot Strawberry Festival, April 27-29, jacabot.com/strawberry-fest.php. The Junior League of Cabot presents this red-ripe festival in the city's downtown to celebrate the berries grown in surrounding Lonoke County. Supplementing the tasty berries are a carnival and a kids' zone.
Dogwood Festival, Siloam Springs, April 28-30, siloamchamber.com/dogwood-festival. This florally focused event features more than 200 crafts booths. For food, its online site touts "fried green tomatoes, gumbo, bread pudding, smoked chicken dinners, tacos, turkey legs, catfish, alligator-on-a-stick, corn dogs, caramel apples, funnel cakes, kettle corn, homemade root beer and fresh-squeezed lemonade."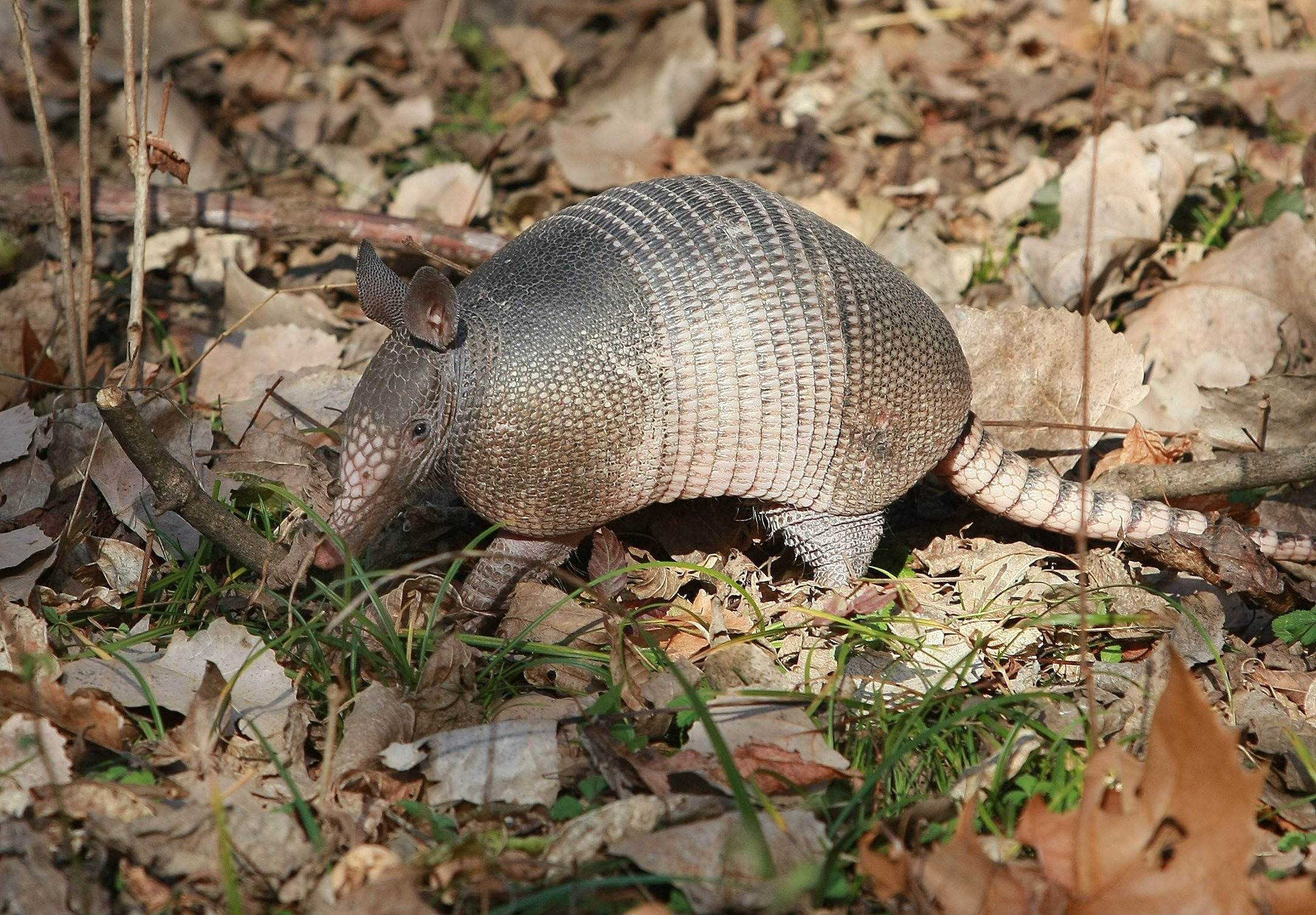 Even armadillos get their own festival in Arkansas. Hamburg hosts the World Famous Armadillo Festival from May 6-8, with armadillo races and frog-jumping contests. On May 8, the Marshall Tucker Band performs. (Democrat-Gazette file photo)
World Famous Armadillo Festival, Hamburg, May 3-6, hamburgchamber.com. The armadillo races in the Bradley County seat lack the allure of parimutuel betting. But they do qualify as something completely different. There's a separate competition for jumping frogs. Evening music on May 6 will feature the Marshall Tucker Band.
Mountain View Iris Festival, May 5-6, mountainviewirisfest.com. Tall bearded varieties of iris are the stars of this festival. On May 6, art supplies will be provided for children to paint iris portraits. Live music from carousel organs adds decibels to the weekend, as does a show of Corvettes and hot rods.
Toad Suck Daze, Conway, May 5-7, toadsuck.org. The sight of toads competing for long-jump supremacy is intriguing enough to make this one of Arkansas' best-known festivals. Some amphibian hoppers are coached by boys and girls. The name dates to the 19th century, when locals ridiculed the riverboat crews quaffing their grog in local taverns as "toad sucks."
Balloons Over Russellville, May 5-7, balloonsoverrussellville.com. Along with watching the flight of colorful hot-air balloons, Russellville festivalgoers can go aloft themselves in a balloon or ride in a tethered one. Active thrills are also on offer, including skydiving and powered parachute rides.
Old Timers Day Steam-Punk Festival, Van Buren, May 13-14. vanburenchamber.org/events/details/old-timers-day-steampunk-festival/. As explained online, "Steam-punk consists of elements of steam power, gears and wheels — with a backdrop of Victorian England or America's Wild West. Among performers are "pop-up acts, stilt walkers, fire breathers, sword swallowers and acrobats."
Magnolia Blossom Festival and Championship Steak Cookoff, May 17-20, blossomfestival.org. Two distinct smells vie for visitors' attention in Columbia County's seat. The fragrance of blooming magnolias mingles with the aroma of several thousand ribeye steaks on the grill. Red-meat maestros compete for prize money.
Lum & Abner Festival, Mena, June 2-3, visitmena.com/events/the-lum-abner-festival. Radio's glory days in the 1930s are evoked as Mena celebrates fictional rustic Arkansans Lum & Abner. The duo became celebrities by airing backwoods humor. Events include a quilt show and fishing derbies — plus maybe a baby-crawling contest.
World Championship Running of the Tubs, Hot Springs, June 3, hotsprings.org/events/world-championship-running-of-the-tubs/. Spa City's Bathhouse Row is the venue for this slapstick event. Four costumed team members race their customized bathtubs on wheels, while their captain sits in the tub to steer.
Buffalo River Elk Festival, Jasper, June 23-24. buffaloriverelkfestival.com. While Arkansas' elk population has faced health challenges in recent years, the handsome herbivores are well worth celebrating. An elk-calling contest is a highlight of the downtown Jasper event, with live music both evenings and fireworks on June 24.