Blackberry Market is, or certainly ought to be, a welcome addition to the Argenta food-and-drink scene. It has certainly been thriving in the month or so since it opened in half of a former furniture store in the 300 block of North Little Rock's Main Street.
It joins Skinny J's, Reno's, Cregeen's and The Joint on that block; there's another coffee shop/bistro, Mugs Cafe, a couple of blocks north on Main.
Blackberry's success, if it continues, is in large part reflective of the 17 years co-owner Peter Loibner, who runs the place with his wife, Whitney, worked for Starbucks, as well as the two similar cafes his sister operates in Illinois.
Operations are, so far, well organized and efficient, with the only drawbacks being a slight confusion over from which direction to enter the queue to order and how long it takes to place orders. That's the function of customers having to figure out what they want from an expansive menu posted on the south wall, and in part because the staff is friendly and helpful and won't rush diners even when the line to order is long.
The ambitious operation offers all-day breakfast, a selection of lunch-early supper sandwiches and paninis, a sizable pastry case and a grab-and-go cooler offering packaged soups, quiches, dips and appetizer items. There's also what the Loibners are calling a market case, featuring, deli-style, some of the items also showing up as sandwich ingredients — tuna, chicken, fruit and kale salads, Thai slaw, pesto pasta, curried cauliflower, berry balsamic chickpeas, apple rosemary brussels sprouts, pomegranate quinoa and the potato-sweet potato hash that also accompanies most breakfast items. There are a number of vegetarian and vegan items, so marked on the menu, along with items designated as gluten-free and dairy-free.
The menu variety is wide enough that there are items we wish we'd been able to sample — any of their soups of the day, for example; the items in the market case; the charcuterie plate (small, $10, large, $18, with meats, cheeses, olives, fruits, nuts and baguettes "or our Rosemary Almond Crackers" — we saw a couple of these go out the door, presumably as centerpieces for holiday parties).
Order at the counter and get a number; food and coffee drinks are delivered to your table. Seating is in four areas. Customers can dine on the ground floor in two dining areas and along the wall separating the line to order from the rest of the establishment, or they can mount the stairs to a somewhat Bohemian loft area with conversation couches, partially lit by skylights. The grab-and-go case (right) is at the base of the stairway.
For lunch, we tried, and were reasonably pleased with, a couple of the paninis:
◼️ The hefty Tavern Ham Panini ($11), piled-high ham with Havarti cheese, housemade pickles (Intrepid Companion asked for and got 'em on the side), and caramelized onions; she also had the kitchen hold the honey mustard so she could substitute mayonnaise (from packets).
◼️ The Tuna Salad Melt ($12), the house tuna salad with melted cheddar (don't like tuna? you can substitute the chicken salad). The tuna salad was just a shade on the dry side but tasty, and we had a hard time finishing the sandwich.
And we tried one of the non-panini sandwiches: the Turkey Apple Gouda ($10), a large pile of sliced turkey topped by apples, chutney and Gouda on fluffy white bread, plus a spring mix that we had the kitchen hold. The sandwich probably would have been better heated, or at least enough to partially melt the over-chilly cheese; we also had a texture issue with the skin on Granny Smith apple slices.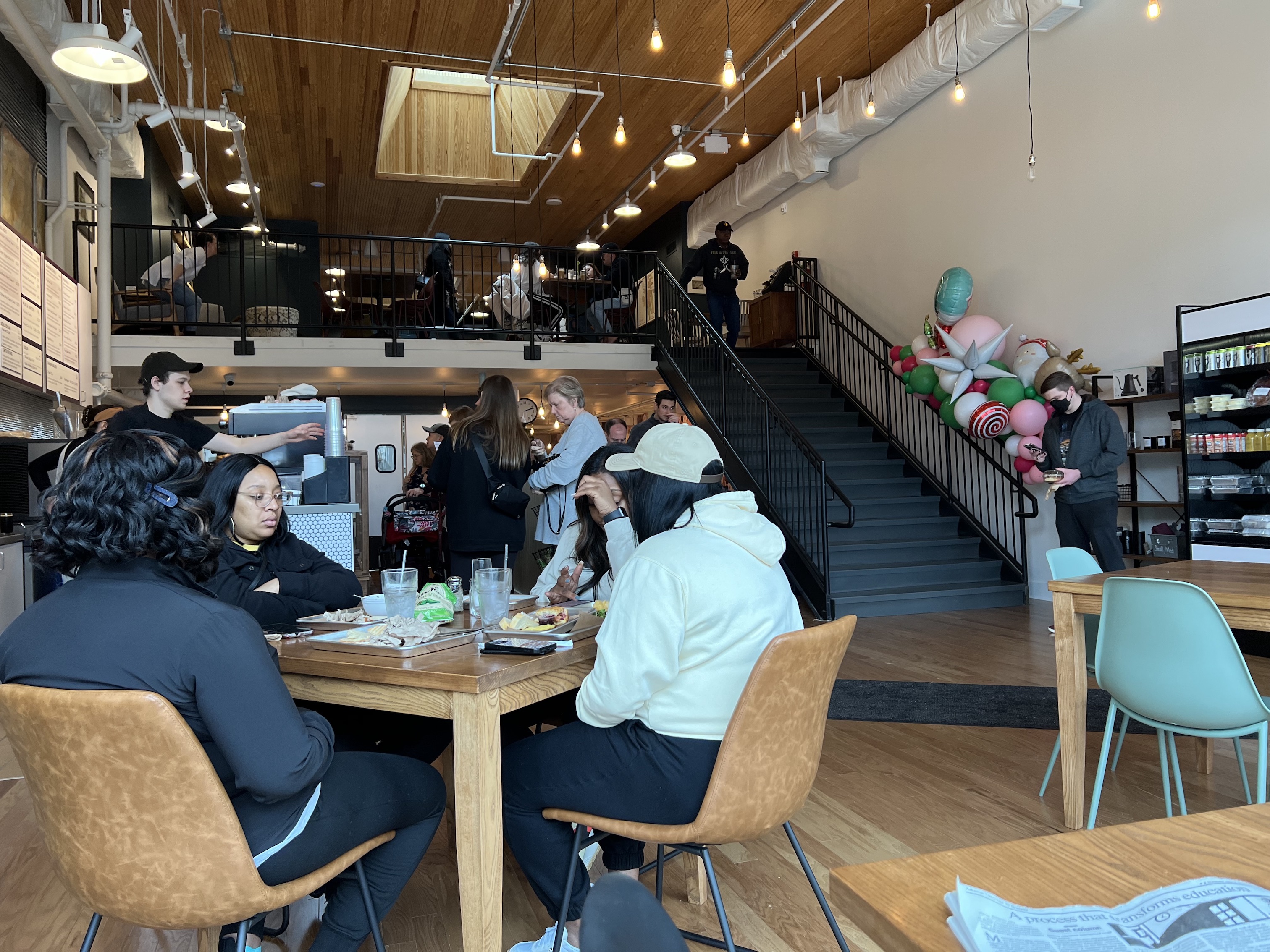 Blackberry Market customers can dine on the ground floor or mount the stairs to a somewhat Bohemian loft area with skylights. The grab-and-go case is at the base of the stairway (right). (Arkansas Democrat-Gazette/Eric E. Harrison) All sandwiches come with an ample side house salad of field greens in a raspberry vinaigrette; we found out, not from the menu or menu board, but from the online ordering system, that you can swap in a market case item for $1.75, which is something we wish we'd known.
If you're a fan of fluffy biscuits, Blackberry's probably aren't for you — theirs are baked firm and crisp. That was OK with us and it worked well for our Biscuits and Gravy ($8), two biscuits carved into four halves, generously topped with a zippy housemade sausage gravy. We opted well to spend the additional $1.50 to top them further with two fried eggs.
We also got biscuits as part of our Farmhouse Breakfast ($10; half order, $6.50), two biscuit sandwiches with eggs and thick-cut hickory smoked bacon. Where we went wrong was choosing fried (over medium, as is our usual fried-egg preference) over scrambled when it came to the eggs. One bite and the yolk began to run down our fingers. Potential fixes: Opt for scrambled eggs. Or disassemble, or ask the kitchen to disassemble, the sandwich and eat the basic components separately. (Another menu item, the $10 Breakfast Stack, looks something like that: bacon, fried eggs, spring mix and herbed aioli served over greens without bread or biscuits.)
Breakfast items comes with a side of what the menu calls "our home-style potatoes" — actually a really enjoyable potato-sweet potato hash. You can swap for fruit for $1.50.
Drip house-blend coffee — $3 for a "bottomless" mug — is self-serve; more complicated coffee concoctions, including cappucinos, macchiatos, lattes and espresso, are the realm of the barista. The cafe opened while its alcoholic beverage license was pending; now you can get canned beer and spiked beverages from the grab-and-go case or order something off the small list of cocktails — mimosa, bloody Mary, blackberry hibiscus gin and tonic or a brown-sugar Old Fashioned.
Blackberry Market
Address: 315A Main St., North Little Rock
Hours: 7 a.m.-7 p.m. daily
Cuisine: Upscale coffee shop-slash-bistro
Credit cards: V, MC, D, AE
Alcoholic beverages: Beer and a few cocktails
Wheelchair access: Yes
Information: (501) 263-8828; argenta.blackberry.cafe