South on Main owner Don Dugan has sold and last week closed the restaurant at 1304 Main St., Little Rock. Dugan is withholding the name of the purchaser until all the paperwork is signed, but describes him as "somebody local, a first-time owner but with a restaurant background." Dugan and his wife, Tasha Stratton, who also own and operate Dizzy's Gypsy Bistro, Dugan's Pub and Stratton's Market, bought South on Main from Matt Bell in early 2020.
And speaking of Matt Bell, he has a new "gig": interim culinary director of the Big Bad Breakfast restaurant group. Bell, who left South on Main, which he opened in 2013, to take over as executive chef at Grey & Dudley in the 21c Museum Hotel in Nashville, Tenn. He will report directly to chef-author-restaurateur and BBB founder John Currence in "managing and maintaining the culinary vision" of the Southern breakfast brand across all 15 locations throughout the southeast, according to a news release.
"I'm super-excited," says Bell, who happened to be at Little Rock's BBB, 101 S. Bowman Road, on Friday. "Since I've known John, I've been a fan. I'm eager to join the talented team he has put together and to growing this exciting chef-driven concept to new locations." However, Bell says he will not take part directly in the putting-together of the second Little Rock location, going into the former Soul Fish at 320 Main St. downtown. "That's all Ben's," he says, referring to Arkansas franchisee Ben Brainard.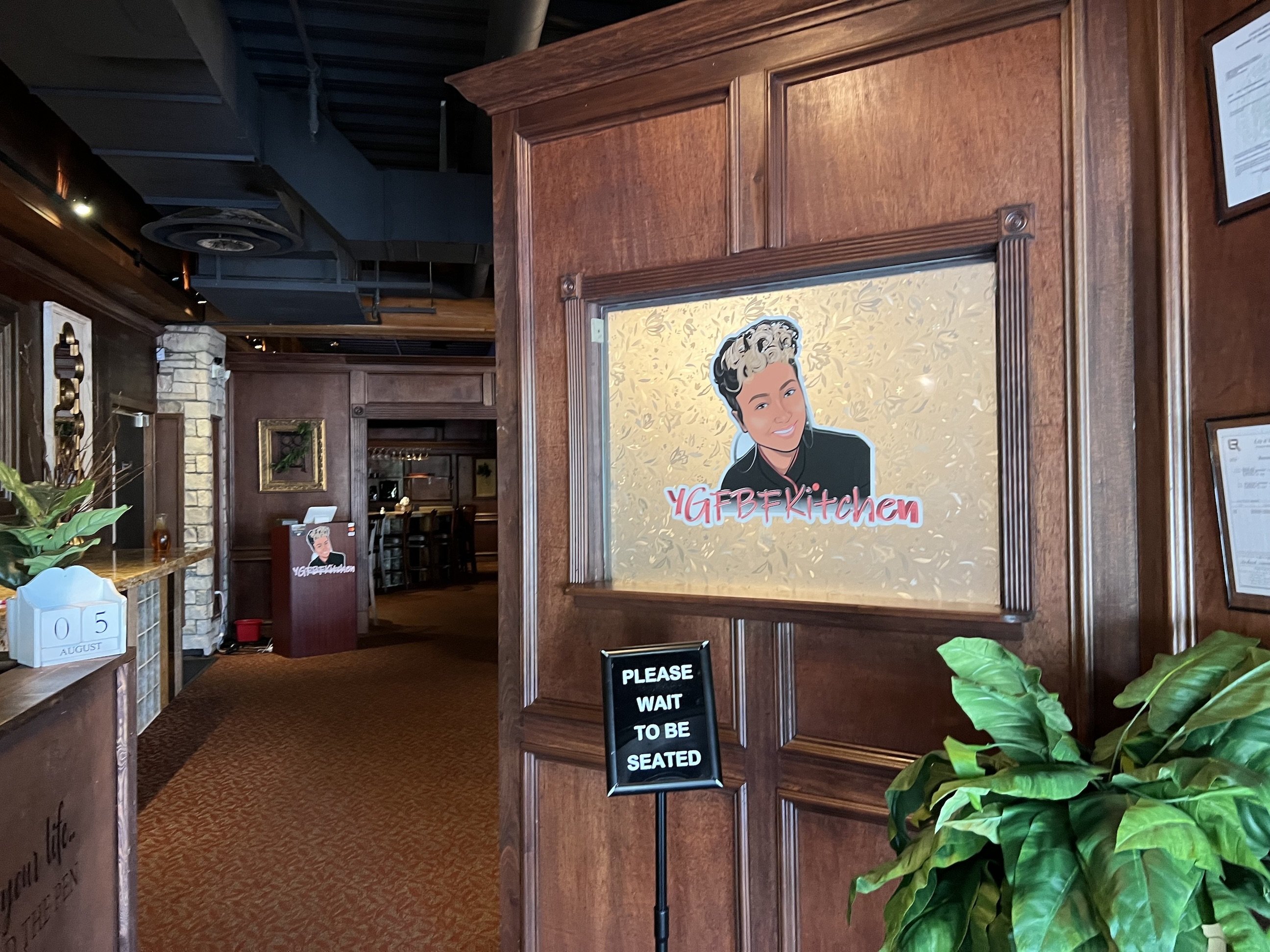 The YGFBF Kitchen in west Little Rock has closed and owner MaryAnn Leon is reopening in her original Conway location. (Democrat-Gazette file photo/Eric E. Harrison)
YGFBF Kitchen Restaurant & Catering (the alphabet-soup name stands for Your Girlfriend's Best Friend) has closed its west Little Rock "branch" at 27 Rahling Circle (previously Arthur's) after failing to reach a new lease agreement with the new owners of the shopping center, and will re-open its original Conway location, 800 Fourth Ave., which had closed as the Little Rock restaurant opened, at 11 a.m. today. Owner MaryAnn Leon, keeping customers abreast of developments on the Facebook page (facebook.com/YGFBFKitchenLR), reportedly contemplates eventually opening another Little Rock location but not in any great hurry. We're still trying to track down the re-opened restaurant's hours in Conway and whether they are keeping the same phone number, which is (501) 358-8533.
Reports regarding the reconstruction of the Breckenridge Village Shopping Center, Interstate 430 and North Rodney Parham Road, and the introduction of several new restaurants has so far not covered what will happen to one of its existing eateries, Mt. Fuji, which has occupied a corner location of one of the shopping center's buildings for more than three decades. Now we have learned that the restaurant is moving down into the space previously occupied by Greenhaw's, a men's clothing store. The two-story, 3,600-square-foot restaurant will feature a 20-seat full-service bar, a 13-person sushi bar and a traditional Japanese private dining room; the blue Karahafu Japanese tiles outlining the existing restaurant will move with it to the new space. Target to open is sometime this summer. Emiko Biggin and her husband, Bruce, opened what was Little Rock's first sushi restaurant in 1986 in a space that had been a revolving door (including a place that specialized in baked potatoes); brothers Aaron Shota Jackson and Yusuke Jackson bought it in August 2022. Mt. Fuji will continue to operate in its current space for awhile; hours are 11 a.m.-2 p.m. Wednesday-Saturday, 5-9:30 p.m. Sunday-Thursday, 5-10 p.m. Friday-Saturday. (501) 227-6498; mtfujirestaurantlr.net; facebook.com/MtFuji.LR.
We've reported that outlets of Deluca's Pizzeria, Waldo's Chicken and Beer and The Root expected to open sometime this year in that shopping center; add Flyway Brewing to the list.
An update on the Tropical Smoothie Cafe outlet at West Fourth Street and Broadway, on what has been a parking lot. (And yes, it's the former site of Minute Man.) A spokeswoman for the franchisee, Little Rock-based DYNE Hospitality Group — the chain's largest, with more than 90 outlets in Arkansas, Alabama, Georgia, Florida, Oklahoma and Texas — confirms that it is a replacement for the now-closed location "that used to be in the old Y" at West Sixth and Broadway, with a summer target to open. "The cafe will have a drive-thru and indoor and outdoor dining. It will be modeled after the Sherwood and Cabot locations in design," and not the flagship outlet at The Ranch in west Little Rock that opened in July. The DYNE folks are expecting, since other outlets will have opened in the interim, that this will be "the 100th DYNE-operated cafe."
Larry's Pizza has closed its location at 12911 Cantrell Road, Little Rock, and has relocated/merged/combined its entire staff with the location at 801 S. Bowman Road.
We now have that fixed location for Hibachill, a food truck focusing on hibachi-grilled dishes and Asian-fusion side items: 1612 S. Second St., Cabot, where it will operate 11 a.m.-8 p.m. Monday-Friday. The truck will still travel for catering; you can keep track via social media (facebook.com/hibachill) or sign up for their email newsletter. A website where customers can order online is in progress. (501) 607-4673.
And speaking of "chill," Little Rock is losing its last TCBY location — you will remember that the company, now based in Broomfield, Colo., started here in 1981 — at 11418 W. Markham St. The building is slated for demolition to make way, we're told, for another outlet of 7 Brew Coffee, which has been proliferating across the Central Arkansas landscape. A sole remaining Central Arkansas TCBY continues to operate in North Little Rock's Lakewood Village.
■ ■ ■
Christy Ouei, president and "chief cheerleader" of Magnolia restaurant Mule Kick, provides additional details on the new project on which she and partner Bart Adams have embarked following the November closure of their El Dorado offshoot, Mulekick@MAD.
They've gutted a former coffee shop on the town square in Magnolia, which has the advantage of being only about a four-minute commute from their Magnolia home; they've owned the brick building for about three years, Ouei says, but the El Dorado project sidetracked their plans. They're putting in a modified speakeasy — no hidden entryways, she explains, but it will have a darker feel with a decor combining leather, velvet and exposed brick; the restaurant and cocktail lounge will have a New American menu ("I'm giving myself a lot of leeway," Ouei says), not fine dining but "fine casual" ("if that's not a term, I'm going to create it," she adds) that will seat approximately 55.
The long bar (somewhere in the vicinity of 30 feet) will serve craft cocktails; Ouei says she and Adams are paying particular attention to current trends on the East and West coasts and places like Denver. Playlist will consist of '20s-'40s jazz; consistent with her practice at her other establishments, Ouei says, there will be no TVs.
She's also looking at incorporating a ghost kitchen for part of the week that she's calling The Chameleon because the menu will change periodically; she's working on making a range of international cuisines "more friendly to South Arkansas clients." The idea, she says, is to be "exclusive in feel but not in price point."
■ ■ ■
And speaking of mules, Copper Mule Table & Tap, 3348 Main St., Bryant, expects later this year to open a Little Rock location. The exact address hasn't been announced, but we know from posting on its Facebook page (facebook.com/coppermulear) that it will be somewhere on Kavenaugh Boulevard in Pulaski Heights. The original location will remain open where it is. (501) 213-0379; coppermule.hrpos.heartland.us/menu.
And speaking of Bryant, Shelli Poole's My Saline site (mysaline.com) tells us to look for the opening at the end of January of Station 209, a restaurant with a firefighter theme, at 209 B St. in Bryant's Midtown area. Christopher and Mallory Santa Cruz, with partner Tricia Clark, are moving up from a food truck that Mallory Santa Cruz says they have outgrown. It will have an American Bistro menu with weekly specials, Arkansas craft beer and wine and desserts from their bakery, 3 Alarm Sweets. Christopher Santa Cruz has been a firefighter since 2005; he and Clark fight fires for Redfield. The restaurant will offer a 10% discount to first responders.
And Caribbean Cafe has opened at 1622 Park Ave., Hot Springs, offering a "Taste of the Caribbean," 11 a.m.-6 p.m. Saturday-Monday. (501) 404-8775; facebook.com/caribbeancafear.
Has a restaurant opened — or closed — near you in the last week or so? Does your favorite eatery have a new menu? Is there a new chef in charge? Drop us a line. Send email to: eharrison@adgnewsroom.com