Elsewhere in entertainment, events and the arts this weekend:
THEATER: Come fly with me ...
A businessman (Tim Cooper), with the assistance of his housekeeper (Leigh Anne Marchesi), successfully juggles love affairs with three flight attendants (Bridget Davis as Janet, Sarah Nichols as Jacqueline and Paige Carpenter as Judith) until the arrival of a childhood friend (Quinn Gassaway) causes the system to collapse, in "Boeing Boeing" by Marc Camoletti, adapted by Beverly Cross, onstage through Feb. 4 at Murry's Dinner Playhouse, 6323 Colonel Glenn Road, Little Rock. The buffet opens 90 minutes before curtain time — 7:30 p.m. Tuesday through Saturday (Wednesdays, matinees only Jan. 18 and 25), 12:30 and 6:30 p.m. Sunday. Tickets (including meal and show) are $39-$44, $30 for children 15 and younger, $30 show only. Call (501) 562-3131 or visit murrysdp.com.
ART: Artistic 'Moments'
"The Simple Moments," recent paintings by Kathy Blake of Quitman, goes on display with a 6-8 p.m. reception Friday at Cantrell Gallery, 8208 Cantrell Road, Little Rock. The exhibition remains up through March 11. Gallery hours are 10 a.m.-5 p.m. Monday-Saturday. Admission to the gallery and the reception are free. Call (501) 224-1335 or visit cantrellgallery.com.
Father and daughter
"A Father-Daughter Collaboration," commissioned portraits, figurative paintings, landscapes, still lifes and interiors by Baxter Knowlton and digital drawings by Miriam Knowlton, goes on display with a reception, 5-7 p.m. Friday in the Gallery at Christ Episcopal Church, 509 Scott St., Little Rock. "Random Experiments," architectural abstract paintings by Jeff Horton, will be on display in the church Parlor.
The reception will feature refreshments and music. The exhibits will be on display and the artworks available for sale through March 31. Gallery hours are 7:30 a.m.-noon Sunday, 9 a.m.-4 p.m. Monday-Thursday. For more information email LallyRBrown@gmail.com.
Artistic 'Artifacts'
"Artifacts," works by Little Rock artist Dominique Simmons, is on display through Feb. 28 in the Norman Hall Art Gallery at Arkansas Tech University, 203 W. Q St., Russellville. A reception and gallery talk is set for 2:30-3:30 p.m. Feb. 28. Gallery hours are 8 a.m.-5 p.m. weekdays. Admission to the exhibit and the reception is free. Visit atu.edu/art.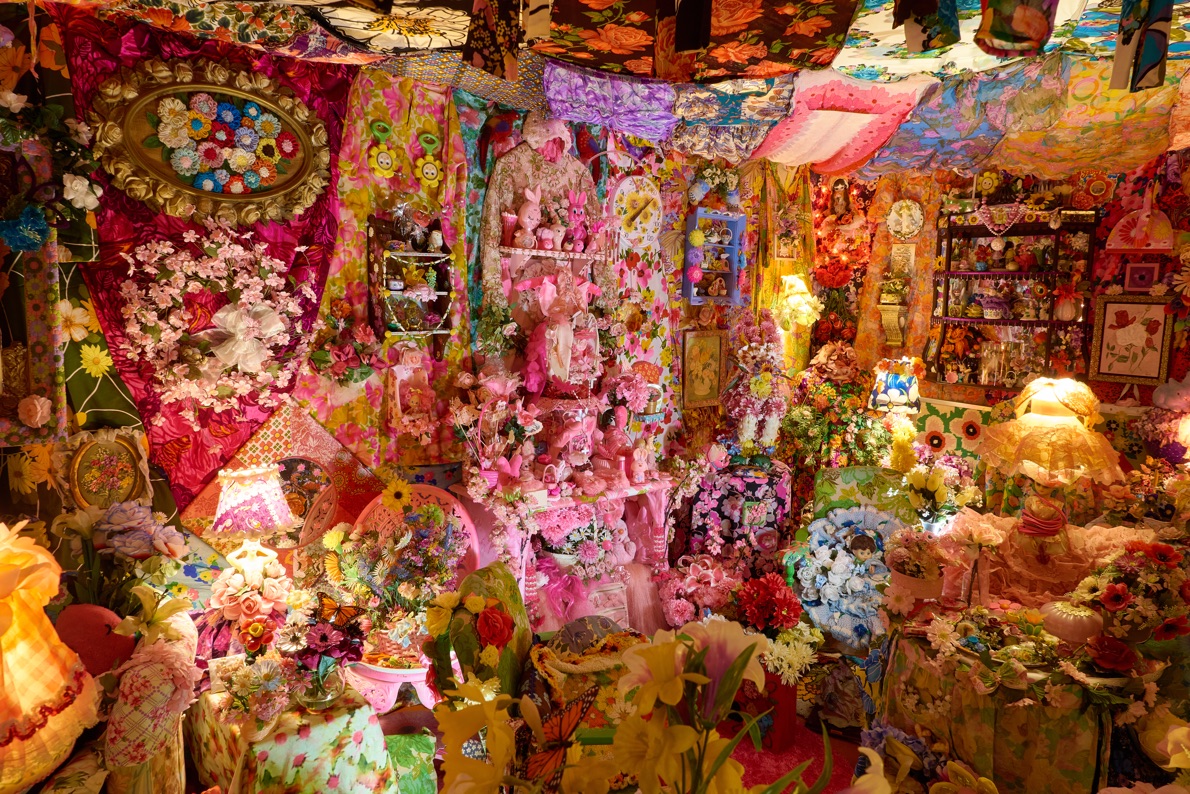 Portia Munson's "The Garden," a room-size mixed-media installation, is part of "Still Life! Mourning, Meaning, Mending" at the 21c Museum Hotel in Bentonville. (Special to the Democrat-Gazette)
'Still Life!' exhibition
"Still Life! Mourning, Meaning, Mending," an exhibition of 58 multimedia artworks by 47 artists from across the globe "highlighting the power of art to provide meaning and inspiration during a time of continued uncertainty and volatility," according to a news release, goes on display with a 4-6 p.m. reception Saturday at 21c Museum Hotel, 200 N.E. A St., Bentonville.
The exhibition, up through December, includes works by Portia Munson, Valerie Hegarty, Nate Lewis, Zak Ove, Hamra Abbas, Cosmo Whyte, Whitfield Lovell, Omar Victor Diop, Cajsa von Zeipel, Kajahl, Robin The Kid and Markeith Woods. The reception will include an introduction by the hotel chain's Chief Curator Alice Gray Stites and a demonstration by artist Portia Munson. The hotel is open 24/7, 365 days a year. Visit tinyurl.com/wer9a6j6.
A guided tour of the exhibition by museum manager Danny Baskin and cocktails by The Hive, the museum restaurant, that correspond with specific artworks are the elements of a "Tipsy Tour," 6 p.m. Jan. 26. Tickets are $15. Visit eventbrite.com/e/tipsy-tour-tickets-506665418907.
Festival entries
The Arts Center of the Grand Prairie, 108 W. 12th St., Stuttgart, is accepting entries for the 67th Grand Prairie Festival of the Arts in two categories: Photography and Decorative Arts. Adults and children should submit photography from noon-5 p.m. Jan. 20 and 10 a.m.-2 p.m. Jan. 21. The exhibition will be on display Jan. 26-Feb. 23. The center will accept Decorative Arts entries noon-5 p.m. March 10 and 10 a.m.-2 p.m. March 11; the exhibit will be up 10 a.m.-5 p.m. March 17-18 and noon-5 p.m. March 19, with a 3 p.m. March 19 awards reception and presentation. Register and find details at grandprairiearts.com.
ETC.: Poetry open mic
Author Tru Poet hosts a poetry open mic through which poets 16 and older can share spoken-word selections and creations, 6-8 p.m. Friday in the Adam B. Robinson Jr. Black Box Theater at ART WORKS on Main, 627 S. Main St., Pine Bluff. Entry fee is $10, $5 for members of the Arts & Science Center for Southeast Arkansas. No registration is required. Participants can enter for a chance to win door prizes. Drinks and snacks will be sold. Call (870) 536-3375 or visit asc701.org.
Family FunDay
Learn about the universe and get hands-on experience with a professional telescope with astronomer Nick Hobbs during Second Saturday Family FunDay: Amateur Astronomy, 1-3 p.m. Saturday at the Arts & Science Center for Southeast Arkansas, 701 S. Main St., Pine Bluff. Admission is free. Sponsor is the Pine Bluff Area Community Foundation. Call (870) 536-3375 or visit asc701.org.
AUDITIONS: Museum seeks actors
The Arkansas Museum of Fine Arts, 501 E. Ninth St., Little Rock, will hold auditions, by appointment only (no walk-ins) for professional adult actors, 6-9 p.m. Jan. 26 and 1-5 p.m. Jan. 28. Actors should prepare a three-minute audition consisting of two contrasting monologues and up to 16 bars of music. Those unable to audition in person can submit their audition digitally. "In addition to presenting and producing plays, [the museum] is also offering workshops and classes, facilitating statewide outreach and creating experiences in a variety of media like puppetry, film, music, dance and more in 2023," according to a news release. "Adults of all ages, races, genders, backgrounds and abilities are encouraged to audition." Email theatre@arkmfa.org to schedule an appointment; directions will follow. For more information, visit arkmfa.org/art/performing-arts/childrens-theatre.