The days may be getting longer (by mere seconds) but we're still deep in the dark days of winter. To brighten things up, there's no better flavor for baking than citrus.
Sweet and tart — some indisputably tarter than others — citrus brightens everything it touches. Sunny lemons, verdant limes, rosy grapefruits, glowing oranges, clementines, satsumas, other mandarins, tangerines ... I love them all. But I'm especially fond of Cara Cara oranges, blood oranges, Meyer lemons, clementines and pink grapefruit.
A GUIDE TO CITRUS
Blood orange: A sweet-tart orange with bright, deep red or red-streaked flesh. This orange is originally from Sicily and is less acidic than other varieties. The Moro variety is the most dramatically colored blood orange.
Cara Cara: A sweet and juicy variety of navel orange with pink-blushed flesh.
Clementine: This thin-skinned, tangy-sweet member of the mandarin orange family — a cross between the Mediterranean mandarin and an orange — originated in Algeria. The fruit peels easily and is usually seedless, but sometimes contains large seeds.
Dekopon: These large mandarins are easily recognized by their bumpy skin and outie belly-buttonlike protrusion on the stem end. The juicy, sweet, seedless fruit was developed in Japan and is sold under the trade name Sumo.
Key lime: Key limes are super tart, smaller, rounder, more aromatic and more yellow than Persian (regular) limes.
Kumquat: This tiny citrus is about the size of a grape. The edible rind is sweet; the flesh is tart. The kumquat is usually served candied, pickled or cooked.
Meyer lemon: This fruit is sweeter and more aromatic than regular lemons. It originated in China and is believed to be a cross between a lemon and an orange.
Navel orange: The most popular eating orange in the world. Its bright orange skin is easy to peel, and the fruit's juicy, sweet segments separate easily.
Persian lime: These large (compared to their Key cousins) familiar limes are the mostly widely grown and available type of lime. Usually seedless, Persian limes are more acidic and less floral than Key limes.
Pummelo: This ancestor to the grapefruit is native to Malaysia. The pummelo is more aromatic and sweeter than a grapefruit but can be used just like it. It has yellow skin with pink flesh.
Ruby Red grapefruit: Also called pink or red, this sweet grapefruit has pink-blushed skin with deep pink or red flesh and a sweet-tart flavor. Deeper colored flesh often indicates sweeter flavor.
Satsuma: This loose-skinned mandarin originated in China. It is one of the sweetest citrus varieties and is usually seedless.
Tangerine: A subclass of mandarin oranges, these sweet fruits peel easily and are less acidic than other citrus fruits. It is believed tangerines got their name when they were introduced to Europe via Tangiers.
Tangelo: This seedless, bell-shaped fruit is a cross between a tangerine and a grapefruit. It has skin similar to an orange with a noticeable bump on the stem end. Minneola and Honeybells are common varieties.
Ugli fruit: Also called Uniq fruit, this strange looking citrus is native to Jamaica and believed to be a tangerine-grapefruit hybrid. The thick, wrinkly, mottled yellow and green rind loosely encompasses the fruit. The flavor is similar to grapefruit with hints of orange.
Valencia orange: A favorite for juicing, these sweet, deep-orange-colored fruits have smooth, thin skin and are usually seedless.
Sources: "The New Food Lover's Companion" by Sharon Tyler Herbst, "The Great Citrus Book" by Allen Susser, "Citrus: Recipes That Celebrate the Sour and the Sweet" by Catherine Phipps and "Melissa's Great Book of Produce" by Cathy Thomas
TIPS
◼️ For recipes that will use the zest or entire fruit, opt for organic whenever possible and be sure to scrub the fruit under hot tap water to remove any waxy residue. The zest is the colored portion of the peel, excluding the white pith underneath.
◼️ Even if the recipe doesn't call for it, zest the fruit for easier juicing. The extra zest can be used to make citrus sugar: whirl granulated sugar and the citrus zest in a blender or food processor until well combined. Store in an airtight container. Or freeze the zest in 1 teaspoon portions for future use. I prefer a rasp-style grater (such as a Microplane) for zesting, but a paring knife and a careful hand or a box grater will work in a pinch.
◼️ Don't toss juiced citrus rinds. There's still loads of flavor to be extracted. Save the rinds to make an easy, no-cook citrus syrup (see Front Burner for the how-to). The syrup is great in drinks and desserts. Stir it into cocktails, drizzle it over berries or pound cake, use it in ice tea, brush it on cakes before frosting (let it soak in first) — anywhere you want a sweet punch of citrus flavor.
Lemon-Lime Cake (Arkansas Democrat-Gazette/Kelly Brant) This cake was inspired by ads for Franke's Cafeteria and Community Bakery I came across in the Arkansas Gazette of the 1930s-1950s. The cake, which was often advertised as the "cake of the week," featured lemon cake layers and lime buttercream according to the ads. Franke's described its ingredients as cake flour, butter, sugar, baking powder, fresh lemons, fresh ground limes. I searched all through the archives and in my old cookbooks, but couldn't find a recipe exactly like the description, so I made my own using the old ads and standard butter cake and buttercream recipes as my guide.
Lemon-Lime Cake
For the lemon cake:
2 ½ cups cake flour
1 ½ teaspoons baking powder
½ teaspoon baking soda
¼ teaspoon salt
¾ cup whole milk, at room temperature
¼ cup freshly squeezed lemon juice
2 teaspoons vanilla extract
1 cup butter, at room temperature
1 ½ cups granulated sugar
2 tablespoons finely grated lemon zest
4 large eggs, at room temperature
For the lime buttercream:
1 cup butter, softened
4 cups confectioners' sugar
Zest and juice of 2 regular limes (see note)
Arrange a rack in the middle of the oven and heat to 350 degrees. Lightly spritz two 8-inch round cake pans with baking spray; line with parchment paper.
In a medium mixing bowl, whisk together the flour, baking powder, baking soda and salt; set aside.
In a spouted measuring cup, whisk together the milk, lemon juice and vanilla. The mixture will curdle. This is expected. Set aside.
In the bowl of a stand mixer fitted with the paddle attachment (or a large mixing bowl using a hand-held mixer) beat the butter, sugar and lemon zest on medium speed until light and fluffy, 3 to 5 minutes, scraping bowl and beaters as needed. With the mixer on medium-low, add the eggs, one at a time, waiting until each egg has been incorporated before adding the next.
Turn the mixer to low speed, and gradually add half of the flour mixture, stopping and scraping down the sides of the bowl as needed. Add half of the milk mixture and beat until combined. Repeat with the remaining flour and milk mixtures. Increase the speed to medium and beat until light and smooth, about 1 minute.
Divide the batter evenly between the prepared pans — you should have about 1 pound 5 ounces of batter in each pan. Bake until the cakes are golden brown, the edges pull away from the sides of the pan and a wooden tester inserted near the center comes out with no or few crumbs, 25 to 30 minutes. Cool the cakes in the pans on a wire rack for 10 minutes. Use an offset spatula to loosen the sides of each cake and then invert the cakes onto the wire rack. Peel away and discard the parchment paper and let the cakes cool completely.
For the buttercream: Beat the butter with an electric mixer until smooth and creamy. Add the confectioners' sugar and lime zest and juice 1 tablespoon at a time until desired consistency and flavor are reached.
To assemble: Place a small dollop — a teaspoon or two — of frosting in the center of a cake stand and then place a small square of parchment paper on the frosting. Place one of the cake layers on the parchment square on the cake stand and top with about a cup of frosting, spreading it in an even layer to the edge. Top with remaining cake layer and spread a very thin layer of frosting on top and sides of cake. This is the crumb coat. Refrigerate cake for 30 minutes to one hour or until crumb coat is firm and set and then frost top and sides of cake with the remaining frosting.
For the best flavor and texture, wait 12 hours before serving the frosted cake.
Makes 1 (2-layer) cake.
Note: If you want to make this with Key limes, you'll need about 4 teaspoons finely grated lime zest and 2 to 3 tablespoons juice.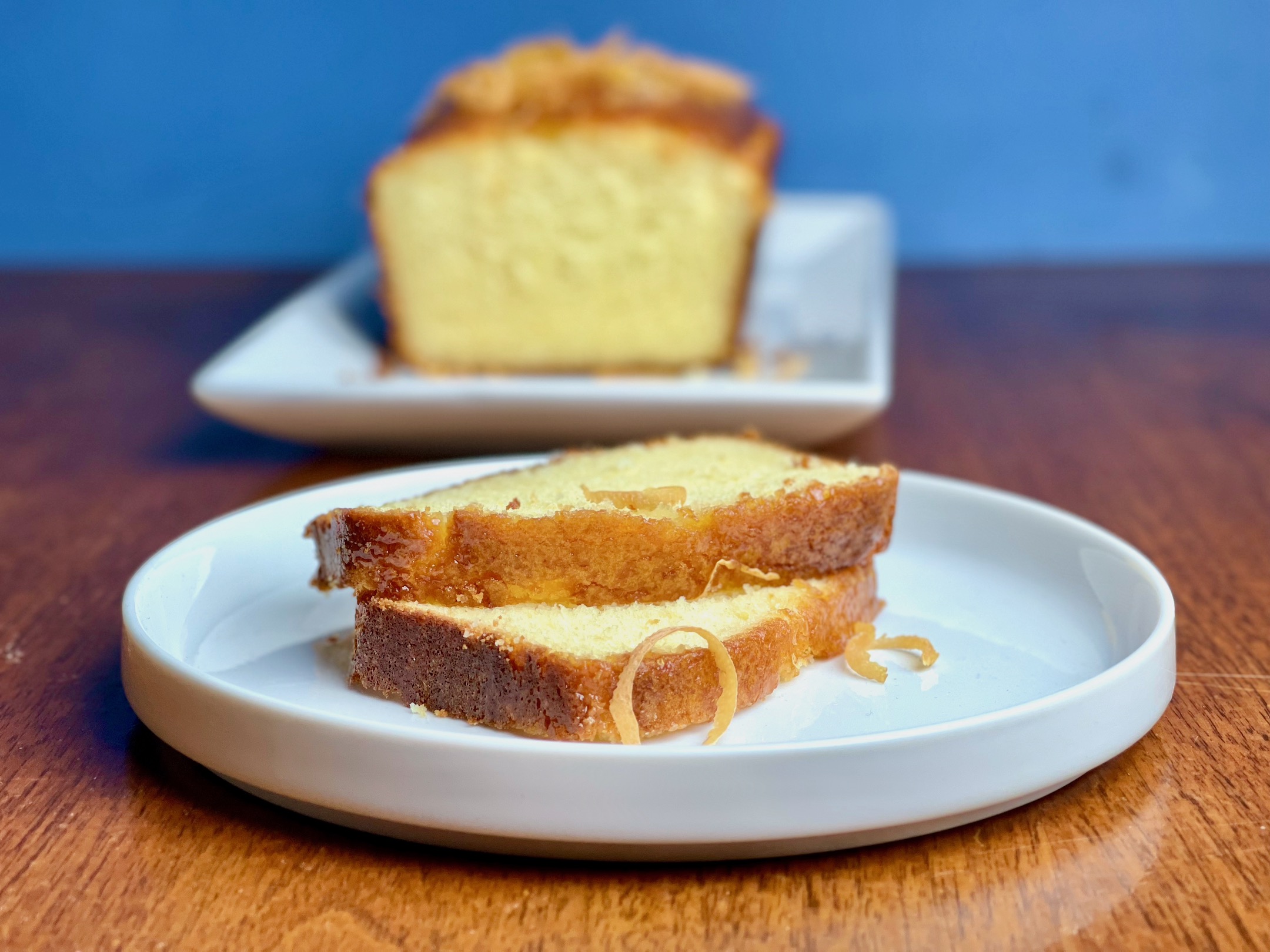 Orange Blossom and Grapefruit Yogurt Loaf (Arkansas Democrat-Gazette/Kelly Brant) We especially like this loaf cake with grapefruit, but you can use any citrus you like — lemons, limes, clementines, blood oranges or grapefruit. The batter for this cake is mixed in a food processor. If you don't have one, use a handheld electric mixer or rub the zest into the sugar using your fingers and then mix the batter with a whisk.
Orange Blossom and Grapefruit Yogurt Loaf
1 1/3 cups all-purpose flour
2 teaspoons baking powder
½ teaspoon kosher salt
1 ¼ cups granulated sugar, divided use
1 small grapefruit
1/3 cup vegetable oil
2 eggs, room temperature
1 cup full-fat plain Greek yogurt (about two 5.3-ounce containers)
1 teaspoon orange blossom water, divided use
Heat the oven to 350 degrees. Lightly coat an 8 ½- by 4 ½-inch loaf pan with nonstick spray. Line the bottom with parchment paper leaving overhang on the long sides and spray again.
In a medium bowl, whisk together the flour, baking powder and salt.
Place 1 cup sugar in the bowl of a food processor. Use a Microplane grater to remove the zest (colored portion only) from the grapefruit, letting it fall directly over the sugar. Juice the grapefruit into a bowl and reserve; you'll need 5 tablespoons of juice.
Pulse the sugar until the zest is evenly distributed and the mixture has the texture of wet sand. Add the oil and pulse until well mixed. Add the eggs and pulse just until incorporated. Add the yogurt, 1 tablespoon reserved juice and ½ teaspoon orange blossom water. Pulse just until the last streak of white yogurt disappears. Sprinkle the flour evenly over wet ingredients and pulse just until smooth. Pour the batter into the prepared pan and smooth the top.
Bake until a wooden pick inserted near the center comes out clean or with just a few crumbs, about 55 minutes. Cool in the pan on a wire rack for 15 minutes.
Meanwhile, in a small saucepan, combine the remaining ¼ cup sugar with ¼ cup of the reserved juice. Set over medium heat and bring to a boil, stirring to dissolve the sugar, then boil until the liquid is translucent, about 1 minute. Remove the pan from the heat and stir the remaining ½ teaspoon orange blossom water into the syrup.
Using the parchment overhang, lift the loaf from the pan. Peel away the parchment. Set the wire rack on a plate or rimmed baking sheet and place the cake on the rack. Brush the loaf on all sides with the grapefruit syrup. Cool completely on the wire rack before serving.
The cake can be wrapped tightly in plastic wrap and kept at room temperature for up to 1 week.
Makes one 8 ½-by-4 ½-inch loaf cake.
Adapted from Genevieve Ko via the Los Angeles Times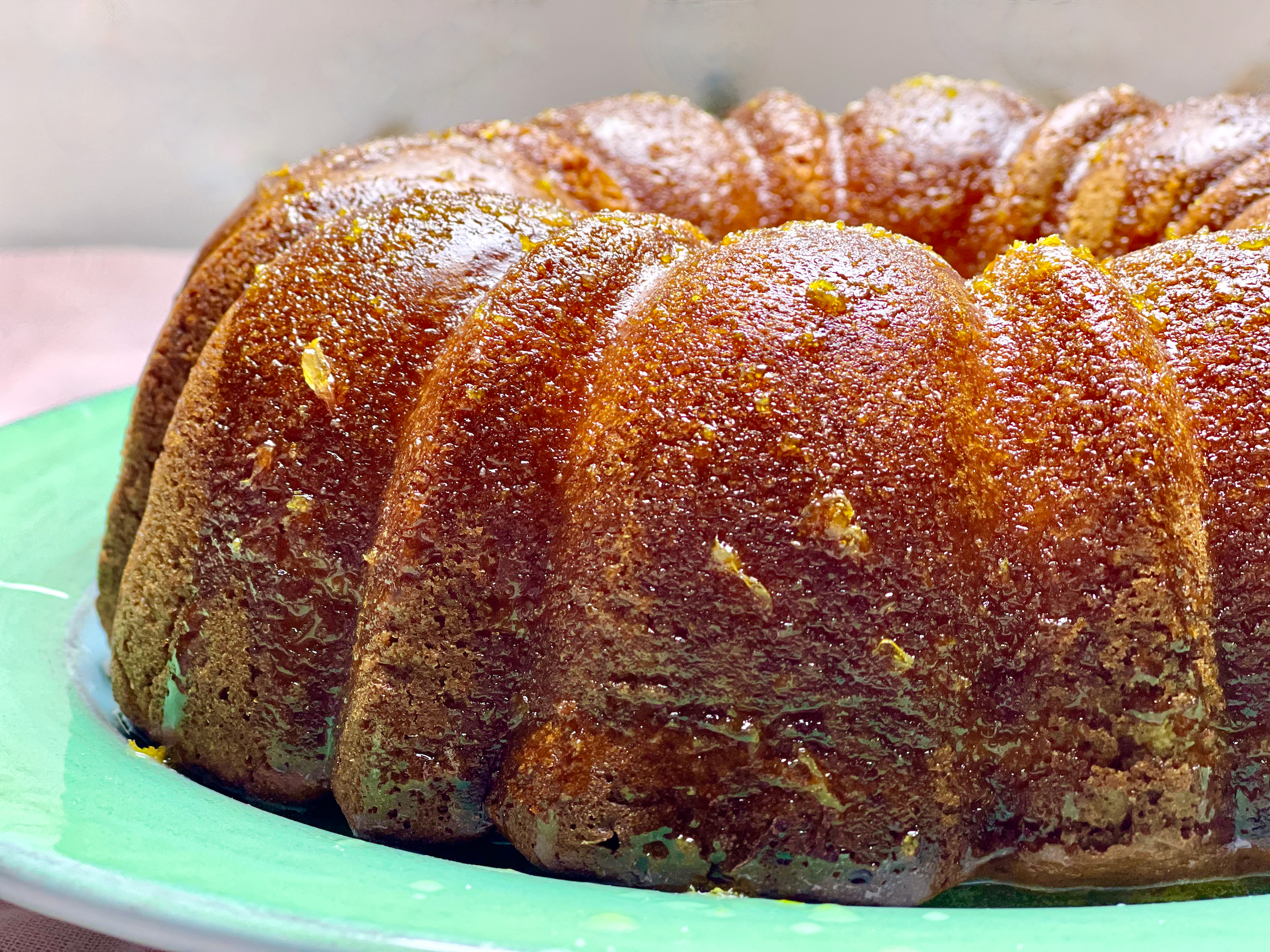 County Fair Orange Cake (Arkansas Democrat-Gazette/Kelly Brant) This decked out Bundt cake starts with a mix, but doesn't taste like it came out of a box. The cake is delicious the day it is baked, and even better the next day after the glaze has had time to soak in.
County Fair Orange Cake
1 (15.25-ounce) package white or yellow cake mix
1 (3.5-ounce) package lemon instant pudding mix
1 tablespoon orange zest PLUS ¾ cup freshly squeezed orange juice
½ cup vegetable oil
4 eggs
Glaze:
½ cup granulated sugar
1/3 cup freshly squeezed orange juice
¼ cup butter
2 teaspoons orange zest
Heat oven to 350 degrees. Grease and flour a 10-inch Bundt pan.
In a large bowl, stir together the cake mix and pudding mix. Add orange zest and juice, oil and eggs.
Beat on low speed with an electric mixer until just combined. Scrape down sides and bottom of bowl. Beat on medium speed for 4 minutes.
Pour/scrape the batter into the prepared pan. Bake for 38 to 40 minutes or until a wooden pick inserted in the center comes out clean.
Cool in pan on a wire rack for 15 minutes. Remove cake from pan to wire rack. Cool completely, at least 1 hour. Transfer cooled cake to a platter.
For the glaze: In a small saucepan or skillet, combine the sugar, orange juice and butter over medium heat, stirring until butter is melted and sugar is dissolved. Simmer gently for 2 minutes. Then remove from heat and stir in the orange zest.
Drizzle warm orange glaze over the cake. The glaze will thicken as it cools.
Makes 16 servings.
Adapted from "Martina's Kitchen Mix: My Recipe Playlist for Real Life" by Martina McBride