Mable Johnson Austin
Arlington, TX, 1918 - 2010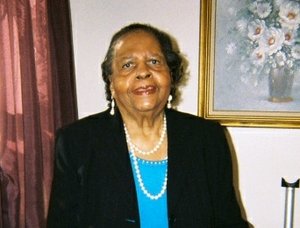 Mable Johnson Austin 92, of Arlington, Texas departed this life on July 28, 2010. She was born on January 8, 1918 to Pink and Rosebud Johnson in Lockesburg, Arkansas. She was the second of four children. Her husband, parents, brother, and one child preceded her in death. Mable was a devout Christian, devoting her life to God at an early age. She married her dear husband, Abron Sr. on December 24, 1939.
She was preceded in death by her husband in November 2004. To their union five children were born. She leaves to cherish her memory: four children: Abron Austin, Jr., Marion Walls (Julius), Melvin Austin (Claryce), and Pinkie Mason; 12 grandchildren; 25 great; nine great-great; two sisters, Arie Austin Deloney and Marjorie Wright; three brothers-in-law, Alfred Austin (Henrietta), BF Austin (Minnie), and Phillip Austin; a host of nieces, nephews, other relatives and friends. She will be truly missed by all.
Funeral Services will be held August 7, 2010, 11 am, at St. John Baptist Church, 2501 S. Main St., Little Rock, Ark. 72206. Visitation: Friday, August 6, 2010, 6-7 p.m., at Ruffin & Jarrett Funeral Home, 1200 Chester St. LR (501) 372-1305.
Published August 5, 2010
OBITUARY SUBMITTED BY:
Ruffin & Jarrett Funeral Home
1200 Chester St., Little Rock, AR
Phone: 501-372-1305