Bobby Eugene Hannon Sr.
Hot Springs, AR, 1933 - 2010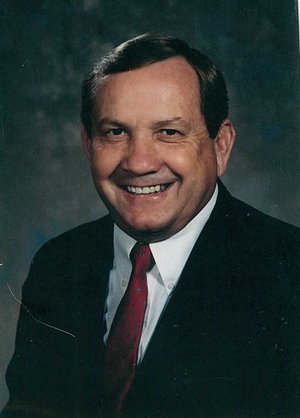 Bobby Eugene Hannon Sr., 76, of Hot Springs passed away Saturday, August 28, 2010 at Baptist Medical Center in Little Rock. He was born December 10, 1933 in Parish, Alabama to Sydney and Edna Hannon. He was pre-deceased by his parents, three brothers and one sister. He was survived by his brother Charles Hannon of Rhode Island and sister Shirley Thompson of Oklahoma. Coach Hannon was a devoted husband, father, grandfather, and uncle; respected and cherished by his entire family for the role in which he played in all of their lives. Coach Hannon's desire and ability to help others left a huge imprint on many lives and his absence will be felt by all those who had the good fortune to have known him.
He was survived by his wife of 53 years, Janice (Avra) Hannon; his three children, Lisa Hannon Madden (Don), Bobby Eugene Hannon, Jr. (Blair), Bridget Hannon Summers (Bob), four grandchildren, Beau Harvey, Trish Madden Jordan, Lauren Hannon Madden Pope, Don Allen Madden III, four step-grandchildren, three great-grandchildren, and three step great-grandchildren.
Coach Hannon was an outstanding athlete with many accomplishments, Quarterback of Little Rock High, graduated in 1953 and was selected All-state and All-Southern Quarterback, coached by his mentor and close friend Wilson Mathews. Bobby received a football scholarship at Arkansas Tech University and played there for four years where he received all AIC Conference Honors. Drafted into the U.S. Army, he played on the Ft. Lewis Washington Championship football team for two years. He ran and set records in track and field in high school and college. Hannon played shortstop for the famed Little Rock Doughboys baseball team next to Major League Baseball hall of fame third baseman Brooks Robinson. He received his BSE from Arkansas Tech University and his MSE from East Texas University and Henderson State University. His coaching career started in 1960 at DeValls Bluff, Little Rock West Side, Little Rock Central, Dallas Baptist College and finishing at Hot Springs High where he coached from 1970 to 1979. His many championships and accomplishments in coaching were highlighted by his undefeated 1970 State Championship team, voted #1 in the state by the Associated Press. Coach Hannon received the Lowell Manning Award that season as the Arkansas High School coach of the year and was selected head coach for the West squad in the AHSCA All Star Game. His teams competed in five more championship games including the longest high school football game in Arkansas history against Jonesboro in 1972 that ended in a tie for co-championship. In 2008 Coach Hannon was inducted into the Arkansas High School Coaches Association Hall of Fame. After retiring from coaching he continued his working career selling team sporting goods for Spaulding and Sportstop Athletics. Most recently Coach Hannon was employed by Hurst, Morrisey and Hurst Law Firm. Coach Hannon was extremely involved in numerous community services. He was a member of Brookwood Baptist Church, a lifetime member of Elks Lodge #380, American Legion Baseball Commissioner for four years, directed Curran Conway Baseball field for five years, received the 1969 Appreciation Award from the Little Rock Boys Club, served as co-chairman for the State Multiple Sclerosis Fund Raisers and a member of the Hot Springs Quarterback Club prayer group. His hobbies included spending many memorable times with his family at the beaches in Florida, Lake Hamilton, and Oaklawn Park. Coach Hannon also enjoyed his numerous visits with his friends at Bill Kilby's Barber Shop and Bill Murray's Taco Pronto.
Honorary pallbearers include Johnny Anthony, Gene Hall, Charlie Gray, Ernest Avra, Mac Carder, Bill Kilby, Jack Keck, Wilson's Tigers, Don Nixon, Lloyd Snyder, Tommy Trantham, Joe Reese, Roger Dorsey, Charlie Sorrels, Mike Bender, Charles Butler, Jim Thorworth, Jack Benny, Larry Griffith, Lindsey Henry, Bill Nelson, Tom Daniels, Dr. Gerald Fisher, Judge Earl Mazander, Don A. Madden Sr., Rick Henley, and the Hannon's Hot Springs Trojans "70 – 79".
A memorial service will be at 2 p.m. Thursday, at First United Methodist Church with Rev. William O. "Bud" Reeves and Q. Byrum Hurst officiating. In lieu of flowers the family requests donations be made in Bobby's memory to the Bobby Hannon Sr. Memorial Fund at Bank of the Ozarks, 4044 Central Avenue, Hot Springs, Arkansas, 71913 which represents a scholarship for a deserving Garland County High School student. Guests may register at www.caruth-hale.com.
Published August 31, 2010
OBITUARY SUBMITTED BY:
Caruth-Hale Funeral Home
155 Section Line Road, Hot Springs, AR
Phone: 501-525-0055
http://www.caruth-hale.com