John William Hammons
Searcy, AR, 1913 - 2010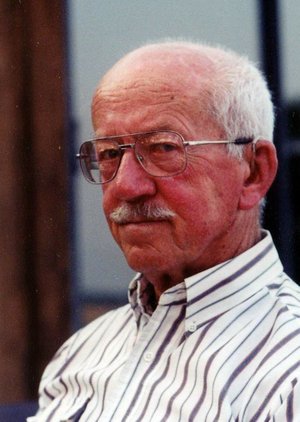 The Reverend John William Hammons was born in Helena, Arkansas on July 24th, 1913 to the Reverend Jacob Daniel Hammons and Ruth Scales Hammons. John, a graduate of Hendrix College, received his Master of History and Psychology from Duke University. He received his MDD from Union Theological Seminary in New York City. Prior to WWII, Reverend Hammons served Methodist churches in Foreman and Carlisle, Arkansas.
After the attack on Pearl Harbor in 1941, John joined the U.S. Navy as a chaplain and served aboard the USS ROCKY MOUNT, flagship of Admiral Thomas C. Kincade, Commander of the U. S. Seventh Fleet. The Rocky Mount record includes nine amphibious invasions, twenty-two months of unbroken combat duty, flagship of Admirals R. K Turner and F. B. Royal and flagship of the Commander of the Seventh Fleet.
Following his Navy years John served churches in Massachusetts and studied at the Boston Museum School of Art to enhance his skills as a portrait painter. While serving a church in North Reading Mass., he answered the call to spend eight years as pastor of the Igreja Crista Unida (Fellowship Community Church) in São Paulo, Brazil. This diverse congregation represented 36 denominations from 68 countries. Returning to the United States, John accepted an editorial position offered by William Loeb, publisher of the Manchester Union Leader in Manchester, New Hampshire. During this time John also filled pulpits at Congregational churches in Grafton and Danbury, NH. John was a member of First United Methodist Church in Searcy, Ark.
In 1973, John and his wife Susan purchased land and built their retirement home in the valley homesteaded by his grandfather Jacob Alah Hammons in the mid-1800s. For the next thirty years Hammons Chapel Farm became known as the producer of record producing Nubian dairy goats, many fine Morgan horses -- sired by their stallion UVM Keith -- as well as an outstanding herd of champion Grey Brahman cattle. As a member of the Arkansas Cattlemen's Association, John served on the Board of Directors of the Arkansas Cattlemen's Foundation.
After moving to Searcy in 2004, John resumed his love of portraiture in both oil and pastel mediums. In 2006, in celebration of his 93rd birthday, the Searcy Arts Center Black House held a reception and showing of his artworks representing the many media John used including wood cuts, etchings, lithographs, silk screens, water colors as well as oil and pastel portraits.
On December 18th, 2010, at John's age of 97 years and five months, God has called home His good and faithful servant. John is survived by his wife, Susan Gay Hammons, four children: Patricia Hammons Ledlie (David), Buckfield, Maine, Charles William Haddock (Kate), Searcy, Ark., Clifford G. Hammons, (Margaret), Little Rock, Ark., Kimberly Hammons Coffey, (Douglas) Annandale, Va.; three grandchildren: Clifford Lee Hammons, (Candice), Longview, Wash., Micah William Hammons, (Carrie), Frisco, Texas, Nanette Riley, Woodbridge, Va.; and three great-grandchildren, daughters of Clifford Lee and Candice Hammons: Camille Hammons, Carinne Hammons, Longview, Wash., and daughter of Nanette Riley: Arwen Destiny Riley, Woodbridge, Va.
Memorial services will be held at First United Methodist Church, Searcy, Ark. on Wednesday, December 22nd, 2010 at 10 a.m. Memorials can be made to First United Methodist Church, Searcy, Ark. or a charity of your choice. Cremation arrangements by Westbrook Funeral Home, Beebe, Ark.. www.westbrookfuneralhome.com.
Published December 21, 2010
OBITUARY SUBMITTED BY:
Smith-Westbrook Funeral Home
404 Dewitt Henry Drive, P.O. Box 490, Beebe, AR
Phone: 501-882-5412
http://westbrookfuneralhome.com/