Robert Lee Shults
Little Rock, AR, 1936 - 2010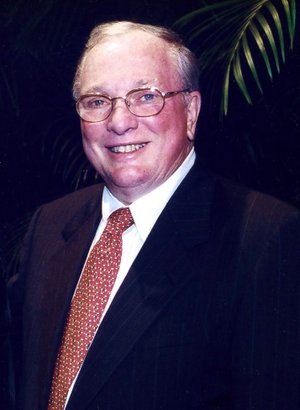 Robert Lee Shults, a business and civic leader in Little Rock, died at his home on Thursday, July 1. He was 74. Bob was born in West Helena, but grew up in Marvell. After graduating he served a tour of duty with the U.S. Marine Corps. In 1961 he graduated Cum Laude from the University of Arkansas with a business degree in accounting. He joined the Arthur Anderson firm in their St. Louis office and in 1966 moved to Memphis to open their new office there. In the meantime he met and married his wife Belinda in 1965. In 1970, he joined Allied Telephone Co. (later to be named Alltel) in Little Rock where he served as executive vice president and chief financial officer until 1980. He left to become Chairman and CEO of two separate companies––Skyways Airline and Financial Centre Corporation. Bob guided Skyways in its merger with Air Midwest in 1985, which he ran until the late 1980's. During that time he was elected Treasurer and later President of the Regional Airline Association, an organization of some 200 airlines. Until recently, Bob had remained active in his role as Chairman and CEO of Financial Centre Corporation, a company that pioneered much of the development of west Little Rock from a pastoral landscape to a vibrant business district and residential area. He was a champion of maintaining and developing Highway 10 as a scenic corridor with the highest development standards One of the highlights of his life was his service to Arkansas Children's Hospital. He was a member of the hospital's board of directors for more than 25 years, serving as president from 1994 to 1997. His contributions in building one of the finest children's hospitals in the nation included chairing the Budget and Finance committee for six years and then as chairman of the Building and Grounds committee. He was also a member of the board of trustees for the Arkansas Children's Hospital Research Institute. Another great interest was Rotary International, Club 99, and the Rotary International Foundation. He was so passionate about the work of the foundation that he made it possible for every member of his family––wife Belinda, his son and daughter, five grand-children and himself––to be Paul Harris fellows. Other organizations that benefitted from his leadership include the Arkansas Arts Center board of trustees, Fifty for the Future, the Governor's Advisory Committee on Information and Telecommunications Policy (Chairman), the American Cancer Society in Arkansas (director, treasurer and budget and finance chairman), Vision Little Rock Task Force, and the American Institute of CPA's. Nothing was more important to Bob than his family.
Survivors are his wife, Belinda Housley Shults; one daughter, Catherine Shults Rhodes and her husband Scott of Atlanta, Georgia; a son, Robert Lee Shults Jr. and his wife Liz of Atlanta; and five grandchildren: Hollis, Will, and Caroline Rhodes; and Grace and Robert Lee Shults III.
A memorial service will be held at St. Andrews Anglican Church on Monday, July 5, at 11 a.m. A reception at the church will follow the service. Burial at Mount Holly will be private. The family requests that in lieu of flowers, memorials may be sent to Arkansas Children's Hospital Foundation, P.O. Box 2222 Little Rock, Ark. 72203. Arrangements by Ruebel Funeral Home, www.ruebelfuneralhome.com.
Published July 3, 2010
OBITUARY SUBMITTED BY:
Ruebel Funeral Home
6313 West Markham Street, Little Rock, AR
Phone: 501-666-0123
http://www.ruebelfuneralhome.com