Carol Crafton Anthony
El Dorado, AR, 1953 - 2010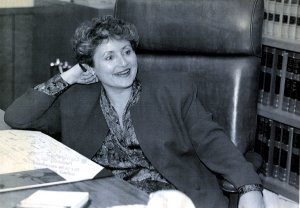 Circuit Judge Carol Crafton Anthony, 56, of El Dorado, Arkansas, passed away Sunday evening, July 18, 2010, at the Medical Center of South Arkansas after a 16 year battle with leukemia. She was born October 9, 1953, in Conway, Arkansas, to James Blair Crafton and Helen Almanrode Crafton.
She is survived by her husband, Aubra Anthony Jr. and by her four children: Aubra Hayes Anthony III, James Hunter Anthony, Clayton Harris Anthony, and Jordan Hollis Anthony. She is also survived by her sister, Sharon Crafton of Alton, Illinois, and niece Caitlin Olivia Crafton.
She spent her childhood around historic Elsah, Illinois, near Principia College where her father was head football coach. Blessed with both academic and athletic talent, she attended Trinity University in San Antonio, Texas, on scholarship to play tennis under the legendary John Newcombe. She later transferred to the University of Arkansas and graduated in 1976 with the distinction of Outstanding History Student. She was also a member of the University's Lady Razorback tennis team. At that time the University's policy was to award a physical sports letter only to men. It was not until her 50th birthday that the Judge finally received justice and was presented with her Razorback letter jacket. She graduated in 1979 from the University of Arkansas School of Law in Fayetteville where she was a member of the Arkansas Law Review. After graduation she served as a law clerk to Judge Marian Penix of the Arkansas Court of Appeals. She later interviewed for a clerk's position in El Dorado with United States District Judge and former Congressman Oren Harris. She recalled how she suddenly realized during the interview that Judge Harris had already hired her and that he was laying out her work to be done the next day. She attended the Oren Harris School of Law for three years. She and Aubra were honored to have Judge Harris preside at their wedding in 1985. In his powerful orator's voice, he sentenced them to life together. Later in 1987, while in private law practice with the firm of Compton, Prewett, Thomas & Hickey, Carol was selected to be a part-time United States Magistrate Judge for the Western District of Arkansas - a pioneering position for a woman at that time. In 1993, Gov. Jim Guy Tucker tapped Anthony to fill the circuit court vacancy for the unexpired term of another dear mentor United States District Judge Harry Barnes. She was responsible primarily for all civil cases in Union, Columbia, Ouachita, Calhoun, Cleveland, and Dallas counties, which make up the 13th Judicial District. Anthony was reelected five times as Circuit Judge. Her experience with juveniles led her in 1995 to develop an exceptional tough love program to prevent more juvenile crime. She sought and was awarded federal and local grants to establish the first in Arkansas "School In School" program in which students expelled from the El Dorado school system were kept off the streets by being sent to a special school run by police officers trained to correct bad attitudes. She also was awarded grants from the Federal Juvenile Justice Prevention Program to establish a "common ground" collaboration among many local agencies and organizations for positive after school activities. The extra-curricular effort of which she was most proud is the Union County Drug Court, which was among the first in Arkansas. Drug Court is a collective effort by the court, the prosecuting attorneys, probation officers, and health services. The purpose is to help alleviate overcrowding in Arkansas prisons and to spare the significant costs to the taxpayers of incarceration by helping addicted offenders turn around their lives. Since 2000, some 342 people have graduated the tough love program. Currently, there are 37 active participants. She was recognized in 2009 as one of two judges in the state to have the highest rate of affirmed decisions appealed to the Arkansas Supreme Court with 96 percent approval. She, by statute, was given the responsibility for appointing the first members of the new Union County Water Board created to save the Sparta aquifer. The publication Arkansas Business recognized her three times as one of the top 100 women in Arkansas. She was passionately involved in her children's sports, ranging from baseball to football to soccer to cheerleading. She was an El Dorado High School "Wildcat Momma", serving as President of the Booster Club and behind the scenes to make things happen for the athletic department. With close women friends she enjoyed the recreational revival of spectacular Texas sunsets at the family's ranch below San Antonio.
These "Jolly Ranchers" will serve as honorary pallbearers. Also serving as honorary pallbearers are friends and fellow sports-supporters Bob Ragsdale, Don Williams, Dr. Steve Jones, Russ Bechtelheimer, Joe Hickey, Ken Jones, Paul Meason, and Darrell Easter.
A memorial service will be held Thursday July, 22, 2010, at 11 a.m. at the First United Methodist Church in El Dorado following a private burial service, with Pastor Jim Polk and Father Bob Allen presiding. A reception will be held at First Methodist immediately following the memorial service.
In lieu of flowers, the family requests memorials be made in Carol's honor either to the Salvation Army at 419 S. Madison, El Dorado, Ark. 71730, or to the Winthrop Rockefeller Cancer Institute Foundation, directed to the establishment of a bone marrow transplant program in the Division of Hematology/Oncology, University of Arkansas for Medical Sciences, 4301 West Markham, Slot 623F, Little Rock, Ark. 72205. An online guest registry is available at www.youngsfuneralhome.com.
Published July 21, 2010
OBITUARY SUBMITTED BY:
Young's Funeral Directors
508 Champagnolle Road, El Dorado, AR
Phone: 870-863-7121
http://www.youngsfuneralhome.com